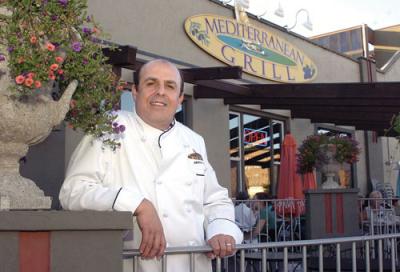 Along the Mediterranean coast where the sun shouts down the facades, hot, through the incandescent blue sky, you'll find an alley. Palm fronds whisper and rustle in the dry offshore breeze. Worn stones line the passageway built more for walking with old-world simplicity than whizzing along in an auto. The chatter of children and old folks, of everyday life unchanged for generations, bounces between ancient stone and plaster walls to make a warm cacophony, comforting, familiar. 
There is a street in Helena, widened and modernized now, where nevertheless arid hillsides climb out of the ancient gulch and the new still feels like a thin veneer on the old. If you were to stand at the front door of the Mediterranean Grill at the gulch's mouth, you might see such a sky and sun, and with the right squint of eye, you might imagine date palms and fig and olive trees dotting the hillsides. There. Now you're getting hungry. See how easy it is?
Walk in the Grill's door and imagine no more. Owner Ersun Özer has recreated such an alley remembered from his childhood on the coast of Turkey. The cerulean ceiling presides over an outdoor village scene painted on the facades lining the walls. Storefronts and apartments surround the tables as at an open-air cafe. An inevitable church-front stands dominant in one of the dining rooms, complete with colored glass windows painted abreast of the door. The street slopes down a hillside where rooftops artfully recede into the distant hills. Mandolins play softly above the murmur of family and friends visiting together. 
But we're hungry, remember? What about the food?
The Grill's lunch menu is a mix of Mediterranean styles, let alone languages. Calameretti Fritti is one of the most popular appetizers (antipasti, tapas, or mezzes, as the menu informs you), which, according to the description, can be found in any Spanish tapas bar, Italian friggitoria, Greek taverna, Turkish mezzes bar, or Egyptian beach shack. Hummus, Baba-Ghannouj, and Spinakopita are a few of the other varied appetizers. 
The pasta selection is equally diverse. The selection is catholic and authentic, from standards, such as Fettuccine con Pollo e Alfredo (you guessed it—sliced and grilled chicken breast, sauteed fresh mushrooms and green onions served over fettuccine with Alfredo sauce) to more unfamiliar dishes, such as Izmir Kofte (Brought from the city of Izmir, this dish features seasoned meatballs, baby red potatoes, tomatoes, peppers and red onions baked in the showcase wood stone oven) and Garithes Yiouvetsi (prawns over Rosa Marina pasta baked in the wood stone oven with olive oil, saffron broth, and all the wonderful spices characteristic of Mediterranean foods).
Various eight-inch individual pizzas, salads, and sandwiches (try the Tunisian Casse-Croute—a kind of submarine sandwich with marinated yellow fin tuna and spicy Harissa sauce—or the Lebanese/Syrian style Falafel sandwich) round out the lunch menu.
I've never been to the Mediterranean, but I understand that people there walk. They walk to run errands, walk for their groceries, walk after meals with friends. The Mediterranean Grill is located a block off Helena's walking mall, two blocks of shops in the middle of Helena's vibrant Last Chance Gulch district. In fact, on the walking mall almost directly across from the Grill is the Özer family's Anatolia Oriental Rug Gallery, managed by Ersun's wife Günsel (whose family has five generations of experience making and dealing in exotic rugs) where the shopper can buy authentic handmade rugs from across Asia.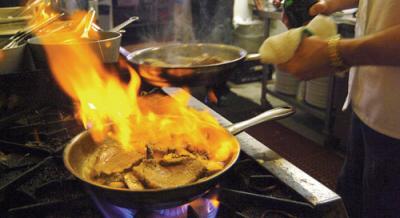 In any case, let's walk, work up an appetite, and then to complete the perfect day, let's try the Grill again for dinner. 
Some new appetizers appearing on the dinner menu include Muhammara, a Syrian blend of walnuts, red bell peppers and pomegranate molasses served with flat bread, and Lahmacun, a Turkish style pizza with ground beef, peppers, tomatoes and spices on a thin flat dough, which is traditionally rolled into a tube for easier eating. 
Some pastas we didn't find on the lunchtime list are here, including the Bucatini Siciliana, a thick, hollow spaghetti-like pasta with a sauteed blend of onions, garlic, roasted bell peppers, capers, pine nuts, white wine, herbs and spices—beautiful in appearance and rich in taste. A choice of lasagnas is here, and the Ravioli Pesto is popular. 
My eye immediately finds the Paella in the list of entrees. A favorite of mine and rare to find, it is one of the most sumptuous tastes I've ever experienced, and tonight's is no disappointment. Ersun described it to me: "Paella is of course a rice and whatever's in the pantry dish. Originating in Arab countries where it was based on rice with chicken and lamb, it eventually made its way across the Mediterranean into countries more dependent on the ocean, and now we see it with seafood and maybe some Andouille sausage." The Grill's version of this concoction has steamed fresh mussels and clams, sauteed prawns, squid and chicken, tomatoes, peas, and the obligatory saffron. 
The Saltimbocca alla Romana is also a delight. Veal medallions are sauteed with prosciutto, fresh sage and Marsala wine, topped with fresh mozzarella, and served with roasted baby red potatoes and fresh vegetables. The Shish Kabob, Shrimp Kabob and Swordfish Kabob are all customer favorites, and the Atun a la Brasa con Romesco, a grilled tuna with Romesco sauce, is earthy and exotic. 
I asked Ersun about his restaurant. "I feel that Mediterranean food is the mother of our cuisines. The lineage can be traced from Adam and Eve to the Sumerians to Babylon to the current Middle East, Europe and Africa. Hummus, meatballs, spaghetti: they were all from the Mediterranean region. The variety of foods in the Mediterranean is unbelievable. I'm good at Chinese and Mexican foods too, but I'm more spiritually connected to the Mediterranean. I like the herbs they use, the importance of fresh ingredients. And, I want to have ALL the Mediterranean foods, not just Italian, not just Spanish or French or Greek. 
"I read a lot of trade periodicals and a lot of cookbooks. I study different regions. I introduce new items as specials to see how they do, and if they do well, they go into the menu, knocking the least favorite dish off. Everything I come up with has to be sold to the guys in the kitchen. If they don't believe in it, then it won't work. My lead cook is helping come up with new ideas now. 
"I've found I can always be more adventurous, more daring, more authentic. When we started, I had comfort foods on my menu, mostly Italian. I thought my customers would have expectations about a region. But Helenans, and in fact all Montanans have come through for me, being open-minded about what I can offer. My menu is more and more authentic, a deeper, richer variety.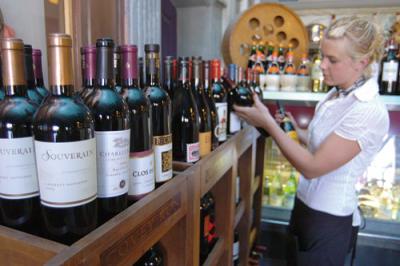 "Every item on the menu is made from scratch. For our hummus we get dry garbanzo beans, soak them, cook them, grind them, add our own ground garlic and spices. We roast fresh eggplant for our Baba-Ghannouj, even though we could buy it commercially. The Falafel is made from scratch, no mixes. I only wish I could grow all the ingredients myself."
As we visited we were often interrupted when Ersun would greet a customer like an old friend. He brings his old-world sense of community to Helena, and he thinks Helena is a good match for it. "My hometown of Aydın is a lot like Helena. People live there and stay there. My friends are still there and I go there every year for a vacation. In Aydın and in Helena, people say 'hi' on the street even though they might not know each other. We know each other's families and each other's business—sometimes too much, but that's how it is in a community. We don't want the anonymity of the big city. 
"Locally owned businesses support each other, and they support the community. We all try to chip in when somebody needs something, and we often do better than the big chains. Local business means something here. Sometimes if people  need a particular exotic spice, they come to me, and I give them a few teaspoons of this or a cup of that. 
"I have low turnover. I give my employees respect, and they are proud of the restaurant. It's their reputation too. I interview rigorously to make sure I get the right people, and I give them a chance to do what they want to do. I tell them, 'You're only as good as your last soup' and they take it to heart. 
They do indeed. A dinner at the Mediterranean Grill is proof of the staff's commitment to the cuisine, and of Ersun's knowledge, talent, and love of the region. 
The Mediterranean Grill is found at 42 South Park Avenue in Helena's downtown district.  They can be reached at 406-495-1212. They are open from 11 a.m. to 9:30 p.m. every day except Sunday, when they are open from 10 to 2 for brunch. They are also available for catering.
~Rennan Rieke writes, photographs, and plays jazz upright bass in Helena, Montana.