"Tis the season to be hungry." Holiday partygoers generally want to be fed and I've got a few suggestions that are easy to make and won't have that telltale store-bought look.
For several years, between November 1 and December 23, I used to offer what I called a "Holiday Rescue Menu." It consisted of side dishes and desserts one might serve at a holiday meal or dinner party during the holiday season.
And while the sides and sweets sold well, I received more requests for appetizers and small plates, a trend that was right in line with the tapas craze a few years back. 
So here is my holiday season take on small plates and appetizers. These are miniaturized versions of full-sized entrées, salads and first courses from my recipe archive.
Three suggestions for this year's parties: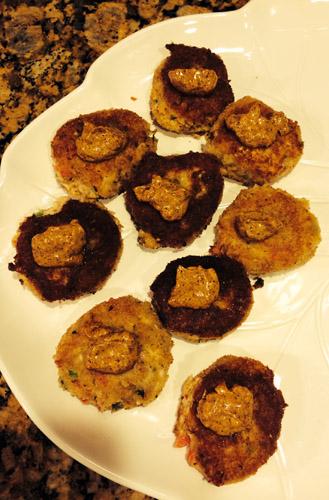 Mini Crab Cakes
The secret to a great crab cake is to ensure that it contains mostly crab and not too many fillers like breadcrumbs and mayonnaise. While I use mayo and breadcrumbs, I put in only the bare minimum, using each for its binding qualities (along with an egg yolk).
Crab has a natural sweetness to it, so I like to balance that with a little heat, both internally and externally. My recipe includes finely diced jalapeños as part of the mix, and an ancho chili aioli as a topper. I settled on ancho chili powder because of its own quality of background sweetness and gentle spicy heat.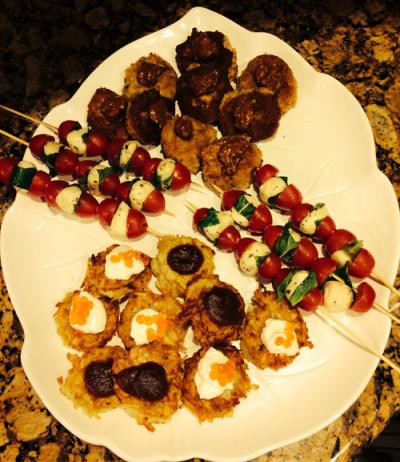 Caprésè Skewers
I've nicknamed this one "Christmas on a Stick" because of the bright red of the cherry tomatoes and vibrant green of the fresh basil, as well as the snow-white mozzarella balls. This creation comes from my favorite summertime salad.
My full-sized version of Caprésè includes a sprinkling of the most fragrant and fruity olive oil I can find, along with a few dots of thickened balsamic syrup. It may not be possible to have the latter with the skewers, but don't pass up the opportunity to give the mozzarella balls a quick soak in the best extra virgin olive oil you have.
Mini Latkes
The most well-known dish used in celebrating Chanukah is latkes–potato pancakes. It's traditional to serve them with applesauce and sour cream, but a few years ago, I created my "Latke Napoleon," using apple jam instead of applesauce; crème frâiche instead of sour cream; and garnishes of caviar and chives.
When making the mini-latkes for pass-around appetizers, I put out half with the apple jam and the other half with the crème frâiche and caviar. 
You can substitute shredded zucchini and carrots for the potatoes, but no matter which vegetable you use, it's absolutely critical that you squeeze out as much of the liquid as possible, otherwise you'll have a splatter-fest on your stove and pancakes that don't hold together.
It took me about an hour or so to put together these three appetizers, with enough of each to serve eight. 
Here's hoping that your Christmas, Chanukah, and New Year are filled with happiness, health and flavor.
Kitchen Guy's Mini Crab Cakes
Ingredients
1 lb. lump crabmeat, preferably pasteurized
1 small jalapeño pepper, seeded and finely diced
½ red bell pepper, seeded and finely diced
1 cup seasoned breadcrumbs (divided use)
4 Tbsp. Old Bay seasoning
3 Tbsp. mayonnaise
2 eggs, lightly beaten and thinned with a little water
canola or peanut oil
Method
In a large bowl mix the crabmeat with the jalapeño, red bell pepper, Old Bay seasoning, and about 3 Tbsp. of the breadcrumbs. Then mix in the 2 Tbsp. of the mayonnaise, adding more if needed.
    Form about 16 crab cakes (about 1 oz. each) and put them on a plate, cover with plastic wrap and let them "cure" in the refrigerator for at least an hour. Also note that at this point you can freeze the mini crab cakes to make at a later date.
    Set up a dredge of the beaten eggs and the rest of the breadcrumbs. Heat the oil in a large skillet and coat the crab cakes in the egg and then the breadcrumbs. Lightly fry the cakes. Be careful because they cook very quickly. Remove to paper towels to drain.
Serve with a spicy aioli (4 Tbsp. mayonnaise; 1 Tbsp. garlic powder; 2 Tbsp. chili powder of your choosing. Mix well.)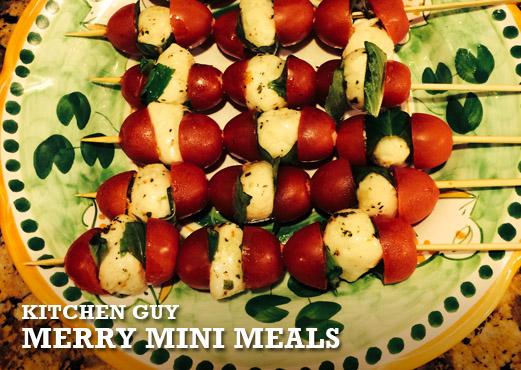 Kitchen Guy's Potato Latkes (Pancakes)
Ingredients
4 large Russet potatoes, peeled, set in water
1 small onion, peeled
2 tsp. baking powder
½ cup flour
1 cup apple jelly or jam
1 cup crème fraiche or sour cream
Caviar and chives
canola oil for frying
Method
    Grate the potatoes and onion into a bowl, then place them in a strainer over another bowl so that most of the water drains out. (Or you can place them in a clean kitchen towel and squeeze out the water.)
    Salt and pepper the mixture and add the baking powder and flour and mix well.
    In a large frying pan, heat the oil to frying temperature, about 360.
Using a large spoon, drop the batter into the oil, forming miniature pancakes, frying them until they are golden brown. Turn only once, frying again until golden on the second side. Remove to paper towels to drain. Keep the pancakes warm in s 200º oven.
Serve the pancakes by topping with plenty of apple jam and crème fraiche. Garnish with snipped chives and a tiny dollop of caviar.
Kitchen Guy's Skewered Caprésé
Ingredients
48 cherry tomatoes
32 Bocancini (small Mozzarella balls)
Fresh basil leaves
16 10-inch wooden skewers
Method
    Cut cherry tomatoes in half and gently push skewer through. Tear a basil leaf and push the skewer through so that the leaf rests on the cherry tomato half.  Push a skewer through a Mozzarella ball. Then push another portion of basil leaf through the skewer so that it rests on top of the Mozzarella ball. Finally, run the skewer through the other half of the cherry tomato with the flat side facing the other pieces.
Repeat this process until all 16 skewers are filled with an equal amount of tomato halves, basil leaves and Mozzarella balls.
Serve chilled.