Ever since Montana Ale Works opened in March of 2000, I always knew it was a special place to meet, eat and drink...but why? What makes it such a favorite dining experience in Bozeman?
The first thing that strikes a visitor to Ale Works is the enthusiastic and sincere customer service. No matter how busy the place is (and it's usually pretty darn busy), a smiling staff member greets you, holding the door wide open. This warm and inviting atmosphere continues as you stroll throughout the impressive old railroad structure.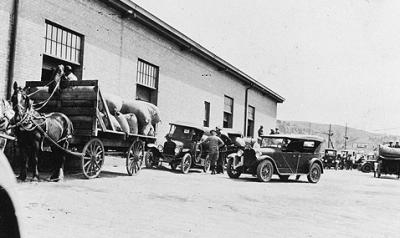 The three co-founders, Christin Cooper, Mark Tache, and Pete Hendrickson, chose the vacant warehouse in the east end of Bozeman as the ideal place for their vision of Montana Ale Works. After succeeding wildly at their first concept restaurant, Mackenzie River Pizza Company, husband and wife team, Christin and Mark, decided to try their hand at something a little more upscale. Yet they still wanted to keep the hospitable ambience of small-town Montana. They imagined a local gathering place on the historic Main Street that was worth dining out for. Pete Hendrickson, then Director of Operations at Mackenzie, had the answer. After years of being the front man of Mackenzie's flagship Bozeman location, Pete saw just what Bozeman needed: a pioneering pub in old town Bozeman that personifies, as Christin aptly puts it, "small town hospitality with big city sophistication."
The restored Northern Pacific depot, which was once used to store wool and wheat for the railroad, is now the home to this bold vision and is decked out smartly with brick, beautiful wood beams, beer kegs, and black and white photos of its olden days. It truly embodies a blend of old and new Bozeman, a reflection of what they do best at Ale Works: coalesce big city energy with small town values. This balance is also reflected in the Northern Pacific logo of yin and yang that the Ale Works team adopted, modifying it with a simple gear around the perennial symbol. Balance is seen in the setting as well: patrons can enjoy views of lofty old grain silos and the snowy Bridger Mountains and then look across Main Street to the new "green" Bozeman Public Library.
But the pillar of an experience at any restaurant is the food. And the Ale Works pillar is sturdy and well built. As their worth-a-visit Web site says, they proudly offer "upscale comfort food." Foodies can find everything from typical pub fare with a tasty twist to clever renditions of old standbys. Talk to any local and they'll gladly share their favorite Ale Works entrée, appetizer, or beverage. There's the local fly-fishing guide who says nothing beats a Black & Blue Burger after an exhausting afternoon on the Yellowstone and the real estate lawyer who enjoys pairing his dry Belvedere martini with the Wild Alaskan Salmon. Many locals, including this author, swear by the creamy top-selling Gorgonzola Chicken.
As Executive Chef, Roth Jordan, says, "We've got to please people who eat here every day." To ensure that's just what they do, Roth expertly orchestrates an efficient kitchen line of up to twelve talented performers. Hailing from Alabama, the land of white BBQ sauce, Roth brings a diverse resume of experiences to the kitchen. He attended culinary school in Vermont and spent a number of years in the kitchens of St. John, Virgin Islands, and Big Sky, Montana. His exposure to Caribbean island and Rocky Mountain trends in cuisine is evidenced in the eclectic Ale Works menu that truly has something to satisfy any palate. Roth is passionate about providing quality meals at an affordable price and puts as much care into guaranteeing the juicy Buffalo Patty Melt as he does the elegant Wild Alaskan Halibut.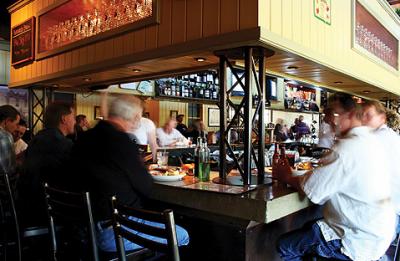 Anywhere Roth can source Montana products he does, often providing local and sustainable foods, a demanding challenge for a restaurant with Ale Works' volume. Co-owner, Mark Tache, proudly states, "We're constantly striving to be a progressive business that supports Montana by showcasing all the great food produced in the state." The best example on the menu is the Gallatin Valley Salad. The ingredients in this fresh and organic salad change with the seasons and with what are available to Roth on a daily basis.
While Roth maintains order in the heat of the kitchen, General Manager and co-owner, Albert McDonald, is at the helm in the front of the house. His enthusiasm for his task is seen in is his brave "goal to blow every customer's mind." He enjoys this mission best when it's busiest and specializes in complementing Roth's inventive dishes with the perfect beverage. With 40 beers on tap (regional microbrews and international classics) and a hard to beat selection of wines and spirits, Albert has a lot of choices at his fingertips to make sure that any epicurean can indulge his/her fancy.
So, yes, Ale Works clearly has the food, drink and atmosphere to be a success. But what gives it that special something that keeps it bustling every night of the week?
Like the Big Sky State itself, it's the people that truly make Ale Works distinctly Montanan. From the staff to the management to the owners, each member is sincerely proud to be a part of the Ale Works team.
Just like they did at their Montana restaurant sensation, Mackenzie River, Christin and Mark tap into their exciting outdoors backgrounds to help create an energetic work environment. Both spent eight years on the U.S. Ski Team (Christin is a two time Olympian), and highly value a "love your life, love your job" mentality. They encourage and expect their staff to bring their passion and energy for outdoor Montana activities with them to work each day. This results in a positive vibe that customers can sense, a vibe that's hard not to catch. As the ale house's Web site asserts: "Montana Ale Works employees are the soul of our company. Our success depends upon their collective energy, savvy, and passion. We are chock full of talented performers, who share their enthusiasm with our customers nightly."
General Manager, Albert, works hard to perpetuate this enthusiasm and enjoys Ale Works as a place "where I go to have fun everyday and try to make life fun for other people!" A New York native, Albert started as a dishwasher and worked his way up through the ranks of Mackenzie. He then crossed the street to join the Ale Works team and continues to personify a work/life balance in his love of skiing and the mountains.
People seem to thrive in this environment and the five-person management team's dedicated efforts to create it have definitely paid off. Mark comments that they are "ahead of the curve in employee retention;" much of the staff has been there since the beginning, eight years ago. As Christin says, "We don't always put the bottom line first; treat people right and it comes back."
Friendly server, Laura Llewellyn, acknowledges the special environment that the staff shares and "feels lucky to work at Ale Works."
This generous philosophy and these good vibes extend to the local community too. Ale Works chooses to support one local nonprofit each month to benefit from a collaborative effort to create opportunities to raise money for their individual causes. The management sees it as a unique, more engaged way to contribute. "It's more than just writing a check," Christin says, "It gets the staff involved."
Operations "Guru," Pete Hendrickson, sums up the success of Ale Works succinctly with a characteristic twinkle in his eye: "Successful places are self-perpetuating....We have good mojo!"
From the Glendive rancher to the Bozeman real estate executive to the romantic couple on a first date, Ale Works "works" for everybody. The dynamic atmosphere allows for a fancy wedding rehearsal dinner in the Grill Room as well as fraternity brothers playing pool and old friends catching up at the bar.
Here in the east end of Bozeman a forward-thinking gang from varied backgrounds came together to design an amazing meeting place in the last best place where you can still experience the friendly flavor of Montana and also relish revolutionary dishes that rival the top tables from New York to L.A. Want a bite with a lot of Montana flavor? Check out the scene at a Bozeman institution, Montana Ale Works. Montana Ale Works is at 611 East Main and www.montanaaleworks.com. Tel: (406) 587-7700.
~ Stephanie is a Bozeman native who loves food...and wine! She relishes the opportunity to learn about local eateries and share what makes them tick with Distinctly Montana readers. She has enjoyed writing and photographing for the magazine for over four years.