Montana Shakespeare in the Parks begins its 36th season of providing exceptional entertainment throughout the region in June. The 10-week tour will begin in Bozeman and will perform 74 times in 57 communities this summer. Newcomers include Deer Lodge, Gardiner, Kalispell, and Laurel.
One of the summer's most anticipated attractions, Montana Shakespeare in the Parks brings professional productions at no cost to the public to communities throughout Montana, northern Wyoming, and eastern Idaho. The touring company features 10 professional actors supported by a variety of designers and technicians, who work together to bring theatre to communities that may otherwise not have access to it.
THE TRAGEDY OF MACBETH
Legend has it that one of William Shakespeare's best-known plays, The Tragedy of Macbeth, is cursed. The centuries-old story of the Macbeth curse may originate with Shakespeare's inclusion of witches in the play. These "Weird Sisters" open the play and speak prophesy to Macbeth, who is captivated by the witches, their spooky maneuverings, and wild incantations.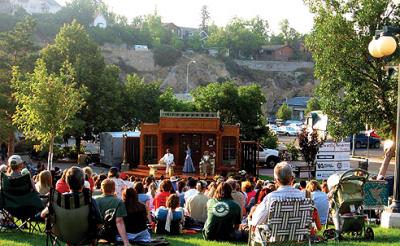 Many have waxed eloquent about the themes in the play that have made it relevant for so long: greed, lust for power, betrayal. Most assuredly they are all there in this, Shakespeare's shortest tragedy, but the fact of the matter is that Macbeth is the wellspring from which all great thrillers and horror stories originate.
Macbeth and Banquo, returning from a military victory, meet three witches who prophesy that Macbeth will be king and Banquo the father of kings. Might Macbeth actually be king one day? He writes his wife and tells her of the prophecy. A plan is hatched.
Lady Macbeth urges her husband to kill the king when he comes to stay with them. Macbeth protests but eventually relents and kills the sleeping King Duncan, but he is so undone by the deed that Lady Macbeth takes the bloody dagger and plants it on the servants. Macbeth assumes the throne.
In short order Lady Macbeth goes a bit mad. Macbeth fears the witches' prophesy about Banquo and has him killed, but Banquo's son, Fleance, escapes before he gets it as well. Banquo makes a macabre return as a ghost. The witches reappear, telling him that "none of woman born shall harm Macbeth."
Macbeth takes this to mean that he's off the hook, but he's wrong. And when he realizes it, it's too late. For audiences, however, Shakespeare's Macbeth, with it's soaring language and spellbinding plot, is as close as it comes to a never miss.
Macbeth will be directed by Susan Felder.
ALL'S WELL THAT ENDS WELL
Rounding out the summer repertory is All's Well That Ends Well. One of the Bard's least-produced plays, it is an exemplary counterpoint to Macbeth, one of Shakespeare's most well-known plays.
Largely lumped into a group of plays that scholars call the "problem plays," the problem is not with the dialogue; the problem is that the play does not fall into any neat and tidy category. All's Well, for example, has elements of romance and elements of comedy, but it's neither. It has plenty of drama, but it's not completely a serious play. It has elements of Shakespeare's historic and tragic plays. There's even a bit of sex farce. We don't know what to call it. That's the problem—but only for file clerks.
Bertram, a young braggart soldier who dreams of military greatness and who places social station above virtually everything else, sets off to serve the King of France. Simply put, he's a snob. Beautiful Helena, a young woman who serves Bertram's mother has fallen passionately in love with Bertram. Secretly she follows him to Paris.
A dying king is miraculously cured by Helena, whose father was a famous physician. Overjoyed at being alive, the king allows Helena to choose anyone in the kingdom to marry and, of all people, she chooses the truculent Bertram. He is forced to consent to the marriage but decides that he would rather die in battle than stay married to Helena and so flees to Florence to fight in the Italian wars.
Playing out from that point in typical Shakespearean fashion—boy hates girl, girl is determined to get boy, boy is played for a fool, girl triumphs in the end—we're derailed along the way with some of the Bard's greatest comic writing in a witty, wry story that, in the end, turns out to have been a fairy tale all along.
All's Well That Ends Well will be directed by MSIP Artistic Director Joel Jahnke.
To attend a performance, you are encouraged to show up prior to the appointed curtain time with chairs, blankets, a picnic supper, and plenty of friends and family to enjoy the evening. Check your local newspapers for listings and times of performances.