No one over the last quarter century has conveyed our special ineffable bond with big natural landscapes — and the sense of common guardianship we feel for them in our bones — more sensuously than Missoula painter Monte Dolack.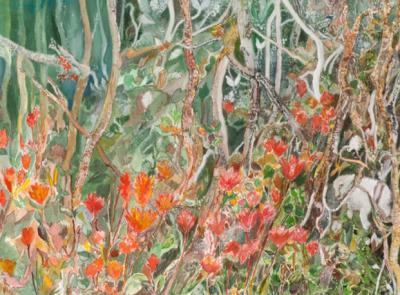 Dolack, a native son, has reproductions of his work hanging prolifically in homes and offices from coast to coast. His lithographs celebrating iconic wildlife, high plains scenes that make the heart sigh, winding blue ribbon rivers (reflecting Dolack's own passion for angling), and the jagged peaks that give Montana its name — these are his best-known visual signatures. 
Today, Dolack the Baby Boomer is enjoying perhaps the most satisfying, impactful stretch of his career.  Demand for original paintings has never been greater, rivaling even those of Charlie Russell. Later this year, an ambitious one-man exhibition, "Altered State," is slated to open at the Holter Museum of Art in Helena. And, Dolack just received word that a number of prominent national American conservation organizations led by Wilderness Watch have enlisted him to paint a commemorative poster celebrating the 50th anniversary of The Wilderness Act of 1964. It's a commission that will be seen by millions. 
Yet another recent accolade worth noting is that in 2011 Dolack was feted in Geneva, Switzerland, by world leaders as part of the United Nation's International Year of Forests, which featured 24 selected works arranged around the title "Art of Trees".
Such affirmation must be pried out of the modest Mr. Dolack, for he is not a self-promoter, other than operating a namesake gallery on West Front Street in downtown Missoula where works by him and his painter wife, Mary Beth Percival, are sold.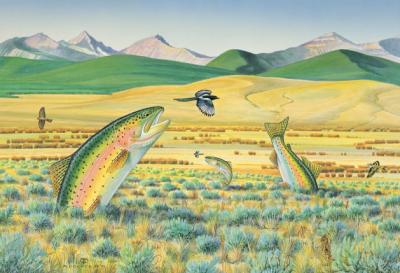 Dolack likes to use his art to make statements; in doing so, he has created imagery for over 200 environmental and social organizations. When painting purely for himself, he is a post-modernist, first inspired as a youth by abstract expressionist Jackson Pollock.  Yet for anyone who believes Dolack can be neatly pigeonholed, his portfolio emanates stylistic defiance.
A few years ago, I had a conversation about Dolack with Anne Morand, then chief curator at the Charles M. Russell Museum in Dolack's hometown of Great Falls. "His work causes us to think and reflect on our values, not to beat us over the head," Morand noted.  "He uses paint to articulate beauty as it relates to the evolving global environmental ethic."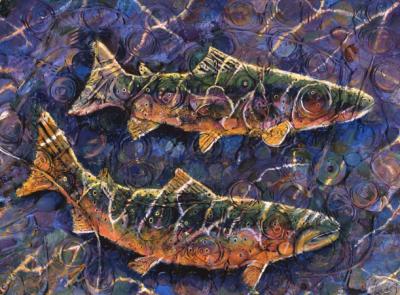 For that reason, the Missoulian newspaper put Dolack on its list of the 100 most influential Montanans of the 20th century.
Born in Great Falls in 1950, Dolack is the grandson of a man who worked at a coal mine in Belt and the son of a father who was employed by the legendary Anaconda Company in its copper smelting operation located near the banks of the Missouri River. Dolack, too, spent his formative years working in the industrial maw to earn enough money for college.  It was an experience, he says, that was more kindred to being raised in a Rust Belt city like Pittsburgh or Cleveland than a river town where, in 1805, Lewis & Clark chronicled extraordinary sights of wildlife abundance in their journals.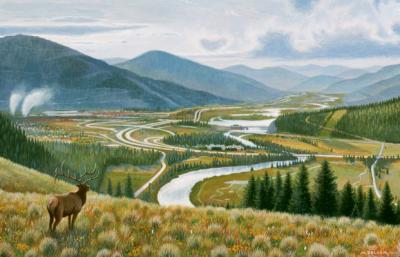 "I still think of the duality and the contrasts that are still all around us," he says, noting that thematically they loom large in "Altered State."  He describes the pieces, most of them still under wraps, from a studio space within view of Mt. Jumbo and the federal Rattlesnake Wilderness outside of Missoula.  Beside him, standing in a line, are objects that speak to his fascination with Op Art and throwaway consumer society.  All in a row are a bobblehead Albert Einstein, a toy figure of Superman holding a pencil in his hand, a wizard, and a plastic dodo.
"Altered States" mines the dichotomy of both artifice and the eternal.  Innovatively, as a tie-in to the age of the Copper Kings, Dolack is making his paintings for "Altered States" on surfaces of copper plates.  Among some of the rich subjects he's plying:  the profusion of wind generators with giant blades producing clean alternative energy on the prairie though churning inside flyways used by raptors; the legacy of the Berkeley Pit in Butte where the sculpted remains of a toxic pit shimmer surreally in the light like the travertine terraces at Mammoth Hot Springs; and the natural gas and oil boom sweeping across the Bakken Formation in eastern Montana.
Distinguishing elements of Dolack's work include humor, satire and paradox, the juxtaposition of human interactions with animals (evident in Dolack's acclaimed "Invader Series") as well as the dynamic of unspoiled landscapes versus those that have been subdued and transformed. 
A pastoral piece, View From Elk Ridge, presents a wapiti overlooking the course of the Clark Fork intersected by Interstate 90, the cloverleafs of on-off ramps, linear paths of power utility corridors and the sprawl of development, all knitted together into a mesmerizing composition.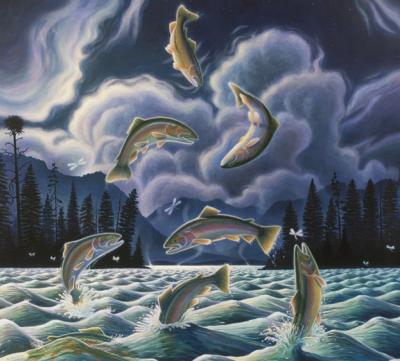 Like famed Latin writer Gabriel Garcia Marquez and Spanish painter Salvador Dali, Dolack is not averse to using "magical realism" to inspire viewers to open their minds to aspects of daily life they either take for granted or are otherwise oblivious to. 
In Midnight Rainbows, part of Dolack's vaunted "Mythical Landscapes" series, he presents a metaphorical glimpse at a nocturnal feeding frenzy which he describes as "supernatural." 
One of my favorites is the original Dangerous Liaison, a provocative fish painting created with trash and other found objects — crushed Coke and beer cans, fishing lures and other detritus — that he harvested while walking his favorite streams.  
Dolack says he's not intending to preach but he finds more meaning in the metaphysical over the accumulation of stuff. Consider From the Mountains to the Prairies, a self-portrait of sorts featuring the artist himself, lounging in a sofa chair with a beloved dog at his side. Positioned in front of them is a retro television. But instead of being transfixed by electronic media, they are perched on a wild butte looking past the tube into the gloam of a welcoming dusk.  It is Dolack's inimitable way of saying to us: Don't sweat the little stuff; don't become captive to your gadgets; always keep your thoughts on the big picture; behold it, cherish it, defend it, and keep it from harm.
For him, humanity achieves redemption not only in safeguarding the best of what remains for future generations but with how it nurtures nature's ability to heal from scars of the past.  This is why so many collectors want to put Monte Dolack's hopeful artwork on their walls.
Newcomers to Dolack's work can journey through his portfolio at 
Muse: Painter Mary Beth Percival
Next to nature, what other muse has the biggest impact on Monte Dolack?  Without hesitating, he says it is his wife, Mary Beth Percival, a studio and plein air painter whose portrayals of landscapes and botanicals have their own avid following.
Percival, primarily a watercolorist, grew up in the Big Hole and Boulder river valleys, the daughter of a U.S. Forest Service ranger.  Together with Dolack, she has traveled on painting excursions and art history treks throughout North America and Europe.
"She has a great eye for color, design, and composition," Dolack says, telling the story of decades ago when he first began painting the Rockies and mesa unfolding east of Great Falls. "The first works I did were not very good.  Mary Beth said that you need to go out and look at the light and shadow on the mountains, experience the color, and absorb the feeling of the places you are trying to portray.  She was right."
Percival herself makes plein air sketches lined with pencil notes about the subtle nuances of value that inform her palette back in the studio. In May, several new works — wildflower scenes and forest landscapes laden with hidden animal imagery — were unveiled at a solo show in Missoula.