What will your ski area look like?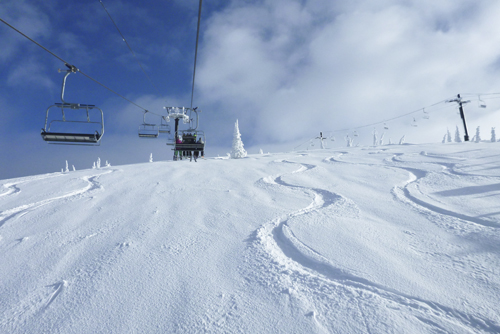 Ciche Pitcher at Ski Discovery says: To be honest, we try to plan in five year increments only. The idea of predicting 30 years out seems daunting. That being said, I suspect we will be similar in some ways with a handful of significant changes. The areas most ripe for change are grooming (more steep trails beings groomed); guest interaction (better use of GPS in phones to provide information for the ski area and the guest); and more man-made terrain (specifically, the use of man-made terrain features to aid in teaching but also the progression of terrain parks).
Benjamin Haugan of Showdown says: Our goal is to manage a safe recreational opportunity for Central Montana. We may institute a vegetation management plan that will spread skier flow throughout the entire ski area. A master development plan could bring small lodging opportunities and/or employee housing. In the year 2044, we will look forward to being Montana's oldest ski area with a family friendly atmosphere.
Are you planning to expand snowmaking? To emphasize non-snow activities more, and if so what might they be?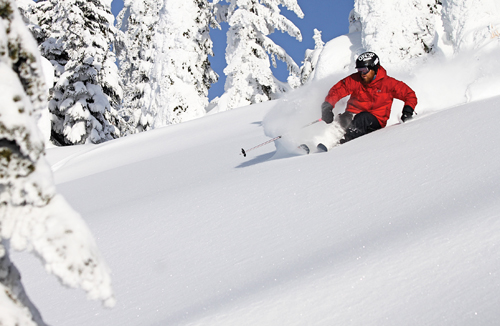 Big Sky's Sheila Chapman says: It's hard to predict. 
Showdown: We have never made snow here at the ski area and will continue to rely on Mother Nature for our most important resource, snow. We cannot imagine offering better activities than skiing and snowboarding.
Discovery: We are looking to continue our investment in downhill mountain biking. With regard to low snowpack, we plan to offset poor years through summer trail management (removing small trees and providing smoother trails).
Riley Polombus of Whitefish Mountain Resort says: We are fortunate that our mountain is less rocky and therefore is able to get a decent base depth quickly, and our weather produces consistent snowfall. Our snowmaking fills in the gaps. It's all about adapting to the changing conditions whether it's day-to-day or year-to-year. We'll continue to invest in our snow maintenance capabilities.
Which summer activities do you already offer? Will those be expanded?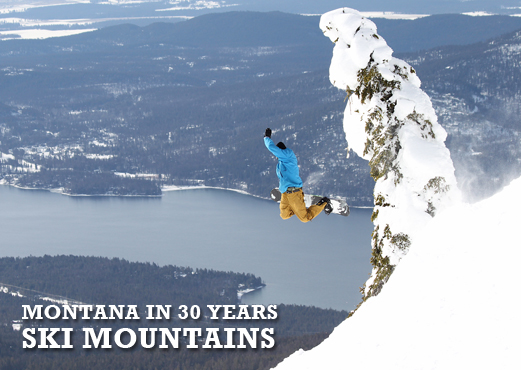 Whitefish: In the summer we offer scenic chairlift rides, lift-served mountain biking, zipline tours, hiking trails, an alpine slide, an Aerial Adventure Park, Walk in the Treetops Tours, as well as our food and beverage services. We are pleased with the growth in visitors we are seeing in the summer. Of course, with Glacier National Park in our backyard it makes sense that we will continue to see visitor numbers grow, especially if the summer season gets longer.
Big Sky: We offer the Lone Peak Expedition, zipline tours, high ropes course, mountain biking, scenic lift ride, skeet shooting, giant swing, bungee trampoline, climbing wall, archery, gemstone mining, disk golf, hiking, 
18-hole Arnold Palmer-designed golf course, paintball, Lake Levinsky Marina, and horseback riding, and we're always looking at new adventures to offer to our guests.
What future do you foresee for Montana's snowpack in the year 2044 given the prospect of climate change? How will your ski mountain be affected?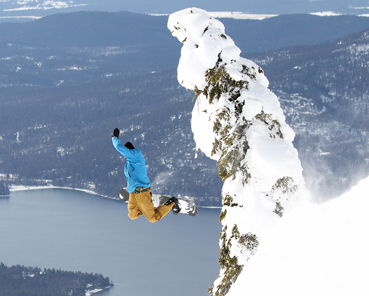 Whitefish: We've always had good snow years and bad, and as "snow farmers" we do the best we can with what we get. This year's new Flower Point lift will provide access to 200 more acres of terrain on the north side of the mountain, where the snow is like mid-winter all season long. That's one way to adapt. Also 
I believe we are in a good position with regard to some of the future snowpack models out there due to our latitude. As the "snowline" moves north, we'll start to gain skiers from resorts located in Utah and Colorado.
Discovery: It may be naïve, but I don't see our over snowpack changing that much in 30 years. What we have seen is more volatility within a season. I would expect this trend to continue.
Showdown: We tend to think positively. We had multiple days of 30 below zero in the 2013-2014 season. We will tackle slope maintenance projects that will allow us to open with a 15-20 inch natural snow base.
What is your position on drones and GoPro type cameras. How do you see this technology affecting visitation? 
Big Sky: Our guests already submit great footage from their GoPros. As for drones, our video department uses this type of technology. I'm sure it will continue to grow.
Discovery: Drones are a little scary in that they can be used by people who either have bad intentions or poor skills and put our guests' safety at risk. We are going to disallow them until we see how the trend develops. I love what you can do with them and the imagery someone can get using a drone. I just don't know how we will manage it.
GoPros are personal and less harmful than drones. I think these technologies are great for making skiing more social. 
Showdown: Drones and GoPro cameras have started coming into use more in the last few years. However, here a visitor will not have the opportunity to fly drones. We may look into this technology in order to stay ahead of the curve when it comes to desired social media posts. 
How about new technologies for navigating ski trails? 
Discovery: I believe syncing with whatever devices are used is our best plan of action. I see consumers having one device for payment processing, GPS, and social networking — whether this is a watch, a phone, glasses or something else I cannot say.
What about the development footprint? Is there a plan to limit or control growth or will it be allowed to expand randomly?
Discovery: We are on a Forest Service permit so development is not an issue at this time. We certainly support planned growth and small dense building envelopes as opposed to scattered, sprawling development.
Showdown: Due to the nature of our ski area, we will not need to add any new lifts given the present permit area. If we did institute a MDP that expanded our permit boundaries, yes, it would greatly enhance the ski area. Our bordering terrain is potentially good. Expansion would only be necessary if we start to see a high increase in overall skier visits. And, it will take quite a procedural effort with the United States Forest Service. Our goal is to expand growth at a random rate. 
Is Montana becoming more of a destination for international ski and board enthusiasts? 
Big Sky: We are already marketing toward the Australian market and there is always room for growth internationally.
Discovery: I see Montana as a destination for people looking for something different; such as eco-tourists or people who are looking for adventures that are more authentic. I don't see us being set up to accommodate the international market right now. Perhaps in 30 years our air travel and hospitality infrastructure would be better set up for international business.
Showdown: We see Montana as a highly sought destination for people in the USA, Canada, and other parts of the world.  But because we don't offer lodging, we may not see so many. But local skiers at destination resorts will seek out places like Showdown.