When Jack Kerouac found Butte's M & M Bar in 1970, he said: What characters in there: old prospectors, gamblers, whores, miners, Indians, cowboys, tobacco-chewing businessmen! ...Men played cards in an atmosphere of smoke and spittoons.  It was the end of my quest for an ideal bar.
Nowadays we lament that the M & M Bar is not what it used to be, although it is still open for food and drink (watch for new gambling facilities to open up).  Yet many other classic family bars exist around Montana with the requisite details: bartenders with personality (often women), rustic charm, fun sayings on walls ("There will be a $5 charge for whining"), framed newspaper headlines (the deaths of Charlie Russell or John F. Kennedy), taxidermy, card and pool playing, a jukebox, maybe some slot machines and occasional dancing. You may find children or dogs playing at the feet of bar stools.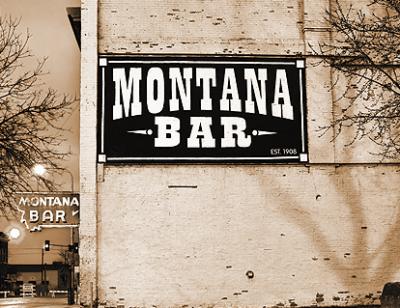 In Montana Watering Holes, published by Globe Pequot Press, Joan Melcher describes her experiences visiting the bars in the book.  One outstanding quality we can all recognize is the ease with which we get engaged in conversations with others at a bar.  She writes: 
I contemplated my good fortune.  Having stopped along the road at an unknown tavern, I had found laughter; wine to warm my insides and relax my stiffened limbs, companionship from people I couldn't call by name, and even a bit of country philosophy from an old Irishman who had worked the mines in Butte.  I had found the Montana bar—the social sanctuary of the West.
In the early days bartenders encouraged preachers to hold services and weddings in their establishments, because customers' enthusiasm would carry over to the bottle.  Minorities and women could not be kept out for long.  Independent Montanans found ways around Prohibition.  Fighting and killing took place in the early saloons, as every western movie has shown, but danger lurks around every bar today.  It's that old devil alcohol and too much of it that causes the problems.
Here are some notes about bars described much more fully in the book:
Livingston
Murray Bar in the Murray Hotel, 201 W. Park.  Said to have inspired Jimmy Buffett's song, "Livingston Saturday Night."  Has a U-shaped bar, upraised area for bands, a good-size dance floor, photos of notable people, and notes about their fishing flies. 
Emigrant
The Old Saloon, 210 Railroad Lane.  Built in 1902 and largely unchanged.  Gold scales from when gold was discovered in the gulch (1864).  Oak bar with mirror spanning the length in back of it.  Wood burning stove. Red flock wallpaper.  In 1910 a man pocketed $10,000 in one poker game.
Pray
The bar at Chico Hot Springs is the counterpoint to Chico's elegant dining room.  The gateway to the hot pools, it's small, busy, with a creaky wooden floor, but on Saturday night when the place is rockin', everyone is relaxed.  It's not unusual to see a pair of old dancers struttin' their stuff in fine style.
Butte
While the M & M was long known as "Butte's living room," other bars are favorites too: Helsinki Yacht Club, The Met Tavern, The New Deal Bar.  On St. Patrick's Day the whole town is packed with people going from one to the other.  Some people go just to join the crowds and eat corned beef.
Dillon 
Metlen Hotel & Bar, 5 S. Railroad Ave. This fancy bar was once in Bannack when it was the capital.  On summer evenings, doors are opened to let breezes in.  Walls are clean, knotty pine; dark red furnishings; healthy plants.  Since this area, along with Wisdom and the Wise River, are sporting paradises, the clientele are often hunters, fishers, and ranchers.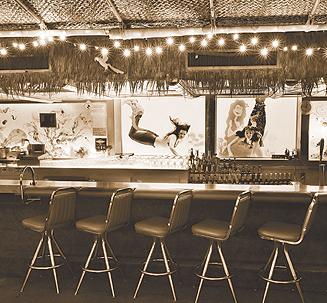 Great Falls 
Sip n Dip, O'Haire Motor Inn, corner of 7th and 1st Ave. S.  Here you can settle into a booth or pull up a stool to the bar and look onto a pool of mermaids swirling about as colored lights blink and a pianist plays your favorite tunes.  Gentlemen's Quarterly listed it as the lead of 10 bars "worth flying to" in April 2003. 
The Club Cigar, 208 Central Ave. Run for 40 years by the legendary Lena Ford, who saw it through rowdy cowboy and Indian days and managed a house of prostitution on the side.  She'd take ranchers' money and dole it out until it was all gone, spent in her place.  Snowshoes and a noose hang from the 20-foot dark-wood ceiling; also an old wooden Indian and full-size cutouts of John Wayne stand around.  
Havre 
The Palace Bar, 228 First St.  Unchanged in 30 years, soaring mahogany bar, pressed-tin ceiling.  Massive duotones of a grain harvester and the Northern Pacific document the area's history.
Joan Melcher reflects how ironic it is that the saloons in the Hi-Line have lasted longer than the sodbusters' structures.  "But it is easy to understand when one remembers the social importance of the saloon to the drifter in unsettled territory."
Whitefish
Bulldog Saloon, 144 Central Ave.  Black walls and ceiling provide backdrop to hundreds of decoupage photos mounted on primal colors of wood and varnished to a glow. Behind the bar a sign reads: "What would Tony Soprano do?"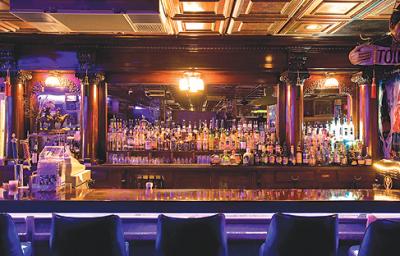 Polebridge
Northern Lights Saloon. Traveling the gravel road to the Polebridge Mercantile is half the fun.  The saloon is the only place to eat or drink for 43 miles. Powered only by generators, Polebridge has refused to accommodate pressure to pave the road and modernize.  That's why people like it so much.
Helena, Missoula, and Bozeman also have their classic bars.  In Helena when residents and legislators need a break, they can gather at the Windbag Saloon in Last Chance Gulch, the Rialto, and distinctive places such as the Montana Club.  In Missoula there's the Rhino, Oxford, and Missoula Club.  In Bozeman, the Crystal Bar, Cat's Paw, the Zebra.  But these cities have also seen the "new west" mix with the "old" and so you will find fine drnking establishments, such as the Mustard Seed with its exotic drinks in Missoula and Plonk in Bozeman, where wine, gourmet food, and jazz are featured. [See sidebar.]
While every town has its most popular watering holes, you are more than likely to find a gem on the edge of a vast and open landscape.  Not to be missed are the Pony Bar in Pony, Club Moderne in Anaconda, Trixie's in Ovando, and the Willow Creek in Willow Creek.  Talk to the bartenders or owners, learn about the bar's history. It's well worth making a jaunt to visit these funky, fun places.  You can learn a lot about Montana and its people.
Missoula
Mustard Seed Asian Cafe
Southgate Mall
Serving an array of martinis, cocktails, microbrews,
wine, full menu and award-winning desserts
Iron Horse Brew Pub
501 N Higgins
Downtown Bozeman
Plonk
29 E Main (406) 587-2170  
plonkwine.com
An environment designed to engage the senses in an
uncompromised celebration of the beauty of life
Starky's Authentic American Grill
24 Tracy - 1/2 block off Main  (406) 556-1111
starkysonline.com  
Local craft beer, great wine selection, appetizers,
full dinner menu, live music Wednesdays