Time passes slowly up here in the mountains
In Montana, fishing and camping pair like a medium-rare bison tenderloin and glass of rich Cabernet Sauvignon at the picnic table. Now, there's nothing wrong with luxuriating at a comfy water-front lodge and setting forth in the morning under a guide's expert tutelage. Thousands of visitors do, have the time of their lives, and help keep the Big Sky economy humming. But for many anglers, camping is an integral part of their fishing experience, whether they're wielding a cutting-edge, $700-dollar Sage fly rod, spinning gear, or a rebar-like bait-casting stick.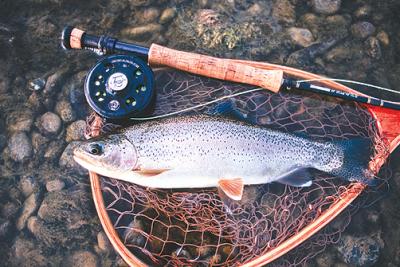 Over the years I've been fortunate enough to pretty much experience it all: employing a micro-RV to transform a perfect water-front spot into a temporary home; road-tripping tent sojourns along prime streams; backpacking to remote creeks and lakes, sleeping under star-splattered galaxies; and floating Montana's most beautiful rivers, camping hobo-like on islands and stream banks.
So what makes the perfect Montana angling campsite? Obviously, close proximity to fish is the first criterion. In Montana, that won't be a problem, with hundreds of waterfront federal, state, local, and private camping areas. Secondly, the site has to meet your unique needs. For maximum comfort, pick a more developed state or national park (or private campground) that offers the widest range of utilities and facilities. At an intermediate level, a multitude of Forest Service, state park, and fishing access sites afford basics. If you're roughing it, a level, open piece of public land for erecting a tent or unfurling a sleeping bag suffices. In all cases, the intangible is this: After taking advantage of good maps, hot tips, and diminished mid-week or off-season crowds, employ Zen-like intuition to find a place to make your own.
Living in Style: National and State Parks
Does your 14-year-old daughter equate camping with being able to wash her hair in a hot shower daily? And your 10-year-old son is convinced that electrical access to recharge his new iPad is one of camping's great necessities? Don't worry: At many national park campgrounds—as well as some state and privately-owned facilities—those needs can be satisfied.
In Glacier National Park, well-developed campgrounds at places like Many Glacier and Two Medicine offer abundant angling options with sufficient ancillary activities to put grins on everyone's face. Yellowstone is similar: At Mammoth, for example, visitors can camp near the park headquarters, close to a classy restaurant, bar, hotel, general store, and interpretive center. Fishermen can hike down the hillside from the campground to fish the Gardiner River, while non-anglers take a warm, soothing dip in the magical Boiling River, or tour the iconic travertine terraces above.
Some of the more developed state parks cover a wide range of interests too. At Lewis and Clark Caverns State Park, for example, anglers can test their luck in the Jefferson River while the rest of the family goes for a hike or cave tour. Similarly, the diverse sites that comprise Flathead Lake State Park afford a wide range of water-based recreation. In eastern Montana, Cooney, Hell Creek, and Tongue River Reservoir state parks harbor popular multi-species lake fisheries. While less developed, Bannack State Park near Dillon provides access to the browns in Grasshopper Creek. 
Teddy's Green Paradise: The Fertile Middle Ground
 Unfold that free passport to adventure, the Montana Highway Map. Notice all the green in the western half of the state? That's national forest land, part of President Theodore Roosevelt's great gift to the nation. While often immersed in the push and pull of political controversy, this rugged terrain shelters the headwaters to some of America's greatest trout streams, provides public access, and offers hundreds of designated waterfront campsites.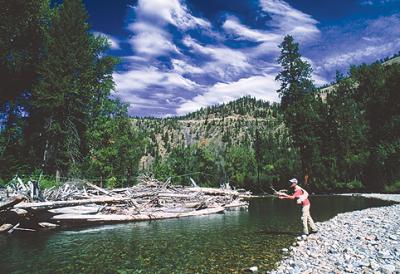 Mainly, Forest Service campgrounds are intermediate in terms of development: picnic tables, fire rings, outhouses, and sometimes trails, drinking water, and boat launch ramps. The key for opening the fishing and camping treasure trove in Montana's nine national forests is obtaining visitor maps. As you peruse the cartography you'll see that many of Montana's best streams wind past forest service campgrounds, including the Gallatin, Madison, Boulder, Stillwater, Yellowstone, and Blackfoot Rivers, along with Rock Creek. There are many sleepers too, like western Montana's Fish Creek and the Thompson River.
If you take another look at the highway map, the scattered tan patches indicate land managed by the federal Bureau of Land Management (BLM). The BLM's system of campsites in Montana is less extensive than the Forest Service's, but still significant. BLM campgrounds near Helena, for example, secure prime access to the popular trout and walleye fisheries in Holter and Hauser Lakes. Just upstream on the Missouri, another federal agency—the Bureau of Reclamation—operates a busy necklace of campgrounds circling Canyon Ferry Reservoir, a haven for walleye, trout, and perch anglers.
Lurking just under the radar screen are some locally-owned parks with prime fishing. Near the top of my list is Beaver Creek County Park in the Bears Paw Mountains south of Havre. One of the largest county parks in the nation, Beaver Creek offers many prime campsites near excellent stream and lake fishing.
Just a Place to Park: Primitive Water-front Sites
Montana Fish, Wildlife & Parks (FWP) manages more than 300 state fishing access sites (FAS), one of the country's finest collections. Typically, the FAS units offer boat launch ramps and bare-bones facilities. Camping is allowed at many but not all FAS units.
While the expansive FAS system provides a ring-side seat to some of the state's best fishing, they aren't the only way for anglers to find relatively undeveloped waterfront campsites. Many Montana streams and lakes are located on Forest Service or BLM land where primitive camping is allowed, with no amenities. Montanans love the informality of this camping style, perhaps because there's a sense of self-discovery. On perfect summer weekends these casual sites are often more popular than designated campgrounds.
Where the Wild Things Roam: Exploring the Backcountry
Montana's wilderness fishing attracts visitors from around the world. In addition to the national parks, intrepid anglers are drawn to our 15 congressionally-designated wilderness areas. Because mechanized travel is prohibited, visitors must pack their gear to isolated streams and lakes on foot or horseback. Some of the storied wilderness areas offering premium fishing include the Bob Marshall, Beartooth-Absaroka, Anaconda Pintler, Great Bear, Lee Metcalf, Mission Mountains, Rattlesnake, and Scapegoat.
Even with these riches, there is much more trout-infested backcountry to explore. Significant swaths of Forest Service land are managed as roadless, even though they're not designated wilderness. With their alpine tarns and streams, the Crazy and Pioneer Mountains are just two alluring examples. For those who prefer not to employ boots or horses, there are also plenty of opportunities for off-highway vehicle enthusiasts who want to pack a tent and rod. The Tobacco Root Mountains, in particular, are laced with old mining roads, some leading to sweet fishing holes.
While Montana backcountry fishing often involves high elevation climbs, there are exceptions like Sluice Boxes State Park, southeast of Great Falls. Here, Belt Creek has cut a winding limestone canyon through the Little Belt Mountains. Trout anglers shouldering packs and rods hike through the chasm on an abandoned railroad grade, doing day hikes or camping in the gorge.
A Montana Idyll: Float Fishing
Come spring, the most coveted possession in Montana is a permit to float the Smith River. A Missouri River tributary south of Great Falls, the Smith is the only Montana stream requiring a permit to float.
The reward is a 59-mile reach winding through a deep canyon, populated with brown and rainbow trout. Because of the fishing and spectacular scenery, the demand for permits is increasing: In 2012, a record 6,156 applications were received for the nine daily launch slots, with 1,061 lucky applicants receiving permits. During a four or five day trip, floaters will find primitive FWP boat camps tucked along the river below soaring ramparts. One early morning on the Smith, my wife, Mary, and I had a cow moose and her calf amble by our tent entrance, a couple feet from our sleepy heads.
Another ideal river for float fish camping is the Yellowstone, especially downstream from Livingston. In contrast to the Paradise Valley upstream, this reach is more braided, offering many islands where floaters can utilize the Montana stream access law to camp Huck Finn-like on cottonwood sheltered islands. Anglers find abundant browns and rainbows to Billings, with warmer water species like sauger and smallmouth bass further down. The Smith and Yellowstone hardly exhaust the Treasure State's float camp options: Other large rivers like the Blackfoot, Big Hole, Bitterroot, Missouri, Madison, Clark Fork, and Flathead system offer opportunities, although floaters need to respect private property.
I've shared some old favorites here, but here's my next dream trip: packing a raft on horseback up the South Fork of the Flathead, which courses deep into the Bob Marshall Wilderness. A multi-day float trip with friends and family should provide ample shots at the sizeable westslope cutthroats that inhabit this pristine stream. 
Ultimately it comes down to is this: at Perfect Montana fishing campsites at night you'll sit around a crackling sage campfire under a glittering dome of stars, sharing drink and fish stories, and hearing coyotes yip above the river's murmur. In these special places, time slows down sufficiently to etch deep, lasting memories.