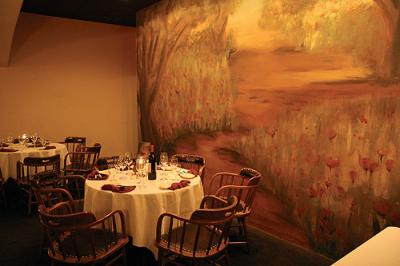 Red Bird owner and head chef Jim Tracey is dedicated to providing culinary adventurers with a combination of exquisite food and impeccable service to create superior dining experience. This lofty gastronomical goal translates to an enterprising menu with offerings that include roasted red pepper cannelloni, Montana raised beef rib eye, grilled bison tenderloin, and polenta lasagna.  
Stylishly tucked in an alley and located inside the historic Florence Hotel Building, the restaurant has provided intimate evening and special occasion dining in a vivid architectural milieu since November, 1996. "It's the food, it's the wine, it's our atmosphere, and, most importantly, it's the exceptional wait staff that we have that pulls us ahead from other restaurants," says Tracey. 
This popular restaurant, now a staple of the Garden City's culturally and historically significant landmarks, specializes in serving house-made pastas, seasonal soups and salads, hand-cut meats, fresh seafood and fanciful desserts. The menu changes seasonally to accommodate the freshest ingredients possible and always includes that savory something for sworn vegetarian and persnickety child alike. In fact, the Red Bird has become that outstanding place in Missoula where families and friends gather not only for fine food but also the elegant socializing and conviviality. 
 "I've always looked at the Red Bird as a restaurant with new ideas in a historic location, and have tried to bring in the finest of dining here, with all people in mind. Every night, night in and night out, we attempt to create not just food but edible artwork," says Tracey.
 Tracey is even willing to share the secrets to his extraordinary dishes. "First, it's important to use local produce. We're really fortunate to be able to use so many local ingredients." From lamb and bison meats arriving from farms dotting Montana's arid and blustery Eastern Front, to chickens and ducks raised in the tiny agricultural town of Belt, local ingredients and locally harvested products are mainstays on the menu. "The fresh food here is the ambiance," he says.
Without resorting to heavy sauces and extravagant recipes, Tracey relies on simple cooking to bring out the best flavors from the freshest produce. A native of  Sea City, New Jersey – a  sleepy coastal town known for its municipal marinas, jagged beach frontage and abundant saltwater fishing opportunities – Tracey honed his culinary craft working at various restaurants while attending college in Colorado and then later as a cook at the Red Bird, where he gained an even deeper appreciation for flavor and freshness. (For three years Tracey worked in the kitchen until 2002, when he purchased the Red Bird from Christine Littig.)
Preparing and consuming a meal has always been a way for Tracey to bond with family and friends. "I grew up in a big Italian family full of restaurant operators, so the Red Bird has a large Italian influence," says Tracey. "I come from a family with a strong cooking heritage, mainly on my mother's side – the Braca side. I've been eating well my whole life. There's a lot of good food in New Jersey."
Indeed, with its quiet candlelight table settings and delectable aromas wafting from the kitchen, the Red Bird is a trip to Italy for your senses. In every bite of their fine Italian cuisine, you can taste the quintessence of the rocky coastline, winding roads, swirling countryside, and pleasant sea breeze of Italy. French and Asian influences at the Red Bird are also strong. "There's a melding and mixing of different cuisines and dishes here," Tracey says.  
While dining at the Red Bird, sipping fine wine as you savor the unspoiled flavors of fresh cuisine is a must. The Red Bird's extensive, internationally diverse wine list is thoughtfully chosen with Tracey's inventive menu in mind, and includes 40 wines by the glass or bottle. The ever changing wine list provides boutique style wines with an emphasis on the Northwest region. The restaurant's passionate servers will certainly tempt your taste buds with nightly additions that include a weekly featured wine.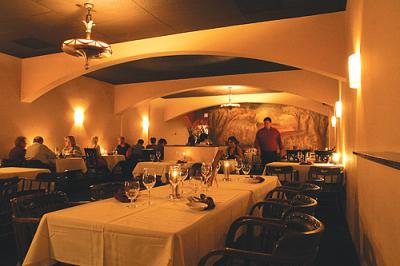 Cornerstones on the wine list include Zenato Ripasso, a rich full-bodied Italian wine suitable for any occasion, and Dunham Cellars' hand-harvested and gently crushed fruit wines yielded in the foothills of the Blue Mountains near Walla Walla, Washington. 
"We make additions to our menu, our wines and our ingredient lists all the time. Sometimes I'll add something to the menu overnight, not just seasonally. I rotate the menu for selfish reasons – I get bored with the same menu."
Opposed to the standardization of taste, Tracey sees the Red Bird as a protector of the cultural identities tied to food and gastronomic traditions. He'd like to see more safeguards for foods and their cultivation and processing techniques. "It's great to see people getting excited about food and caring about what they eat. Here we are excited about food and excited about wine, and we try to make ourselves happy, and, in doing this, we make the customer happy."
If tasting the byproducts of Chef Jim Tracey's culinary steadfastness isn't reason enough to come and dine at the Red Bird, here are two more enticements: the Red Bird launches a full wine and beverage bar in December and then the following month the restaurant, previously only a nighttime entity, introduces a lunch menu. 
"When I bought the Red Bird it was somebody else's dream, but once the new additions are in place and we redo things a bit, it will represent more of what I want and wish for." 
At only 33 years, Tracey has logged a significant portion of time as both a chef and a restaurant owner, and he says that he now feels comfortable and competent in both roles. In the process of slicing and dicing and preparing artful food dishes and overseeing the continuation of downtown's delectable dining, Tracey has become a conspicuous part of Missoula's eclectic entrepreneurial community.  
"It's a real thrill knowing that when folks think of the Missoula food scene, many of them mention or talk about the Red Bird."
The Red Bird is located in the alley of the historic Florence Building at 120 West Front Street in downtown Missoula. Phone: (406) 549-2906. Hours: Tues-Sat 5:00-9:30. Reservations are strongly recommended. 
~ Brian D"Ambrosio lives and writes in Missoula.  He also publishes the Clark Fork Journal.