What really strikes you is just how different it looks and feels. Beneath a thick blanket of white, mountains seem a little less vertical, trees shorter, and raging creeks hidden away. It is, in a word, softer.
Winter in the Last Best Place shapes the people here—makes them tougher, friendlier, and more appreciative of a sunny day. It shaped the landscape—the entire western half of the state was carved by glaciers some untold millennia ago, and melting snow does its best to dig a bit deeper into valleys across the state each spring. It shapes the agriculture, storing water high in the mountains that comes in pretty handy when the sun is up past 10 p.m. in July.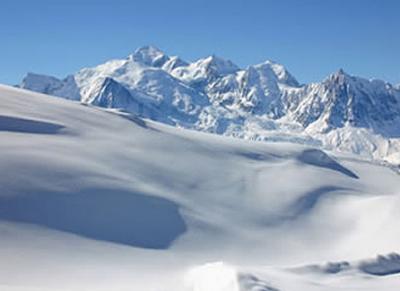 And, thankfully, it shapes the Montana experience. From angling under the ice to zipping down the slopes, winter is better in Montana, and Montana is better in winter.
Every winter, natives and visitors, the ones lucky enough to know, step outside somewhere in Montana. They go skiing. Montana's 15 ski areas include some of the oldest, biggest, friendliest, and least crowded in the country. Lone Peak, impressive in the summer, towers even more powerfully over Big Sky in the winter, blowing mind after mind as visitors realize "There is actually a ski lift to the top of that thing!"
Consider Warren Miller, whose name is synonymous with winter recreation. Miller has spent more time pondering the meaning of snow to the pursuit of human enjoyment than anyone, traveling the world to make a decades-long catalog of films on the subject. He now spends his winters living in Big Sky, skiing out his days in what he calls the most consistently good snow in the U.S. He says, "I just love to make turns, and that freedom I enjoy on a pair of skis is without comparison in any other sport. You can look out on a bluebird day; the sky is cobalt and the powder snow is as deep as you want. I could live anywhere in the world, and I choose to live here all winter long."
If you made it up State Highway 89 past White Sulphur Springs in the summer, you might run into a friendly 70-year-old man named George Willett. Make the trip after 200 inches of snow have fallen and you might not be able to catch up with him during one of his 60 annual ski days at Showdown, Montana's oldest operating ski area. Montana winters have shaped George into one of the most interesting characters in the world of skiing.
Whitefish, known in the summer as the gateway to Glacier National Park, transforms into a postcard from a Bing Crosby movie when the snow falls and the holiday decorations are installed, and serves up what may be the best please-everyone family ski resort in the country.
But there is much more than downhill skiing and snowboarding. In fact, you'd be forgiven for thinking of Montana as one big cross-country skiing resort. No less than 2,278 miles of roads, fields, trails, and lakes are shaped into groomed Nordic venues each winter, on which thousands of happy gliders enjoy a sport that has been working more muscles than jogging or cycling for at least 7,000 years. In fact, the equipment that grooms much of the world's cross-country tracks is conceived and built by a man in West Yellowstone, Montana.
Montana also boasts two enormous nature preserves that are perfect for visiting in the winter: Glacier and Yellowstone National Parks. Two of the most visited places in the country in the summer, they are virtually empty after being buried in 10, 20, or 30 feet of snow, but that does not mean they are any less accessible.  
Yellowstone's famous hot-spring-fed rivers stay thawed, attracting trumpeter swans, elk, deer, bison, and more all winter long. The roads, which follow alongside and are clogged with cars in the summer, are abandoned save for specially built buses, called snowcoaches, come winter. These guided tours may be the most sure-fire way to see a sample of Yellowstone's wildlife, and those same roads are also open to snowmobiles, cross-country skiers, and snowshoers. Some of the northern sections of the Park are still open to passenger cars, including the hotel and village at Mammoth Hot Springs.
The luckiest group of people in the world might be those that have been tipped off to one of Glacier National Park's most special experiences: a trek on skis or snowshoes with Glacier Adventure Guides' Greg Fortin, followed by a night camping in one of his custom-built snow caves. With no motorized vehicles in the interior of the Park during the winter months, Glacier is one of the most striking of examples of how the changing seasons can transform a place. The scale of an already enormous landscape is more evident, the distractions are fewer, and a "wow" moment is waiting around every corner. 
Winter changes most of Montana's wildlife—in some cases for the better. In the warm season, the early bird gets the worm and the early angler gets the fish, but when the lakes are frozen, the fish don't really get moving until around mid-day. This is ice fishermen's big secret: they appear hard-core, trudging across the ice in heavy coats, but unlike their summer brethren, they slept in this morning and enjoyed a big breakfast before heading outside. 
You don't necessarily need a hut and a frozen lake to fish Montana in the winter, though, since summer's best blue ribbon trout streams—the Madison, Blackfoot, Yellowstone, Bitterroot and other rivers—remain free-flowing most of the winter and are very fishable if you have a good guide. 
It may be impossible to avoid getting hooked once you commit to a Montana winter experience. 
But winter doesn't just draw in visitors. It also turns the locals a bit more adventurous. For proof, see two of winter's craziest pastimes, both with significant footholds in the Treasure State: ski joring and snow kiting.
Ski joring comes in two flavors: dog and horse. Both involve an animal running quickly, with a person on skis or a snowboard in tow. Both boast national governing bodies, competitive tours, and some of the most fun spectator events of any sort, in any season. Skijorers behind horses aren't content with breakneck speed and so construct large jumps to be pulled over to weed out the more timid.
Snow kiting is a combination of wind, ice, and skis or snowboards. Growing communities on some of Montana's consistently frozen lakes strap into large kites, following the wind back and forth across the ice and occasionally letting their equipment carry them high into the air before returning for a soft landing.
Of course, all this is fine and good, but extreme isn't for everyone. Those who are easily chilled need not worry. One of Montana's best year-round recreational opportunities is infinitely more enjoyable when the mercury drops below freezing—enjoying the state's hundreds of natural hot springs. 
In fact, no matter how you spend your days enjoying the Montana that emerges when winter arrives, a soak in a hot spring is the perfect way to end them. There are whole cities of springs (appropriately called Hot Springs, Montana.), big resorts, springs in the middle of rivers that turn icy water warm and soothing, and spots at the end of a hike where you're guaranteed to be alone. 
In the end, it's about immersion. Winter feels different in Montana because it draws you in, connecting you to nature, the landscape, the culture, and the people in a way that just isn't possible in the heat of the summer. For generations, Montana's other season has been scaring people off, only to reward those who stay with the undeniable feeling that they are truly lucky to have ended up here.
The shape of Montana's winter shapes lives.
~ Donnie Clapp lied about his skiing ability to get his first job in Montana, and has never looked back. You can find him exploring opportunities for hiking, biking, skiing, and fishing with his wife and two young boys around Bozeman, Montana.