An early morning call went out to the Absaroka Search and Rescue team, reporting a missing 10-year-old boy in the Beartooth wilderness area in Montana. This 900,000-acre area is home to Granite Peak, Montana's tallest peak at 12,799 feet, towering above the Beartooth Plateau where the family who reported their son missing had hiked the evening before. The boy had lagged behind and not made it back to camp.
Chris Dover worked as a "Flanker," carrying the radio, map, and compass to help guide a search and rescue dog and handler team to help locate the boy. Only an hour into the search the dog alerted slightly, stopped to sniff, and raised its head in the direction of a steep, gnarly drainage. Beyond just this slight cue, the team had no more information to go on. More teams were searching an area up higher, but turned up nothing. Hours later, after the dog again gave an alert in the direction of the drainage, a helicopter was called in to take a closer look. As the helicopter dropped in the drainage, the boy was spotted. The dog's slight head lift had been the right cue.
Search and rescue dogs detect human scent in a variety of forms including scent-carrying skin cells, evaporated perspiration, respiratory gases, and even decomposition gases on human skin or tissues. For Deb Tirmenstein of Clarkfork-Bitterroot Search Dogs, who works with a seven-year-old black Labrador named Wibaux: "It really doesn't matter what it is you ask her to look for, she just wants to work. You give her a job, she's happy."
One of the best parts about enjoying the Rocky Mountains is getting into the remote backcountry in the summer to camp and hike and in the winter to lay some fresh tracks in deep powder. With these activities comes a certain amount of risk, so if tragedy strikes and a hiker becomes lost in the wilderness or a skier gets swept away in an avalanche, this astute canine sensory system goes from being simply awe-inspiring to absolutely critical. Search and rescue dogs can be trained specifically for rubble searches, water searches, or for avalanche searches. Look for the furriest member of the ski patrol next time you're on the slopes.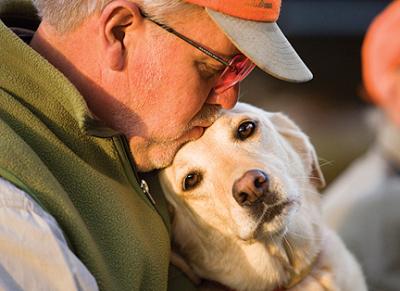 In the scent realm, dogs definitely have the advantage. The canine brain is dominated by an olfactory cortex and an olfactory bulb that is 40 times bigger than that of humans (relative to brain size). With 125 to 220 million scent-sensitive cells, dogs can discriminate odors at concentrations nearly 100 million times lower than humans.
This powerful nose has been a boon to saving human lives, but is also being used to help researchers locate and protect endangered wildlife and the landscapes on which species depend as well.
One summer day in Missoula, Montana, I hiked up a steep hillside on Mount Sentinel with Dalit Guscio, a dog handler for Working Dogs for Conservation, a Montana-based nonprofit, with her canine partner Seamus, a rescued Border collie cross. We're here to locate the last remnants of Dyer's Woad, an invasive weed that has taken over native prairies throughout Montana, eliminating forage for a number of wild and domestic species.
Highly trained and wildly enthusiastic Seamus moves quickly, methodically, sniffing close to the ground. As his head flies up, nose in the air, he circles back toward us a few times and then he sits. "Good boy!" calls Dalit, looking to see what he's parked himself next to. True to his calling, he's correctly pointed out a young Dyer's Woad plant. She tosses him a favorite toy, his reward for a successful find, and then she records data.
Thanks to a joint effort between Montana State University led by Kim Goodwin and the University of Montana led by Marilyn Marler, dogs are the most recent addition to on-going eradication efforts of Dyer's Woad on Mount Sentinel. Despite pulling, spraying, and eliminating hundreds of plants over 15 years, the final vestiges are holding on. These last bits are nearly impossible for humans to find. Given that each plant produces 400 seeds, locating and eradicating every single plant is crucial. With Seamus on the job, there is an increased assurance that this invasive species will be eliminated from this ecosystem completely.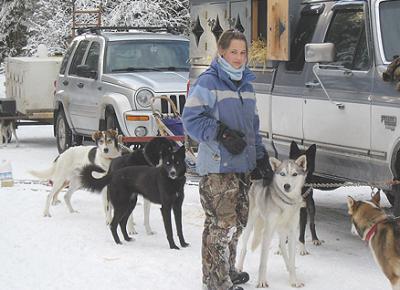 Meanwhile over in Montana's "Great Burn," a 250,000-acre roadless area straddling the border between Montana and Idaho, Orbee, a two-year-old Border collie dressed in an orange vest is sent to work in search of scat. Orbee sweeps through dense brush, running in wide arcs, jumping downed trees, traveling with his nose high, mouth wide open. Orbee crashes up the hill, comes to a screeching halt, backs up, sits down and stares at his handler. Aimee Hurt walks over to investigate his find, yelling, "That's a good boy!" Pulling out a GPS unit to take location coordinates and a bag to collect the sample for analysis, she says: "We're high enough and remote enough, this could be wolverine." A specially trained scat-detection dog, Orbee's expertise is locating poop of wolverine, grizzly bear, fisher, and lynx.
Whether searching for scats (poop) of an endangered species or the final foot-hold of a pesky plant, the work being done by the cadre of canines employed by Working Dogs for Conservation is helping to save wildlife and wild places around the globe. But these aren't just any dogs, they're rescues, tossed away because of their uniquely big energy, drive and love of never-ending searching. Many of the dogs on staff at Working Dogs for Conservation come from shelters throughout Montana.
Given that the history and economy of Montana is so deeply rooted in raising livestock, Orbee is a fabulous example of the many working dogs throughout the state that have entirely too much energy and drive for the average family. The persistence of these traits should come as no surprise, since the success of many Montana ranches has been, at least in part, attributable to the dogs working alongside ranchers. Herding dogs, however, aren't selected for their sense of smell as much as for another unique canine instinct: predatory behavior.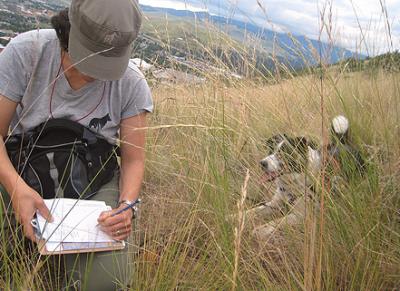 Every dog has a natural tendency toward some aspect of predatory behavior, where the dog's highly attuned visual sensory system detects movement, triggering the instinct to give chase. The goal of breeding a good herding dog is to minimize the dog's natural inclination to treat livestock as prey while simultaneously maintaining the dog's hunting skills. Herding in a variety of ways, some dogs nip at the heels of animals ("heelers"), while others give an animal a strong eye ("headers"), staring down the animal and keeping livestock in the group. Heelers drive the animals forward, typically from behind the herd, while the headers go to the front of the herd where they can stop and turn animal movement.
With a sharp nose and a well-honed predatory instinct, this combination of traits have helped sniff out more than lost hikers and track down more than the rogue cow.
York, a Dutch shepherd and recent retiree from the Great Falls, Montana police K-9 unit, spent five and one-half years helping solve crimes. York used his nose successfully in 213 misdemeanor cases, 84 felonies, and his tracking abilities to capture 47 criminals, personally taking down seven suspects. With a 40 percent success rate in tracking criminals, York's abilities far exceeded that of the national police dog average of a six to nine percent success rate. York demonstrates how a mix of dog traits can come together to fill a much-needed role extremely well.
While York worked fighting crime and rounding up criminals, some dogs work to rehabilitate them as well.
Founded in 2004 by Warden Jo Acton with Debbie Bouwcamp of Service Canines of Montana, Prison Paws for Humanity brings rescue dogs and inmates at the women's prison together to help rehab and prepare one another for a better, more positive existence. Moreover, prison inmates serve as evaluators of Delta Society Pet Partner teams, training and screening volunteers with their pets so they can visit patients/clients in hospitals, nursing homes, hospice, and many other facilities. It's been demonstrated that when animals are around, people's blood pressure goes down, stress and anxiety levels are reduced, people feel less lonely and less depressed, and they tend to be more social and community oriented. "For inmates, this is a cross between a skill-building vocational program and therapeutic program. We see good teamwork effort as the women help each other. There is a difference in their self-esteem when they work with the dogs. Most of these women will be leaving here and they have learned to be responsible," said Jo Acton in a Billings Outpost article.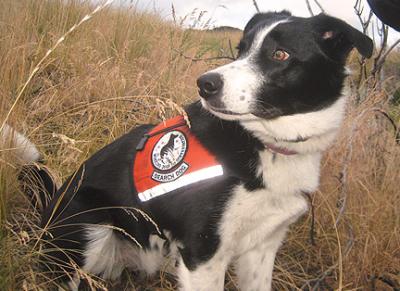 From entirely new vocations to the more traditional jobs, dogs are tremendous helpmates whose work knows no bounds; new uses for dogs continue to be discovered and tested daily. Whether its help finding a lost hiker, an endangered species, keeping a herd of cattle in-line, retrieving a bird for a hunter, sniffing out a criminal, or rehabbing a lost soul, these four-legged creatures are more than a best friend and definitely a nominee in the best employee category—ever.
Kathryn Socie lives in Bozeman, MT, and is owned by two cattle dogs. Happily dogged, she hikes daily and doesn't get into the backcountry nearly enough.