Twenty-five miles north of Missoula on Highway 93 sits the small town of Arlee on the Flathead-Salish Kootenai reservation, where I grew up in the 40s and 50s.  At that time the greatest attraction of Arlee was the July Powwow, which drew people from all over the Northwest. Although flanked by the magnificent Mission Range, Arlee was like other small western towns with its two churches, two bars, a farmer's union, store, post office, and soda fountain. It was a village of 150 people, mostly farmers, ranchers, and displaced Indians. The nearest doctors and hospital were 12 miles away at St. Ignatius. On Easter we attended the famous Mission church, built by Father Hoecken and the Flatheads and Pend d'Orielles.  It was a country that resonated with the aftermath of the Civil War and the immigration of white settlers.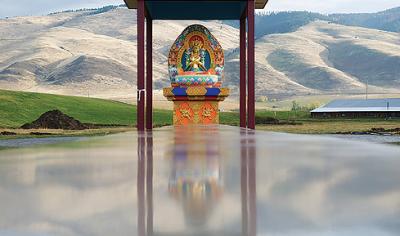 Now, my hometown is getting attention.  About two miles from the Arlee post office going north on Highway 93, a small sign on White Coyote Road reads "Ewam." Down that road is a surprise. In the middle of a field stands Yum Chenmo, a 24-foot statue of the Tibetan Great Mother, painted in rainbow colors.  Representing wisdom and compassion, she will be the center of the eight-spoked wheel of the Garden of a Thousand Buddhas. It is astonishing to me that this Eastern religion is planning this exotic garden in the valley of my youth.
The Arlee I knew as a young girl was typical of the Old West.  We had a simple life and knew nothing of the outside world. People lived in small houses and ploughed with horses.  Beginning in the fall, the school was the center of activity, and we were all avid basketball fans.  DeMers Mercantile, a multi-purpose store, sold everything from baling wire to Bromo Seltzer.  The store had shoes on a high wall of shelves, and once as the clerk opened a box I saw old-fashioned, button-topped shoes. Behind the store stood a dilapidated warehouse; peeking in there, we saw fancy carriages. Lore has it that folks came from California and offered a price to haul all this stuff away.  The storeowners grinned to themselves, thinking how they were dumping this worthless stuff on these dudes, and the California folks smiled smugly because of the deal they were getting.  Everybody was happy.
We had generous Indian neighbors. The Pelkos lived across the road. The wife was round with layered clothes, moccasins, and a colorful turban around her braided hair.  John Pelko was slim as a knife with long braids; he wore Levis and a white shirt. My two brothers and I were friends with them.  John would often bring us deer and elk meat, which we received gratefully.  They gave us our first horse.
It's been almost 70 years since I first touched that ground.  It has changed, of course, and the shabbiness I knew growing up there is more so because of a struggling economy.  Most people who live in Arlee on farms and ranches now work in Missoula to sustain themselves. Many of the Indians I used to know exist only in books. The valley, though, has the same beautiful serenity, and sometimes when my daughter and I go to Arlee on some matter pertaining to the old homeplace, I ask my daughter to stop the car at Couture Loop on Highway 93.  From there I walk around the mountains, until I arrive at the railroad track and the $39.00 shack where I lived.  I pass where Chief Grandjo once lived and remember how, when he met with tribal members, I went to sleep to the sound of distant drumming and the mournful wail of coyotes.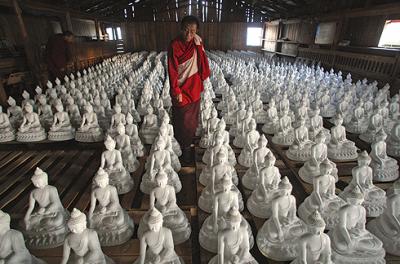 Like others in the 1970s, I became interested in Eastern philosophy. Many Americans were finding a spiritual home in various interpretations of Buddhism, and Montana was no exception. Now, Buddhist communities can be found all over the state, including a small, dedicated group of Buddhist practitioners in Missoula with a membership radiating out into the neighboring towns.  Their teacher, Gochen Tulku Sang-ngag Rinpoche, a Tibetan lama, was impressed with their dedication and became inspired to find a place where they could meet. 
He went on a quest with one of his students. They decided it should be on Highway 93, close to Missoula.  Driving south from St. Ignatius, just before Arlee, they saw the sign "White Coyote Road," and Rinpoche, excited, wanted to turn in there. When he saw the "for sale" sign on 60 acres with a small house on a knoll and the soft hills in the background, he knew this was the place, because when he was seven years old, he had had a dream about this very land for a peace garden.    
The Buddhist community embraced his idea enthusiastically and began the challenging process of fundraising and building Mr. Sang-ngag's vision of a Garden of a Thousand Buddhas. That was 10 years ago.  Now, more and more, as the word travels about the garden, people are making special journeys to witness this little miracle and offering help.  Excitement swelled with the understanding that upon completion the Dalai Lama, a friend of Mr. Sang-ngag's, will come to Arlee and consecrate the garden.   
The question comes to mind, why here on this small reservation town in Montana?    
Besides Rinpoche's vision, there are also some commonalities between the Buddhists and the Native tribes.  The Tibetan monks, pursued by the Chinese, were forced to leave their homeland.  Rinpoche spent nine years in prison.  The American Indian tribes too were forced to leave their home in the Bitterroot Valley.  Both peoples have a powerful spiritual connection with the land. They do sacred rites with sage and juniper, as well as drumming.  The glacier-edged Mission Mountains are strikingly similar to the Himalayas, both stunning monuments of a transcendent nature. 
The Garden of a Thousand Buddhas is a place that will attract people of all faiths from all over the world.  Because of this garden, my hometown will become a destination instead of just a passage to Glacier Park. There will be a new focus on the loveliness of the land, and people will yearn to settle here. The tribes and the Buddhists understand that change will come, but they also want a careful, thoughtful process to manage and guide it.  The Indians worry that they may not be able to afford to buy land on their own reservation, and that their great earth will be developed and changed.  The Buddhist community is sensitive to this problem and seeks to address it with members of the tribe.  
Meanwhile, the work of the garden goes on. In the serene and compassionate presence of Yum Chenmo, someday people will walk the eightfold path, seeking harmony in a disjointed world.  Finding peace in themselves, it will radiate outward into the world. That is the hope of Tulku Sang-ngag Rinpoche. 
CREATE YOUR OWN PEACE GARDEN
Dari Rasa Trunk Show - 132 E. Main Street, Bozeman
Unique and lovely items for your Peace Garden. Marble and Ironstone statuary
including Buddhas, Kuan Yin, Tibetan Farm Wheels, Garden Stones, Foo Dogs and more.
Ewam Buddhist Center Stores - 34574 White Coyote Road, Arlee - 180 S. 3rd St. W., Missoula
China Wood - 716 Dickens, Missoula
~ Jo Anne Troxel, a native Montanan, lives in Bozeman, Montana.  She is a retired English teacher and now spends her time as a social activist, and supporter of the arts.  She is currently working on a novel set in the Jocko valley.  She also writes poetry.