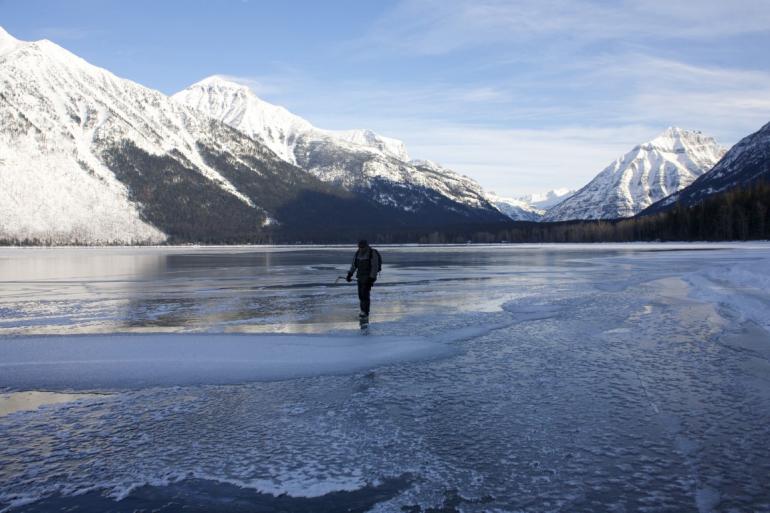 We drive through the shuttered and unmanned entrance to Glacier National Park early in the morning, discovering Apgar Village shrouded in a windless snowfall. Chubby flakes seem to be in slow motion, falling silently to the snow-covered road, which seems borderless, stretching before us like a clean slate. The park appears to be slumbering after a season filled with people, filled with motion, and the excited, often-noisy anticipation of exploration. Now the park is nearly silent and empty as if the clock has been turned back to an earlier time and in accordance with its original purpose to remain unimpaired—wild and wonderful.
Winter is a most elegant time in Glacier Park with a landscape that appears donned with feathers, furs and jewels. On a sunny day evergreen trees appear to be cloaked in white sequins and frost forms a delicate lace on bony branches. An old log draped over McDonald Creek is adorned with sparkling ice baubles and a mosaic of colorful stones glistens beneath the water's surface. Skies are so blue they look freshly painted, contrasting the jagged line of snow-capped mountains that sit like a headboard over Lake McDonald. Later in winter you might discover a frozen Lake McDonald covered with hoarfrost blossoms on dark-colored ice.
Wildlife tracks leave hints to which animals are active, where they are going and where they have been. Bear are normally hibernating along with squirrels and marmots, but they might awaken for short periods of time in the winter. Many of the birds have migrated to a warmer place, but birds such as the black-capped chickadee and woodpecker can be detected in a veil of snow as they flit from tree to tree in search of insects and seeds. The list of ninety-two common birds in Glacier Park in the summer dips to just twenty-eight in the winter months.
Elk and mule deer migrate from the high country to lower elevations where snow is not as deep and food is more accessible; here you can also find moose, whitetail deer, and mountain lion. Smaller animals such as snowshoe hare and weasel turn white as snow in the winter to help them stay hidden from prey. A hush falls over Glacier Park, tucked in snugly by a snow blanket that dampens sound and activity. Amidst the quiet, cold clear air and the brightness of a world freshened by new-fallen snow you can find solitude and serenity—inspiring a moment of clarity during confounding times. The world is a beautiful place.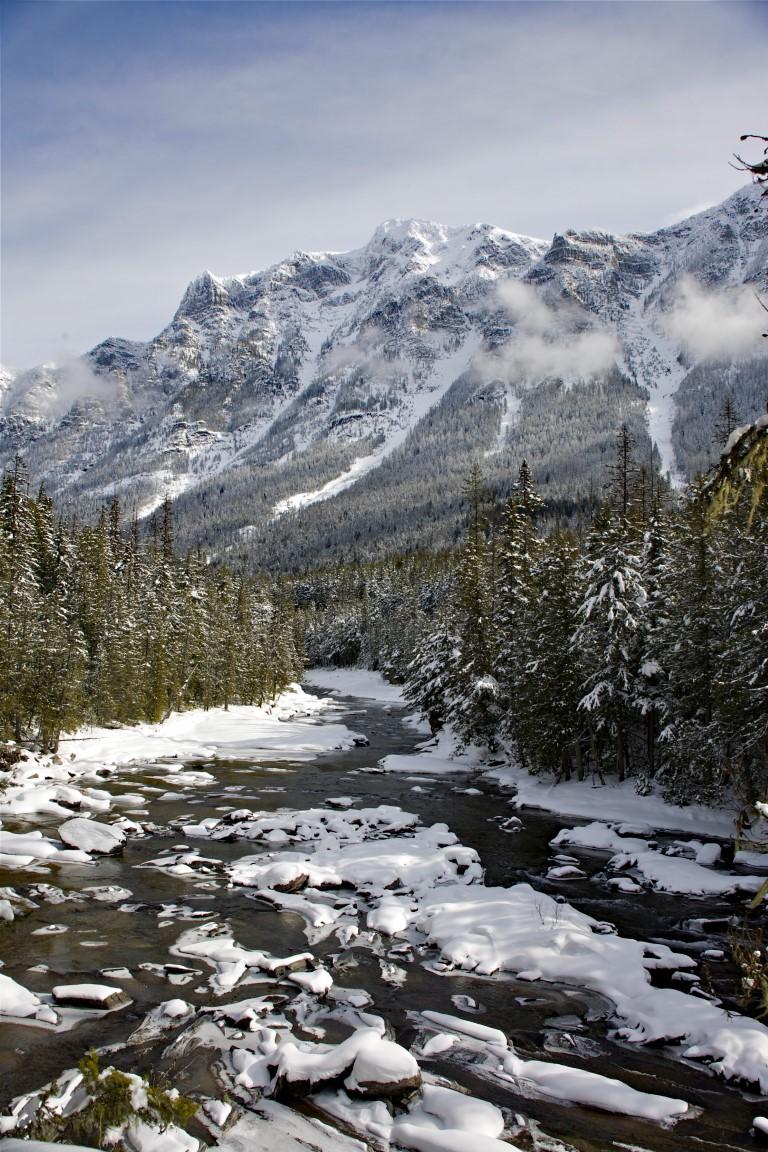 MAKE YOUR ESCAPE
Most of the roads in Glacier Park are closed in the winter including the centerpiece Going-to-the-Sun Road, which is transformed into a snow-covered path for skiers, snowshoers and skiers. Road closures provide new paths for play, expanding the possibilities for motorless adventure in places that are normally filled with vehicles and visitors. In December 2019 there were a little over 15,000 visitors compared to record of over a million visitors in the month of July in 2017.
Pick up a winter recreation brochure at Park Headquarters or the Apgar Visitor Center to help in planning your outing and for tips on how to stay safe in winter. You can also get information and a PDF version of the brochure online: https://www.nps.gov/glac/planyourvisit/crosscountryskiing.htm
There are several trails in the Apgar including near Lower McDonald Creek, to Rocky Point, the McGee Meadow Loop, over Quarter Circle Bridge to the Old Ranger Station or to Apgar Lookout – offering outings with varying lengths and difficulty.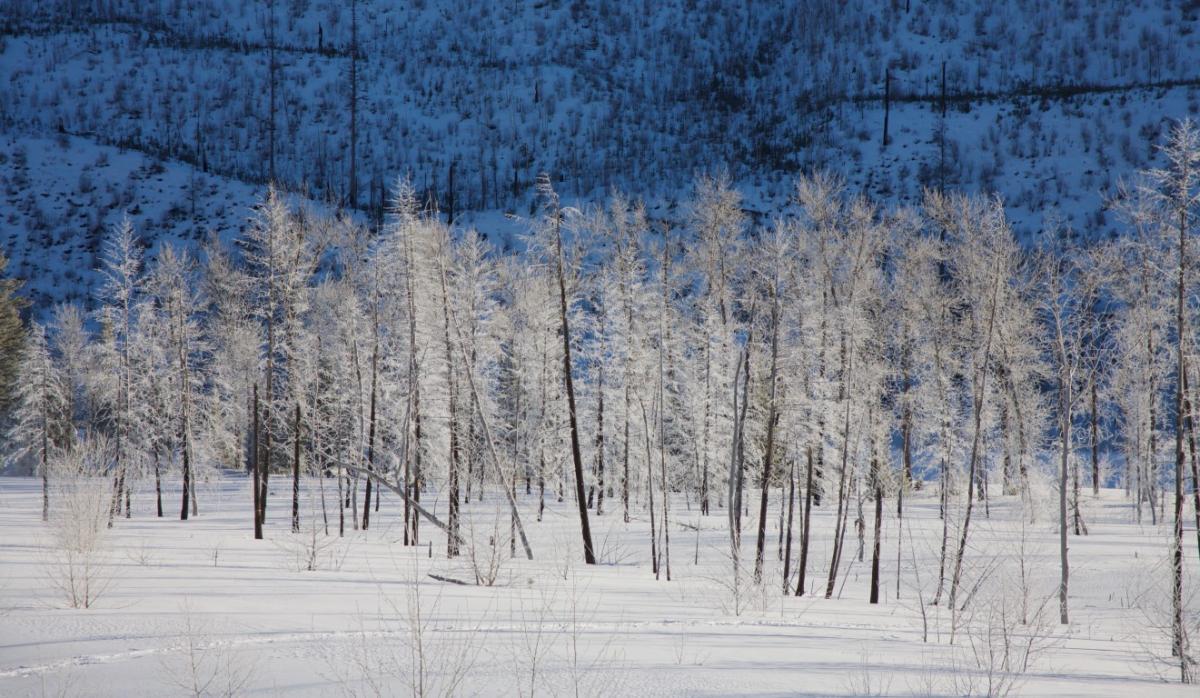 Upper Lake McDonald is the most popular area for skiers and snowshoers with its relatively flat grade and access near the parking lot of Lake McDonald Lodge. The gated Going-to-the-Sun Road with its moderate grade is one of the most popular routes and snow is often packed firm enough to accommodate walkers. Ski 1.8 miles to reach the turn-off to McDonald Creek where you can look upstream for a view of McDonald Falls. Continue a short distance farther for a ski through cedar trees along McDonald Creek to reach Sacred Dancing Cascade. If you continue to the footbridge over the creek to the Going-to-the-Sun Highway, you can loop back to the parking lot.
The Avalanche Picnic Area and Avalanche Gorge are more ambitious goals for those who have the experience and stamina for a day-long outing. 
A trip up the North Fork to the Polebridge area offers a scenic drive as well as lots of open ski terrain to places such as Big Prairie, Covey Meadow, Lone Pine Prairie, and a bigger 6-mile (one way) ski to Bowman Lake.
A popular one-way ski can be found up the Middle Fork at Marias Pass. A one-way ski on Autumn Creek Trail requires two cars, parking one at mile marker 193.8 below Marias Pass and another at the Pass. Starting at the pass you will need to cross the railroad tracks and ski a short distance before entering the park. Less experienced skiers may want to consider an in-and-out ski because the trail passes at the bottom of some possible avalanche chutes and has some steeper sections.
The east side of the park from the continental divide to the park boundary has been closed due to efforts to control Covid-19. Check the website for updates on this closure.