Communing with Imoiitapi: The Pikuni Bigfoot Project Searches For Bigfoot In Indigenous Stories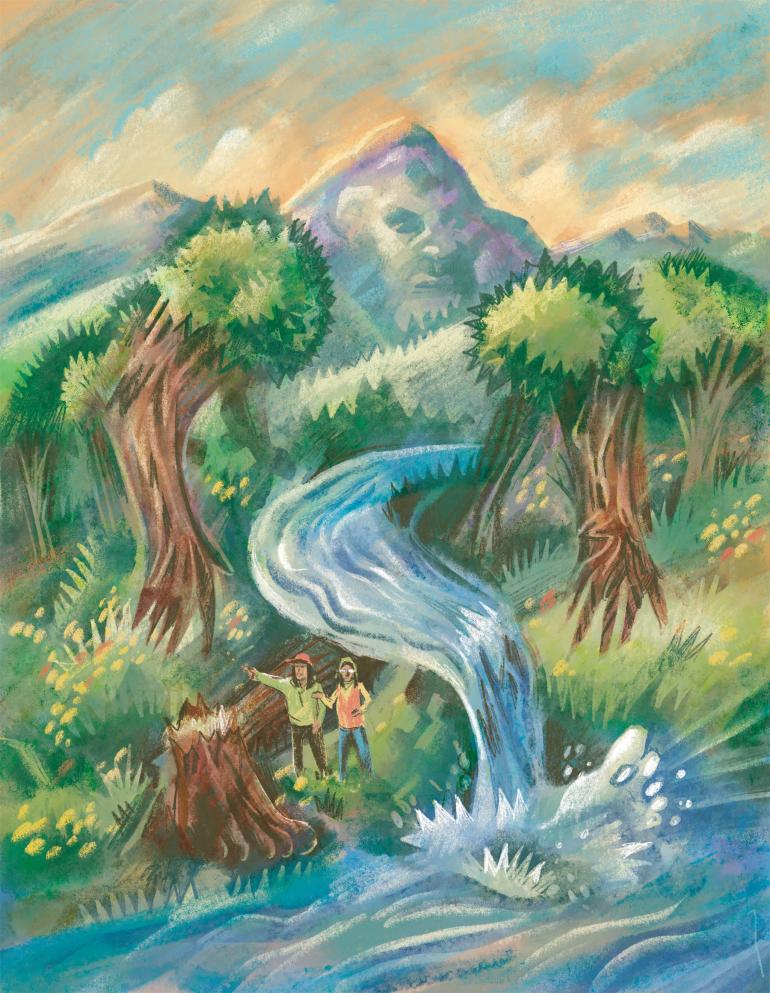 Not many people see Bigfoot while enjoying a cup of coffee with their mother. But this is precisely what happened when Carrie Lynn Bear Chief stopped in for a visit to her mother's home roughly six miles from Glacier National Park on the Blackfeet Reservation on July 1, 1999.
Carrie Lynn spotted the giant figure standing on the ridge across from Cut Bank Creek, and watched it clearly with binoculars as it disappeared into the trees. This experience, along with her love for her people and her native land, inspired her and her sister, Lailani Upham, to create the Pikuni Bigfoot Storytelling Project on YouTube.
"Before that (experience), I was curious, but not into it," says Carrie Lynn. "It was later that I started looking into it and hearing other people's stories."
After seeing Bigfoot for herself, she said that stories from her family made her wonder if Bigfoot was present long before she saw the one on the ridge. She recalls a time growing up when, at her family's log cabin, their dog ran outside chasing something, then was thrown back against their home.
She also mentioned the story of when her grandmother Carrie (her namesake) rode on horseback into town to work as a candy striper. While the elder Carrie traveled through a river bottom in the dark one early morning, she was suddenly pelted with small rocks. After seeing Bigfoot for herself, more of these incidents took on a different perspective.
Although Lailani jokes that she was dragged into it, it probably didn't take a lot of persuasion to coax her into joining Carrie Lynn on these adventures.
"Carrie Lynn is the true 'squatcher.' She experienced it," says Lailani, who is a professional journalist and cultural storyteller. "My passion behind it is I wanted to hear the stories. That is the best beat you could have."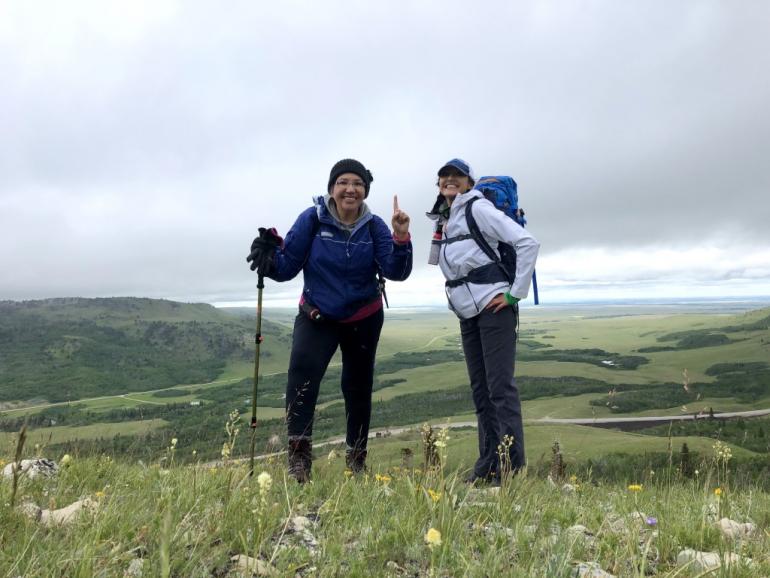 Lailani, who is also the creator behind Iron Shield Creative, brings her experience and talent to the project through her videography and her penchant for recognizing a good story. "I am excited to be that service for people on the platform. As a journalist, it's very intriguing. It's a mystery."
Call him what you will—Bigfoot, Sasquatch, or Imoiitapi, the Blackfeet name meaning "hairy man"—this being has held an important place in Native culture for centuries. Carrie Lynn says that the Blackfeet consider Bigfoot a people, not an animal. Many stories lean toward the spiritual aspect of the being. But whether Bigfoot is a spirit, a teacher, or a physical creature warranting respect, Carrie Lynn and Lailani search for stories, signs, and hopefully another sighting to paint the full picture of the experience.
A large part of what Carrie Lynn and Lailani do is allow people to share their experiences.
"Blackfeet are big-time storytellers," says Carrie Lynn. "We let them tell their stories."
On the Pikuni Bigfoot Storytelling Project, several guests share their firsthand encounters. Some are frightening, such as when Craig Falcon, whose Blackfeet name is Night Gun, threw open the curtains at his cabin in East Glacier and was face-to-face with the enormous visage of Bigfoot looking at him through the window when he was three or four years old. The next morning, he says, there were tracks around the house and his father and others followed the tracks, which led behind Glacier Park Lodge and toward Dancing Woman Mountain, until the snow was chest-deep. Many years later, during a hunting trip, Falcon says, he watched as a tall object that at first appeared to be a tree suddenly stood up and walked into the woods.
Other stories show a helpful, even noncorporeal side to Imoiitapi. In the mid-1970s, Lynda Beaudry and friends spun out on black ice on Highway 89 near Kiowa Camp while heading to a basketball game and ended up with the front of the car firmly planted in the ditch. Lynda asked Imoiitapi for help. Afterwards, a tiny woman barely leaned on the front of the car, somehow extricating it despite numerous previous unsuccessful attempts during which the vehicle didn't budge. Seeing signs of Imoiitapi, or even Imoiitapi himself, resonates very deeply with many people. He is a touchstone; the encounters are often lessons as well as enthralling stories.
This relationship between the natural world and an often unseen yet ever-present realm is an integral part of the Blackfeet culture. "We don't separate them. That's the way we believe our whole lives," says Carrie Lynn.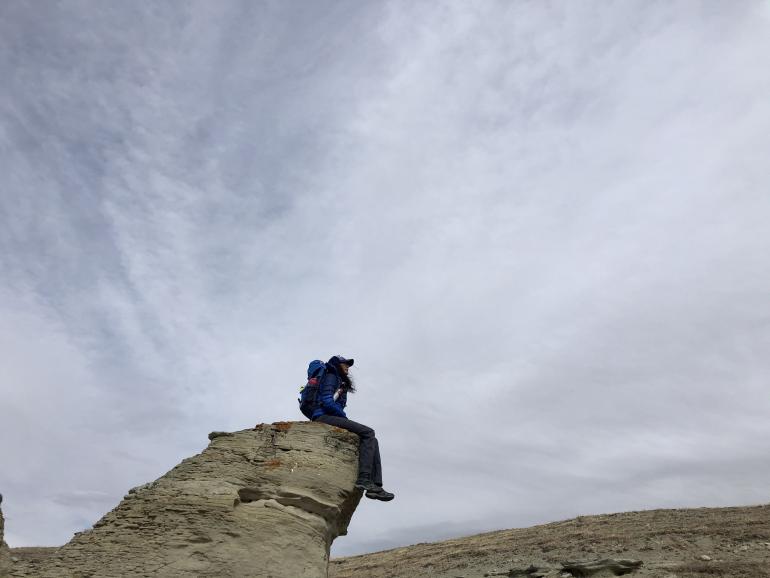 Carrie Lynn and Lailani follow leads on where they might spot a Bigfoot, along with looking for indications of his presence, including odd noises—and even screams—as well as tracks or structures built by the creatures that many of us might otherwise just walk past. These peculiar formations typically include trees pulled over to form a 'U' shape or crisscrossed in a structure almost resembling a tipi. In one video, Carrie Lynn points out that they like to leave an 'X' in different places; some squatchers believe these are possibly territorial markers.
Many times it's all about soaking in the grandeur of the area. "We don't even care if we see if Bigfoot stuff or not. As long as we can be out in nature," says Carrie Lynn. "Every season has its own beauty."
For these intrepid ladies, it might be a leisurely stroll on a beautiful summer day, or a tenuous outing at night in nearly subzero temperatures on icy, remote roads. But, whenever they can get together and head out in search of Bigfoot, they grab the opportunity to share this amazing country with others, giving people who couldn't otherwise see such places a front row experience.
Some of their outings might give viewers chills, like when they are out in the dark and cold, listening for strange sounds in the night. "I like the spooky times," says Carrie Lynn. On the other hand, Lailani takes a more stoic approach, admitting that she does not always share the same sense that something is watching them. Although, admittedly, she frequently looks around—just to be sure.
There is something to be said for having the guts to drive down the road to the Cut Bank Ranger Station in Glacier National Park when it's still very much winter in the area, listening and looking for a creature that may not want to be found. There were even instances when even the unflappable Lailani was spooked, such as when they were hiking in Many Glacier several years ago.
"We were getting deeper into the woods up there," says Lailani, when the mood suddenly shifted. "At that moment, there was an odd feeling." They promptly left. When she showed the raw video to a cousin last year, their unsolicited impression was that "it felt creepy." Lailani says she told her that "It feels like there is something there."
Although Carrie Lynn and Lailani venture out in all sorts of weather, with summer approaching they're bound to be on the trails of Glacier, as well as off the beaten path throughout the Blackfeet Nation and other tribal lands looking for the elusive creature. They are also always looking for other people's experiences with Bigfoot, as well as cultural stories. Besides Bigfoot, there are captivating stories of Little People and Shapeshifters. Their cousin, Raven Heavy Runner, shares a Blackfeet Bigfoot medicine story passed down from their grandfather, Joseph B. Upham (whose Blackfeet name was Iron Shield) along with an always entertaining Napi story. Even Lailani's young granddaughter, Holly Upham (Bear Chief), a natural storyteller at heart, tells listeners the story of Napi and the Great Spirit.
Lailani says it's been in the back of her mind for a long time to create a place for indigenous stories, which has been a big part of the Pikuni Bigfoot Storytelling Project platform. She was inspired to develop Iron Shield Creative and, as a writer and visual storyteller, she features stories and shares them firsthand during the cultural hikes she and her team offer. Of course, Bigfoot will most likely be part of the mix in many of the outings, and she looks forward to encouraging people to do their best Bigfoot holler.
In the meantime, keep your eyes open while walking in the woods or along a ridge because you never know who might just be looking back. It might be Carrie Lynn and Lailani, or it could be Imoiitapi himself.
For those who have a Bigfoot story, contact Carrie Lynn and Lailani at [email protected] You can find the Pikuni Bigfoot Storytelling Project on YouTube, and follow Lailani's cultural programs and stories at ironshieldcreative.com.