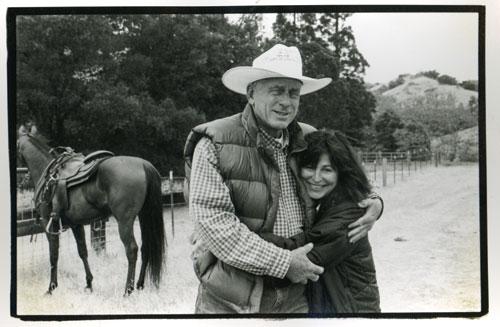 On July 4th 2006 Random House will publish Gallatin Canyon, Thomas McGuane's second collection of short stories and his eighteenth book. Distinctly Montana has learned that Tom McGuane's short story "Cowboy," featured in Gallatin Canyon, has been chosen for inclusion in Best American Stories 2006.   This marks the first time ever a single writer's work will appear for three consecutive years in this distinguished anthology. Equally adept at writing fiction and non-fiction, McGuane has to his credit nine novels, at least two volumes each of essays and short stories, numerous sports articles, and at least five movie scripts all produced in a span of almost forty years.   He has lived and ranched in Montana for about the same period. 
Thomas McGuane III was born in Wyandotte, Michigan in 1939.  He received his B.A. in Humanities from Michigan State University with honors in 1962, and three years later he was awarded an M.F.A. from Yale University.  From 1966-67 he was the Wallace Stegner Fellow in creative writing at Stanford University.  His first novel, The Sporting Life was published to great acclaim in 1969 before he had celebrated his thirtieth birthday.   
An ardent conservationist, fisherman, and award-winning cutting horse competitor, I learned that these interests had very early roots.   As a teenager, Tom McGuane spent one glorious summer working on a ranch in Wyoming.   When I asked McGuane himself how he came to Montana, he told me:  
"I went to Wyoming starting in 1957 and always meant to return there when school was done but where I've ended up is pretty much the same country.  My move to Montana is really the accident of having found cheap housing in Livingston;  I thought it would be temporary.  The draw for me has always been the natural world above all, by land or by sea!  I don't understand anyone who loves nature in only one setting and I have a good friend who writes beautifully about the west but she hates the ocean.  Huh."  
"I have never been happy around academe and from the beginning wanted to find a way to make a living without taking the usual route into an English department.  My scheme was to guide part-time, do journalism part-time and spend the rest on my fiction.  Later, movie work brought home the bacon at a better clip.  Moreover, I've always tried hard to be a good businessman.  I've never been attracted to the artist/victim paradigm.  Though I once enjoyed travel and trying life in other environments, Montana has been the only place that has really been home."
Tom McGuane, Jim Harrison, William Hjortsberg and Russell Chatham are the nucleus of a group of young writers who moved to the Livingston area in the late 1960s.  The four were friends before they made Montana their home.  McGuane met Jim Harrison, author and poet, when they were college undergraduates in Michigan.  He and novelist William Hjortsberg were fellow students at Yale Drama School.  McGuane and Hjortsberg and their wives traveled to Europe to study in Florence after grad school.  Successively the two were  Stegner fellows at Stanford, living in Bolinas.  Their lives were dedicated to writing and fishing.  In Bolinas they met their contemporary, Russell Chatham, already an artist and record-holding bass fly fisherman.
Fishing has been a lifelong passion for McGuane.  His book  The Longest Silence: A Life of Fishing (Knopf 1999) is one of the finest literary celebrations of the sport.  It was fishing, above all other considerations, that brought the McGuane family to Montana.
Tom, Becky (his first wife, Portia Rebecca Crockett), and their infant son Thomas IV, spent the summer of 1968 in Livingston, drawn there by the immediacy of the  Yellowstone River and its promise of great fly fishing.  In July, Tom and Jim Harrison took a pack trip in the Crazies with Duane Neal, a Pray outfitter.  Neal told them,  "If you come back again next summer you can live at my ranch."  
The McGuanes accepted the offer, returning to Montana in 1969.  Hjortzberg received a postcard, "Fishing great.  Have a ranch.  Come join us.  Tom."  Jim Harrison was there, too.  The three writers had portable typewriters.  They spent the summer laughing, writing, and joking in the old barn. 
Hjortzberg, who answers to Gatz, recently reminisced: "The next year (1970) Tom sold The Sporting Life for a bunch of dough to the movies and was looking to buy a ranch.  He found just the right place up Deep Creek.  There was a house in the center of about fourteen acres. The interior walls were a knotty pine.  It was just like walking into a cigar box!" So Hjortzberg helped McGuane to sheetrock the interior.    Tom gradually began to buy up pieces of property to two hundred acres, piecing together a ranch.  
McGuane started rodeo team roping and bought some quarter horses.  Allen Ray Carter was his roping partner.  Tom built a corral.  He bought fifty head of Mexico Corriente wild steers for roping.  "Putting the double whammy on it," he told Gatz.  Tom roped till dark, a hundred and fifty head of cattle a night.  He won first place at the Gardiner rodeo. His livestock was mainly horses and steers.  One wild steer escaped so often Tom nicknamed him John Dillinger. 
Over the years Tom bought and sold a couple of ranches.  He is canny in real estate matters.  He, his third wife Laurie Buffett and their daughter Annie, finally settled at Burnt Leather ranch in Sweet Grass County where they started to raise cattle.  Tom had given  up team roping some time before.  He turned to cutting horse competition and breeding, a field in which both he and Laurie excel and have received numerous awards.
Thomas McGuane IV, always knew that his father was a writer. As a child he thought that was a very neat thing.  It did not escape him that his father was also a serious rancher who loved to take care of farm chores in between bouts of writing.  
"He is a man who takes his outside passions seriously enough to investigate them.  He has always had focus, whether it was his darkroom years ago, or steelhead fishing, or cutting horses.  He is smart, funny and cares about his readers.  I admire my dad very much." 
"Because my father is a writer some people think he just plays at ranching.  They couldn't be more wrong," Thomas told me over lunch the other in Bozeman where he lives with his wife and young son.  "He is as serious about ranching as he is about writing."  Thomas IV has been successful in his own field.  He designs and crafts custom knives which he sells worldwide to a discriminating clientele, who often wait several years to receive their order.  "Art-quality knives," his father proudly declares.
Sweetgrass residents, Henry and Mary Lou von Ferstal, neighbors of the McGuanes recently told me, "Tom McGuane is a fine neighbor.  His fences are strong;  his pastures, weed-free; his cattle, fat and peaceful;  his young horses, shiny and well worked;  his old horses, well-tended and pensioned off on good grass (something we 'of a certain age' take kindly to).  Tom is good-humored, witty, sensible, knows the lore of the land and minds his own affairs.  Much more importantly, his wife Laurie is beautiful, generous, funny and a pleasure to be with.  What speaks better of a man?"
In January 2006, Tom McGuane was inducted into the Hall of Fame of the National Cutting Horse Association in Texas.  When I asked him what this honor meant to him, he replied, "I've been an active cutting horse competitor for thirty years.  Its importance to me?  I would say it's quite great as I've really committed much of my life to horsemanship, horses, the culture and history that goes with it.  I have more friends among horsemen than among writers.  Man has been riding for six thousand years: it runs deep.  My uncles joined the Boston mounted police as the only way to get to a horse."
He then told me, "If I have an emotional family place it is Massachusetts where all my relatives have lived.  We are all Irish Catholics and our culture, such as it is, is most intact there.  Maybe I should have moved to Butte!  Virtually all of my writing has been done in Montana.  I hope to have had something to say about the times I've lived here.  Montana writers are sometimes too occupied with a romantic past:  if you compare the subject matter with the fact that two percent of the populations are ranchers, you get my idea."
Tom's first cousin, Fred Torphy, was very much a companion of Tom's Irish Catholic childhood.  He recalls that he and Tom shared vacations each summer fishing off the Rhode Island coast . "We did not have any writers in the family.  There was a great fascination and admiration for Tom's commitment to his writing and for the publication of his first novel." 
Benjamin C. "Dink" Bruce met Tom and Becky McGuane in Key West in 1972 through Tom's brother, John.  At the time Key West was a haven for writers.  Both Tennessee Williams and Truman Capote lived there.  Tom hired Dink during the filming of Ninety Two in the Shade, McGuane's third novel.  McGuane directed the movie which starred Peter Fonda, Jeff Bridges, Elizabeth Ashley and Margot Kidder, who briefly became McGuane's second wife and is mother of his daughter, Maggie.  Becky McGuane married Peter Fonda.
"I have some fine memories of Tom from the good old bad days when everybody was being kind of bad and he was a merry prankster leader of the crowd, a band of ne'er do well and unknown writers like Hjortzberg, Chatham, Harrison, (Dan) Gerber and others," Dink told me.  "Tom led everybody for a while and then everybody grew up and went in his own direction.  McGuane was an influence on a certain aspect of Key West.  He was very good for me.  I became his caretaker in much the same way that my father (Otto Bruce) looked after Ernest (Hemingway).  I took care of his boats and his cars and his wives and his kids and his dogs.  It was a good ride.  We all seem to have come out of it without any major scars."
Dink was in McGuane's employ for eight years.  His first trip to Montana was in an old Saks Fifth Avenue truck.  When he got here, Richard Brautigan, Jim Harrison, Jimmy Buffett, (brother of Tom's third and present wife Laurie), Tom and he all went to the Crow Fair.  Not yet at the height of his popularity, Buffett was singing old songs.  Soon he would compose the music for McGuane's zany film, "Rancho Deluxe," shot in Livingston, starring Jeff Bridges, Sam Waterston, and Elizabeth Ashley.  Buffett would also put Montana into consciousness with his number one hit song "Ringling." 
Family is very important to Tom McGuane.  He told me: "I'm proudest of my children and Laurie's genius in making a somewhat disparate clan a coherent family."
I spoke to each of his children for this article, Thomas, Maggie and Annie.  All responded with mutual pride and affection for their father.  Heather Nelson, whose mother Laurie married Tom when she was eight years old, had this to say of her step-father:  "What has influenced me most about Tom is his explosive and incendiary wit.  It's his appreciation for the ridiculous and irreverent and the deadly accurate imitations of people that have made him a brilliant writer, to be sure, but also a hell of a lot of fun to be around." 
She spoke of her two little sons, Walker and Beckett: "Tom and Walker are both besotted by horses.  Whenever Walker (age two and two-thirds) goes to the ranch, he quietly slips out the doggie door and heads for the pasture and the horses.  It terrifies and elates Tom, I think, to have this tiny person who is just as nutty about horses as he is."
Heather's remark reminded me of what Tom said about Some Horses.  "It's a book written for the love of something." 
~ Valerie Hemingway has lived in Bozeman for twenty-five years.  She is the author of the memoir, Running with the Bulls: My Years with the Hemingways.  Portrait by Lynn Donaldson.