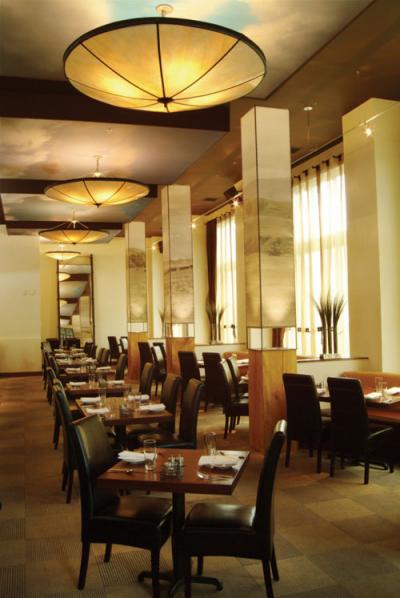 On any night of the week when you enter Walkers American Grill and Tapas Bar in downtown Billings, you'll find an eclectic blend of fashion and food: Patrons in blue jeans and cowboy boots sampling small plates (tapas) of crispy soft shell crab and smoked chicken and gorgonzola risotto. Couples resplendent in eveningwear chowing down on Walkers' gourmet meatloaf with Elsy's mashed potatoes topped with house-made pan gravy and cranberry chutney. And, groups of the fashion frisky, combining the best elements of the contemporary West and haute couture, wearing chocolate satin beaded pinch-pleat gowns and Justin's boots or tuxedos topped by custom-made Cattleman hats. The fare on their tables is as varied as their wardrobe -- glorious with international cuisine and western comfort food. From the décor to the wait staff, and from the food to the ambience, Walkers Grill successfully blends uptown style with western charm to create a big city bistro with warm hospitality.
Located across from the Sheraton Hotel, Walkers has long been a local favorite as well as destination point for travelers, theatergoers and museum patrons.
Walkers first opened its doors at the Old Chamber building in February of 1993. In 2003, owner Bill Honaker decided to follow through with a plan to renovate a historic building in downtown Billings, turning the main floor into the new Walkers and converting the other floors into high-end residential lofts.  Honaker hired designers Mitch and Melanie Thompson of Thompson Interior Associates to make his dream a reality. The Thompsons settled on a plan that would establish, as Mitch describes it, "a strong sense of place that meshes a sophisticated city feeling with the mood of our region." 
With suede, leather and piping, horse reins and light fixtures embellished by artfully twisted barbed wire, Walkers calls forth a Montana landscape using everyday western-life items. From the western shirt motif on the walls of the bar, to the hand-forged counter-to-ceiling 200-bottle wine rack behind the bar created by local blacksmith Craige Whiteley, to the sweeping wood bar, designed by contemporary furniture maker Troy Evans – a diner feels grounded in the West. The feeling is completed with the works of two of Montana's best-known artists:  Dennis Kern's evocative photographs taken at Big Sky and areas between Billings and Red Lodge and western movie buff and painter Gordon McConnell, who created artful modern murals of his favorite cowboy movie heroes. 
The Tao of Tapas
To eat tapas-style is to eat by whim, free from rules and schedules.  It is meant for those who love to while away the time with friends.
Before Walkers American Grill and Tapas Bar opened, the concept of tapas was so foreign to Billings residents that many thought the new Walkers restaurant was a grill and "topless" bar. Now they know better. 
Popular throughout Spain in bars and restaurants, tapas are appetizers that usually accompany sherry or cocktails. They can also form an entire meal and can range from simple items such as olives or cubes of ham and cheese to more elaborate preparations. The tapas menu at Walkers features 25 small and 'smaller' plates, offering everything from smoked salmon and lobster timbale, to four-hour ribs, and from Montana goat cheese panacotta to sweet potato fries with mango ketchup. Tapas menu items range from $3.25 for a relish tray of pickled vegetables, roasted peppers, caper berries and olives, to $9.95 for rare sashimi tuna tempura.
The Main Event
It is possible to create a satisfying meal off the tapas menu but for gastronomes yearning for a full course traditional meal, Walkers main menu rivals those of the best restaurants in cities three times the size of Billings. Executive Chef Marlo Hix makes dining an exquisite experience. Her proficient staff follows through with a delectable offering of birds and fishes, steaks and chops as well as the distinctive pastas that made Walkers famous…such as the andouille shrimp, roasted chicken, sweet peppers and gumbo file in their signature dish,  appropriately-named Walkers Famous Bourbon Street Pasta.  In addition, you will find grilled buffalo sirloin, braised lamb shank, sweet potato spaetzle and mushroom-dusted venison loin. You can also choose western favorites, such as the straight-up New York steak or the classic Walkers Burger -- juicy ground sirloin grilled to perfection, topped with caramelized onions, peppered bacon, Swiss cheese and whole grain mustard, and served up with crispy pommes frites. Other entrees feature chicken breast, pan roasted duck breast, and grilled Atlantic salmon. All entrees include seasonal garnish and a choice of either the soup of the day or Walkers' trademark salad. Entrees range in price from $11.95 for papardelle pasta with Roma tomatoes and fresh basil, to $27.95 for the beef tenderloin. Top off your meal with Walkers old-fashioned warm apple crisp topped with locally made vanilla ice cream or take a walk on the wild side and try the sinfully rich crème brulee. 
Besides the food, the wine, the artful décor and charming waiters, there is something about Walkers that keeps people coming back. Maybe it's the way Honaker and his staff make diners feel at home…maybe it is basking in the comfort of everyday items of the West turned into works of art….maybe it is the live jazz on Sunday nights, a weekly feature at Walkers where, more often than not, you will find Honaker on the drums. Or maybe it is because Walkers is a reminder that fine food, elegant surroundings, and sophisticated palates work as well in Billings, Montana, as they do in New York. In a restaurant where boots and gowns, burgers and nori crusted sole, and barbed wire and china happily coexist-- diners are reminded of how delicious life is in the West.  
Walkers has been a recipient of the Award of Excellence by Wine Spectator for several years as well as the subject of reviews in the Wall Street Journal, Billings Gazette, Frommer's Guide, Montana Magazine.  It has also served such celebrities as Mel Gibson, Lou Gosset, Jr., Jon Voight, Garrison Keillor, Joan Baez, Poet Alan Ginsberg, Jazzman Chris Botti, and most notably President Bill Clinton.
Walkers American Grill and Tapas Bar
2700 First Avenue North
Billings, MT  59101
(406) 245-9291
~ Kathleen Anne Benoit and Corby Skinner formed Skinner/Benoit Public Relations in Billings, Fall of 2005.  Benoit was the Alberta Bair Theater's development director.  Contact them at 406.294.2390.