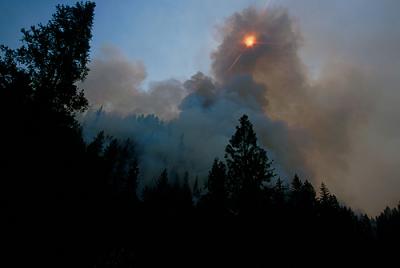 "We have crew people who're attorneys and doctors in it for the adventure and adrenaline."
You'll see signs of it in mid-summer, and sometimes late in the fall. Then again, you might see it in the spring. It depends on the year and the cause. It depends on the rains and the winds and the spark. To me, it represents destruction and glorious rebirth, and another kind of western hero: the firefighter who rides to the rescue just as surely as the lone, righteous cowboy.
I'm talking about smoke.
Once or twice a year, it teases the nose and worries the eyes, and if its source is close by — say, within miles of your home, near enough to watch trees crowning in the dark — and the fire is big and it lingers, then the sky drains of its vivid blue and the daylight becomes an eerie yellow.
Wildfire happens in Montana, in the mountains and the plains. If it didn't, we all would be the poorer.
Lewis and Clark and their Corp of Discovery traveled through smoky environs when they visited the Big Sky State 200 years ago. Many early explorers mentioned Montana's hazy skies in journals and letters home. Some of this smoke came from lightning fires: a thunderstorm can produce thousands of bolts, each with the power of an atomic bomb. But a good share came from aboriginal burning. Together, these two fire sources have been shaping the landscape of the Northern Rockies since time immemorial.
Arizona State University Professor Stephen Pyne describes the history of fire and humans as being inextricably intertwined, "like the strands of DNA." He notes that we're the only species able to manipulate fire and that, similar to other species with an advantage, "we've used fire to reshape our environment."
Pyne posits that the Great Fires of 1910 are key to understanding America's experiment with fire exclusion. The US Forest Service (USFS) was barely five years old when a series of conflagrations in Montana and Idaho claimed 87 lives (most of them firefighters), five towns, and three million acres of forest (much of it prized white pine) on August 20-21.
Pyne figures this tragedy galvanized a generation of USFS leaders, so that by the early 1930s, armed with telephones, airplanes, and an endless supply of young men from the Civilian Conservation Corp, they were ready to extinguish every fire start by 10 a.m. the morning after its discovery. This Fire Control Policy held firm until the Wilderness Act of 1964, when Congress began learning that forest landscapes are dynamic and all the stronger because of such disturbance as fire, flood, and wind.
"To me, of all places," says Steve Arno, a retired USFS ecologist and author of several books on fire, "Montana is an example of a fire-shaped environment, from the forest to the grasslands. In many places, we had magnificent stands of western larch, white pine, beautiful ponderosa pine," he says, "Old, large trees covering the mountains to much lower elevations. We had stands of whitebark pine (important to bears, squirrels and grouse and other species] in the higher elevations. And it was all the result of fire."
He says, "We're just starting to really bite the bullet, to bring fire back…and/or substitute fire back…to reshape the forest and grasslands more in the image of what they once were. Native Americans used fire constantly. They were pretty darn informal about how they used fire on the landscape, but they had thousands of years of knowledge about its use. We're finally discovering this. We've got to get with it."
But, as Arno knows, many forested landscapes (particularly those surrounding valley communities) have changed in the absence of fire. And to quote Ivan Doig's narrator in his novel English Creek, "A quantity of smoke is an unsettling commodity to humans."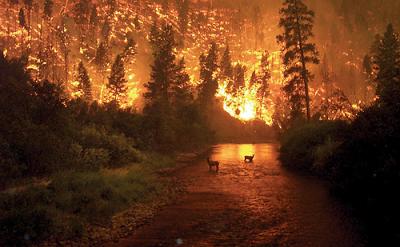 So, we continue to fight wildfire in America. Sometimes this demands every resource available, from firefighters to tax dollars. Sometimes when the fire is burning in a remote area, we can monitor its progress, but we're always ready to jump and confine, should it chance to threaten a nearby community.
"Wildland fire isn't a bad thing," says Holley Maloney, assistant superintendent of the Lolo National Forest Hotshots (an elite 20-person firefighting crew). "It's a terrible thing in your back yard, but when it's up in the hills…it's like the cleansing needs to happen. Not only do you get the nutrient flush, you have healthier stands and more wildlife."
A firefighter for the past 18 years, Maloney says she's seen her profession change during that time. One example, there are more women firefighters today and more women in fire management.
"The rules of firefighting are the same whether you're a man or a woman," she says. "It's just darn, tough work. It's definitely a young person's job. The work is so physically demanding, but as long as I've been in fire, women have been doing it. We all have the same job, from hotshot [those who make the initial attack] to ground pounder."
Maloney says another change is the approach to firefighting.
"Sometimes," she says, "working with [Incident Management] teams, we have the opportunity to bring fire back to the land, just to make it safer to do the job. Instead of putting people into these ugly, steep, nasty shoots…chimney areas… where fire tends to get itself into, we pull back and bring in fire on our terms rather than let it rip."
Safety is the Number #1 priority today (firefighter's are told no home, tree or natural resource is worth a human life), but it wasn't always the mantra when Joe Gutkoski was a smokejumper for the USFS (1950-1962). Now retired from the agency after 34-years, Gutkoski says he joined when the work "wasn't about cutting timber and building roads." It was "about fighting fire and grazing sheep." He says, "We jumped on everything and put it out as soon as possible."
He remembers fighting most wildfires at night. "It was dangerous," he says. "Snags fall without any sounds, and then fire burns the support out from under the rocks and they come rolling down. We didn't even have a hard hat. We fought fire in regular hats, and we had no power saws. We pulled a crosscut saw. That was our cargo."
In his day, Gutkoski says fire was perceived as "something very destructive to timber and wildlife…and humans, to a lesser extent. [People] weren't spread out on the landscape; now they're all tucked into the woods." He figures this is why today's wildfires seem much worse.
"We've had other droughts," he says, "in the 1960s, the '50s, the '30s, the '20s, even in 1910. I think conditions are the same. It's just that there are more people in danger of having their properties destroyed. There's a myth about Montana. They all want to live in the woods. That's the difference. We're burning million dollar homes today."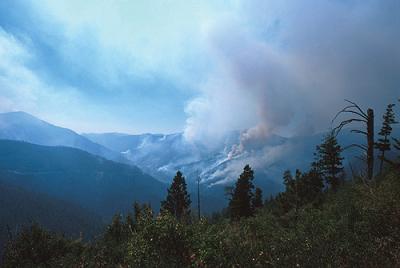 Ben Croft has fought wildland fire for the past eight years. Currently an engine boss with a private company out of Superior, Montana, he began his career with the USFS, arriving to fire starts by rappelling out of a helicopter.
"The advantage of rappelling out of a helicopter [compared to smokejumpers] is we can jump in more rugged terrain and come in for a more precise landing with less risk of injury," he says. "A lot of times we can also be on the smoke quicker. Another advantage is that jumpers can't jump in certain wind speeds. Above 15 mph, it's hard to predict where they'll be taken."
The most grueling part of the job is the "pack out". He says, "Hotshots are used to hiking a lot every single day. Rapellers and smokejumpers have to be in as good a shape. We can be inserted into a place where we spend a couple of nights and then, because of the terrain or the helicopter is busy, we have to hike out with whatever gear we ordered. The pack out is brutal. It can be 10 miles with 120 pounds on your back."
A Montana State University student "in good physical shape" at the time he joined the family of firefighters (which includes the volunteer firefighter—often the first on scene in rural and wildland/urban settings), Croft says he did it "for the thrill of adventure" and as a way "to make the largest amount of money in the shortest amount of time." Now a graduate, like a lot of veteran firefighters, he cannot yet walk away from the call of fire, despite pursuing other professional interests.
Gutkoski became the USFS Northern Region's first landscape architect when he turned 40 (the unspoken retirement age for firefighters). He remembers the days when "we used to pray for fire. It was hard work, but it was what we were hired for." Decades later he still volunteers where he can.
"It's weird," agrees Croft. "You're a firefighter, but you can't wait for it to start. It's going to start anyway — it's a matter of when — but it is good to hear the thunder rolling through because it means you'll be rolling out."
Americans, in general, also have two minds about wildfire. After a century of trying to stop wildfire from occurring, we know that fire is inevitable. The federal government is doing its part. It's spent millions of dollars on national programs to help property owners learn the techniques that can allow them to live more safely with wildfire without the immediate intervention of firefighters.
We remain a land in flux about our fire heritage, according to Arno. "Land and fire managers are trying to gain traction," he says, "to get this message across…that we can learn to live with fire and to substitute for fire. We're in a heck of a struggle here. A lot of people care about natural resources conceptually, but we still haven't gotten enough acceptance of [what it takes to reintroduce fire]."
So perhaps the next time you smell wood smoke in the air or you see a spectacular sunset somewhere in Montana during fire season, you will think of it as tangible evidence of an amazing force that has shaped the Montana landscape just as surely as wind and water.