Situated in the northwest corner of the state, Whitefish is home to lakes, rivers, mountains, and a whole lot of local flavour. The little town has a reputation as a great place to live or visit, and most of us know that a trip to "The Fish" is worth getting excited about. If you haven't biked in Whitefish, though, you haven't truly experienced all the place has to offer. After all, Singletracks.com did name Whitefish "The Mountain Biking Capital of Montana" in 2016.
Known as a popular destination for road bikers, downhill bikers, and cross-country riders, Whitefish is a great place to consider as you start planning your next bike vacation.
Here are a few of the top rides to check out
1. Whitefish Mountain Resort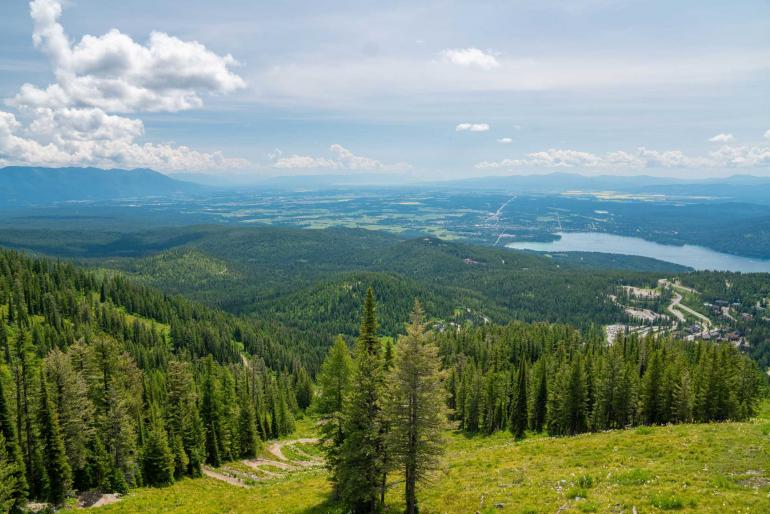 In the winter, Whitefish Mountain Resort is a tree skier's paradise. In the summer, though, it becomes heaven for all things mountain biking.
Offering more than thirty miles of lift-accessed and cross-country trails, Whitefish Mountain Resort has something for everyone. Locals love trails like a Runaway Train, with its natural rock drops and speedy straightaways, and the 7.8-mile Summit Trail, which winds down the mountain (it's perfect for intermediate riders) and offers stunning views of Whitefish Lake and the Flathead Valley below. If you're in the mood for a little bike park action, you'll love the twenty-three-plus miles of downhill trails and 2,353 feet of vertical drop.
One big bonus of riding here? Hit the trails in late July or early August, and you'll find yourself zipping through huckleberry bushes as far as the eye can see. Bring a plastic bag or two so you can stop and pick along the way.
The trails on the mountain are accessible from late May to late September, depending on snow levels.
2. Spencer Mountain
Just west of Whitefish on Highway 93, Spencer Mountain is home to a freeride-oriented trail system with a little something for everyone. Featuring about fifteen miles of wooded trails, rolling terrain, and man-made obstacles, it's a great place to take a few laps.
Experts will love the technical trails and man-made features, while novice riders can find their flow on the more gradual singletrack. Built in conjunction with Whitefish Legacy Partners, the Spencer Mountain trails are less than ten minutes from downtown Whitefish and make an excellent option for anyone looking for a quick afternoon ride.
These trails are typically accessible from about mid-April to the middle of November.
3. The Whitefish Trail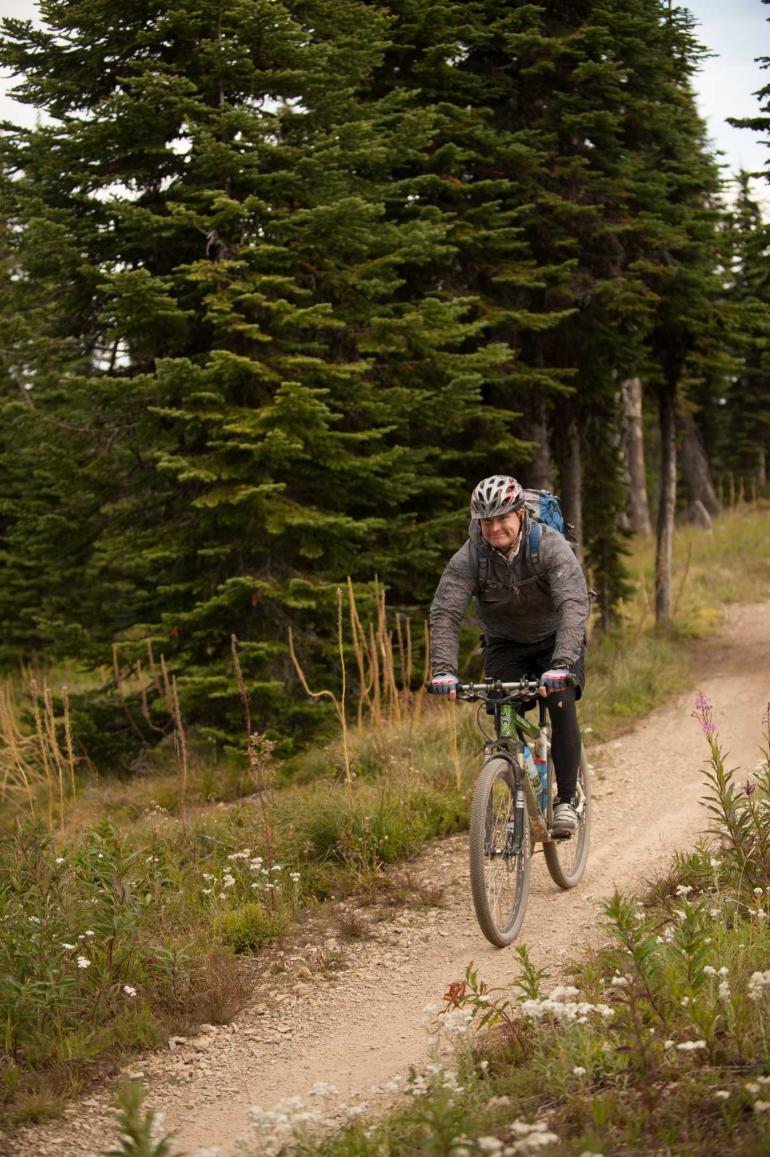 Starting just outside of Whitefish, the Whitefish Trail is a beloved cross-country trail system for local and visiting riders alike. Offering more than thirty miles of riding, lots of convenient loop options, scenic overlooks, and routes suitable for every skill level, the Whitefish Trail is an excellent option for both spring and summer rides.
The trail connects Lion Mountain, Skyles Lake, Beaver Lakes, and Spencer Mountain. The newest additions to the Whitefish Trail are the Swift Creek Trail and Woods Lake Loop. Meanwhile, work continues to add more miles of trails and extend the riding area for bikers.
Currently, this is a multi-use system. It's open to all non-motorized traffic, so you'll share the trail with horseback riders, hikers, and runners.
The trail system is open year-round.
4. Pig Farm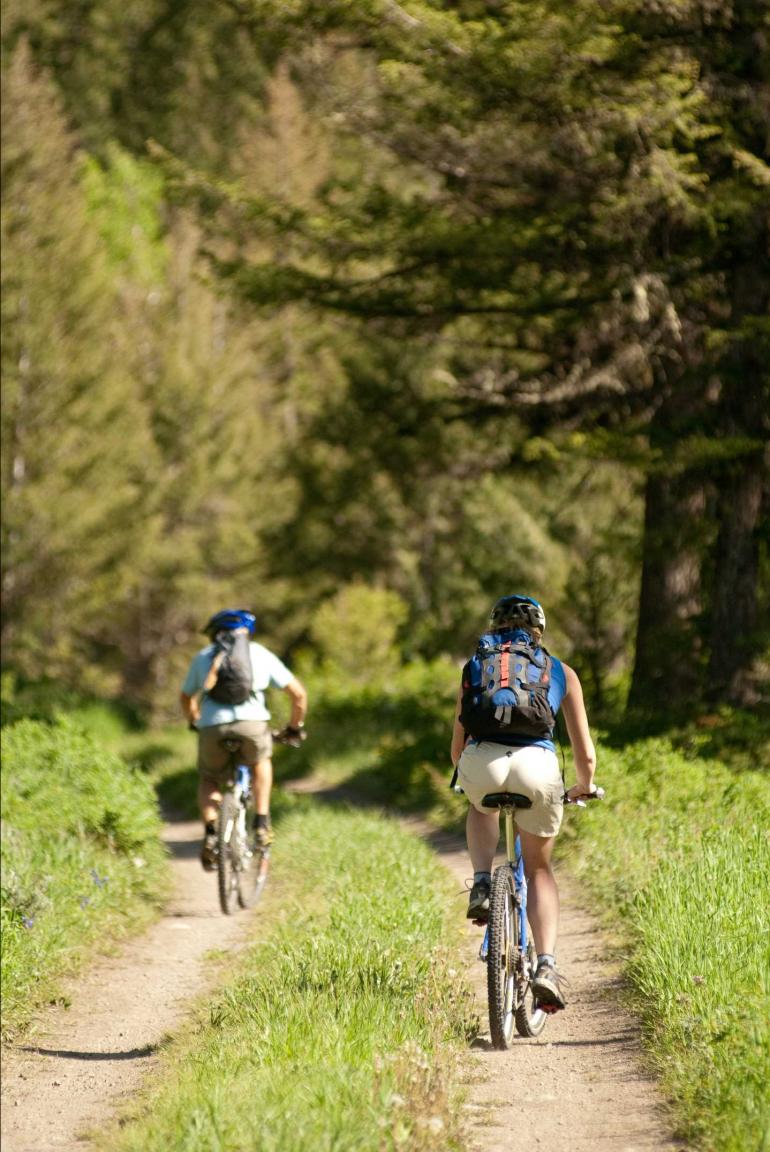 Named for its proximity to Farm-to-Market Pork just to the south, the Pig Farm trail system is a favorite among local riders. Offering a network of beginner-friendly single track trails ranging from gravel roads to fun downhills, Pig Farm is an excellent place for the whole family to explore.
The fact that it's only fifteen minutes from downtown Whitefish makes it a very easy ride for spring or summer recreation. The trail system is open to hikers, bikers, horseback riders, and other non-motorized traffic. Pig Farm is a favorite local trail, so it gets busy during peak hours.
If you're planning to ride Pig Farm, you should know that the area's trails aren't particularly well-marked. While it's virtually impossible to get genuinely lost at Pig Farm, trails pop out all over the place, so no two rides are ever the same.
The trails are open year-round.
5. Reid Divide Trail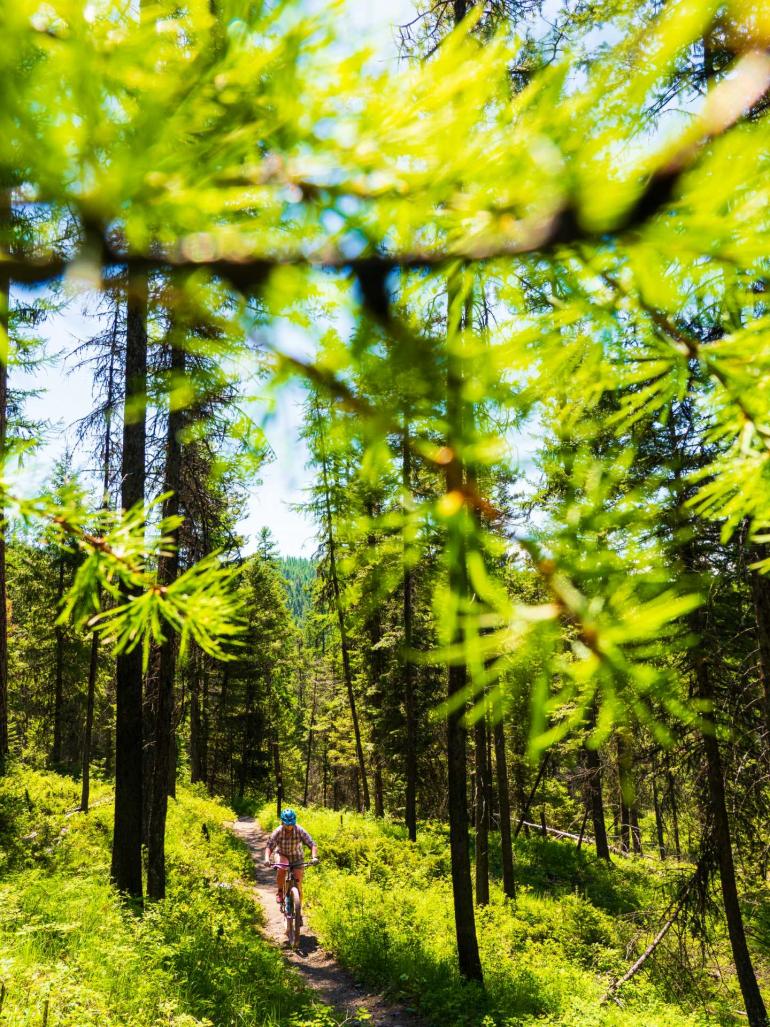 Widely considered one of the best trails in the Whitefish area, Reid Divide Trail offers fast downhills, steep climbs, plenty of rocks and roots, and miles of gravel roads just waiting to be explored. If you're a more experienced rider, you'll love the trail's selection of jumps and berms, as well as its spectacular views. One great thing about this trail is that it gives you options: shuttle it, loop it, or ride it as an out and back. This trail starts at the Reid Divide pass, with Bill Creek at the west and the Reid Divide Trail to the east.
With a distance of about ten miles, this trail takes roughly an hour to ride. It is accessible for all levels of riders, although it does involve some steep climbs right off the bat. Access to the trail is snow-dependent, although people generally ride Reid Divide Trail from June to the middle of October.
Bonus: Going-to-the-Sun Road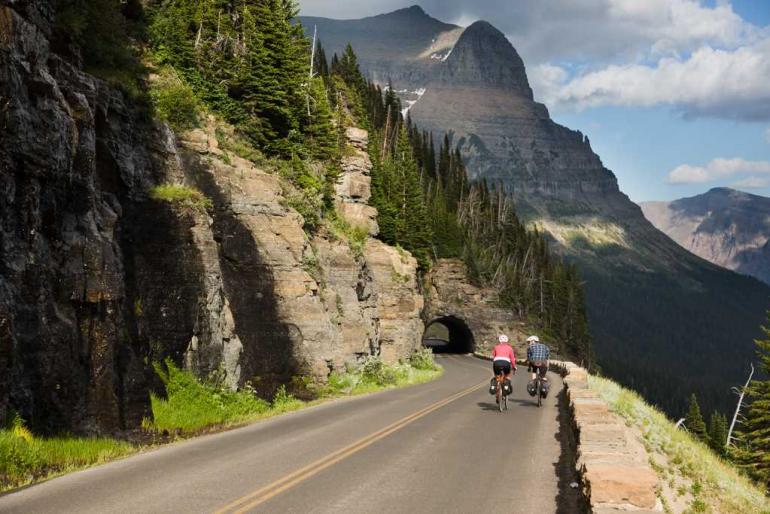 If you're looking for a once-in-a-lifetime ride, look no further than Going-to-the-Sun Road, which winds through the heart of Glacier National Park. While the road is open to bikers all year long, pedaling up Logan Pass during the summer months can leave you a little gripped. To keep bikers and vehicle traffic safe during those busy months, the Park Service imposes traffic restrictions from June 15th through Labor Day:
No bikes are allowed from Apgar Campground to Sprague Creek Campground - both directions, between the hours of 11 am and 4 pm.
Eastbound (uphill) bike traffic is prohibited from Logan Creek to Logan Pass between 11 am and 4 pm.
For a more laid-back experience, save your bike tour of the park for spring or fall. Every spring, before Going-to-the-Sun Road opens to cars, the road opens exclusively to bikers and hikers. While snowplow crews are working their way up to Logan Pass during this time, the plowed sections behind them are open to bikers.
According to the Park Service:
Teams will mark the closure of the hiker-biker section of the road with a sign. Visitors will not be permitted beyond this point while the crews are plowing. After work hours or on days the crews are not plowing feel free to go as far as you like.
If you plan to ride Going-to-the-Sun, get an early start. It takes about forty-five minutes to get from Sprague Creek to Logan Creek and three hours or more to climb from Logan Creek up to the top of Logan Pass.
Bike the Fish This Spring
As winter begins to ebb off, it's time to start planning your spring bike season. This year, make sure Whitefish has a spot in the rotation. Beautiful, welcoming, and full of truly world-class riding, northwest Montana is waiting for you to explore it on two wheels this year.
---
Want to learn more about biking in and around Whitefish? Flathead Area Mountain Bikers (FAMB) is a great local resource. Visit their website at www.flatheadamb.org/