5 Must-See Montana Waterfalls
a guidebook compiled by Larry and Nathan Johnson
MONTANA WATERFALLS, a guidebook (pictured below) compiled by Larry and Nathan Johnson, is a beautifully designed book that shows you where to find waterfalls that flow across the state. Here is a selection of five.

[This excerpt is published thanks 
to Riverbend Publishing of Helena.]


FROM THE INTRODUCTION
(Waterfalls are sublime).Thus, the two of us were driven to search through countless maps, to go out in all seasons, driving to sometimes very remote areas of Montana, to hear, see, and discover this most beautiful phenomenon of nature.
There have been many times that nestled into our tents, we glowed with joy from yet another phenomenal discovery… Sit quietly next to a waterfall and you will surely discover how meditative and calming the experience can be.
The diversity of Montana waterfalls is a result of geology. Much of the western and northwestern part of the state is overlain by very old — 900 million years and greater — sedimentary mudstones. This makes for a plethora of angular and sheer drops, depending on the tilt of the rock. Toward the center of the state and in parts of the western area are mountainous intrusions of granitic, volcanic, and metamorphic rocks supporting waterfalls that vary greatly in form. They range from twisting cascades following faults and fissures into emerald green pools, to bulbous, onion-layered granite waterslides flowing through multi-channeled micro-gorges.
~ Larry and Nathan Johnson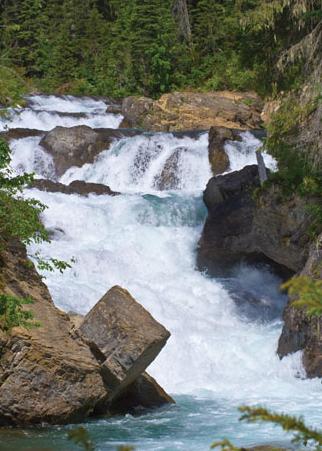 NORTHWEST MONTANA
Graves Creek (S.F. Flathead) 
Description
You will fall in love with this place. The Jewel Basin is just to the west, Hungry Horse Reservoir to the east; Handkerchief Lake, innumerable waterfalls, and some nice campsites will more than entice you to come back. Graves Creek Falls is just upstream from the bridge that crosses the road with the small trail heading upstream from a small pullout picnic area. Below the bridge, the creek flows into the reservoir but not before careening off one last glistening cascade. A mile above Handkerchief Lake you'll find a pull-out in the road displaying Sun and Moon Falls, a nearly sheer drop surrounded by low-hanging brush. This section of the creek has recently been discovered as a high quality but very difficult kayaking run. Hiking from the trailhead just up the road from Sun and Moon Falls will bring you to a series of waterfalls and cascades, in fact more than you can count. Be sure to explore these. Have fun!
Access
From Hungry Horse drive south on the West Side Road (Forest Road 895) 33.6 miles to NFDR 9796. Turn right onto NFDR 9796 and drive 1.0 miles to NFDR 897. Turn right onto NFDR 9796 and drive 300 yards to a small parking area on the left next to Graves Creek.
History
Hungry Horse Dam was completed in 1953 and is 564 feet high. Hungry Horse Reservoir is 34 miles long covering an area of almost 24,000 acres. It is named after an incident that happened during the winter of 1900-1901, when two freight horses wandered away up the South Fork of the Flathead River. They were found a month later in deep snow, starving and weak. The story goes that they were able to be slowly nursed back to health. The name stuck.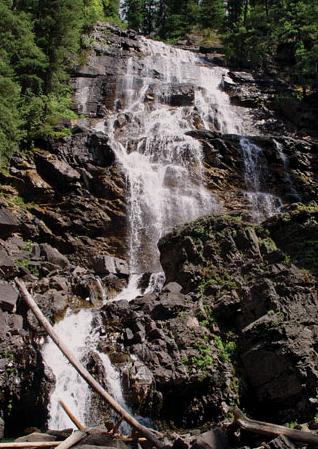 WESTERN MONTANA
Morrell Falls
Description
The Morrell Falls National Historic Trail is a 2.3-mile hike into the Lolo National Forest. This is a fairly easy day hike that really doesn't have any steep grades to it. The trail leads through tightly spaced stands of Lodgepole pine, past the 23-acre Morrell Lake and on to a series of waterfalls. Towards the end of the trail you wind around a marsh, and then you hear the falls. Just past an old-growth-timber stand, the view opens onto a small clearing and 90' Morrell Falls.
Access
From Seeley Lake drive north 0.25 miles to Cottonwood Lakes Road (FR 447). Take the first left at the fork, then go 2 miles to West Morrell Road (FR 467). Turn north for 7 miles to Pyramid Pass Road. Drive only 0.25 mile north to Morrell Falls Road (FR 4369). Turn north again one mile to the trailhead.
History 
Seeley Lake is one part of the Clearwater Chain-of-Lakes. There are 24 or more lakes in the Clearwater River Valley. These lakes — which include Salmon Lake, Seeley Lake, Lake Inez, Lake Alva and Rainy Lake — are easily accessed via Montana State Highway 83, and most have developed campgrounds nearby. From its headwaters in the Swan Range in Lolo National Forest, the Clearwater River flows south to its confluence with the Blackfoot River near the junction of MH 83 and MH 200.
NORTHCENTRAL MONTANA
Arnica  Falls
Description
When you come across this golden-yellow falls, you will be surprised at how quickly it appears. This waterfall has several levels — the top is the largest and most dramatic plunge, while the lower part is reckless cascades. Take note of the stunning amount of greenery around the area. This is typical of the Swan Valley — lush forests, huckleberries, bears, hidden waterfalls and roadless areas. 
Access
From Big Fork, head east on Montana Highway 209 (State Highway 209) 5.3 miles to MT-83. Turn right at MT-83 and continue south for about 13 miles. Turn left at Lost Creek Road (National Forest Development Road 680) and follow this road for about 2.5 miles. A quarter mile after the road crosses the creek, stay left as the road forks and follow National Forest Road 5206 for 4 miles. When you come to a sharp switchback in the road, park and walk or bike along an old logging road heading east for a quarter mile until the path crosses a side stream. The falls can be viewed by looking up to the north. 
History
Just west of Arnica Falls is Swan Lake and the Swan River Valley. The lake is beautiful and clean. It stretches lengthwise for quite some distance while averaging only a mile in width. At the south end of the lake, you will find a little paradise at the Swan River National Wildlife Refuge. Boardwalks give you a wide view of thriving marshlands and a healthy variety of native birds and other critters.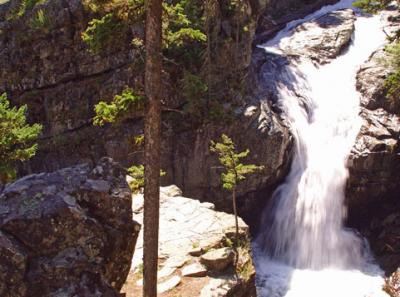 CENTRAL MONTANA
Upper Big Timber Falls
Description
A dull roar and an informative sign greet you as you start walking toward the falls. This is an easy, eighth-mile hike on a well marked trail. Every couple of years this section of Big Timber Creek is host to one of the wildest events in Montana, the Big Timber Race. Boaters, most being kayakers, race down the series of waterfalls and slides culminating in Big Timber Falls. The section is known for its crazy rides and high-quality bedrock whitewater.
Access
Drive north from Big Timber 8.1 miles on Montana Highway 191 to Wormser Loop Road. Turn left for 3.4 miles to Big Timber Canyon Road. Take another left, driving through the foothills, then into Big Timber Canyon and the majestic Crazy Mountains, proceeding for a distance of 13.3 miles to the trailhead.
History
The Crazy Mountains run almost 25 miles north to south, with Crazy Peak rising some 11, 214 feet high, and towering above the surrounding prairie. The area is home to many species of birds and mammals, including eagles, wild turkeys, mule deer, whitetail deer, elk , black bears, mountain lions, mountain goats, and wolverines.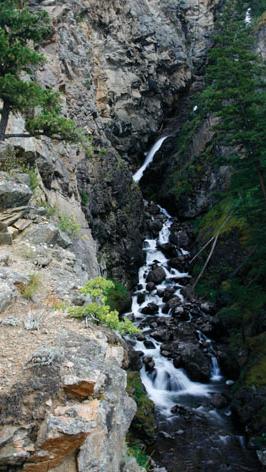 SOUTHCENTRAL MONTANA
Woodbine Falls
DESCRIPTION
Woodbine Falls Trail starts in the northeast corner of Woodbine Campground. From the trailhead you begin to climb uphill gradually, but in just a couple of hundred yards the trail gets more difficult by switchbacking up the mountainside. Although it's only 0.75 mile up the trail to Woodbine Falls, you climb 564' in elevation. The falls is a magnificent display of cascades, vertical falls, and boulder drops. The views are spectacular from the final overlook.
ACCESS 
From Fishtail, head southwest on FR 419 (Nye Road) for 24.8 miles to the Woodbine Campground turnoff. Turn left into Woodbine Campground and drive 0.2 mile to the southeast corner to the trailhead for TR 93.
HISTORY
The Absaroka–Beartooth Wilderness was established in 1975 from national forest land located in Montana and Wyoming. The Absaroka Range and the Beartooth Range encompass this 944,000-acre wilderness area. Parts of three national forests — Custer, Gallatin and Shoshone — make up an expansive alpine paradise. Granite Peak (12,799' elevation), which is the tallest mountain in Montana, and Francs Peak (13,185' elevation) in Wyoming are the tallest peaks in the wilderness, which has 30 peaks rising above 12,000' elevation.