High over the Gallatin Valley, flight instructor Ben Walton offered me the controls. With trepidation I grasped the control stick of the Diamond DA 40, a highly efficient, maneuverable new aircraft built of carbon fiber. Tipping the stick, the aircraft responded, and we made a slow turn to the east. Sure enough, I was flying!
Imagine what I could learn if I actually took lessons.
Here in the Big Sky Country, there is a lot of room to fly. 
Of course, you can always book a flight on a commercial jet from Gallatin Field and connect to nearly any airport in the world. But say you need to fly to a town with no commercial service, want a scenic flight over the Bridger Range, or you want to learn to fly. Who you gonna call?
Gallatin Field Airport has everything you need from top-flight charter service, to full service jet repair, to excellent flight schools such as Summit.
Learning to Fly...
At Summit Aviation, run by Ben Walton, you can learn beginning and advanced mountain flying, as well as more esoteric pursuits, such as glider flying and aerobatics. With eight instructors on tap and eight aircraft, Summit has a lot to offer students.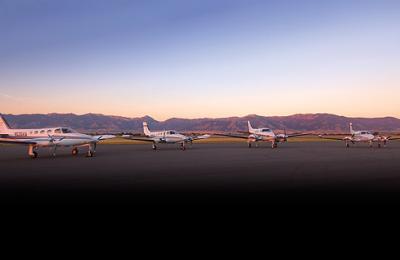 Summit just purchased three new state-of-the-art aircraft: Two Diamond DA 20 two-seaters (nicknamed Mosquitos), and the DA 40 four-seater, (the Dragonfly), which I flew. These Diamonds are equipped with a totally computerized cockpit topped with a plexiglass bubble for incredible visibility. Summit also has aerobatic planes and rear wheel aircraft, and can teach you to fly any of them.
Ben Walton and pilot Ben Selznik are starting a new enterprise as well, brokering aircraft sales. Should you want to locate and purchase a plane, Ben and Ben can help. They can also arrange storage, maintenance, service and even provide a pilot.
You can now learn to fly and get college credit for it. Summit's Ryan Haskins runs a two- year Associate of Applied Science degree program for MSU Great Falls' Business and Technology Department. "When you complete this program," says Haskins, "you will have all the credentials required to pursue a career as professional pilot." With nineteen students currently enrolled, Haskins is pleased with how the program is shaping up. "We are getting inquiries from all over the country" he says.
Air Charters: Anywhere on Time
At Sunbird Aviation, business is taking off. Sunbird offers the most comprehensive air charter service in Southwest Montana.
Clint Loman and Greg Fuller met when Greg helped Clint purchase an aircraft. They soon realized they both had a dream of starting or buying an air charter service. The two bought Sunbird from Greg Mecklenberg in June of 2003. "Rather than reinventing the wheel, says Greg, we bought an existing air charter service - Sunbird Aviation." Clint handles the business end of the operation, while Greg is the director of operations, serving as scheduler and pilot.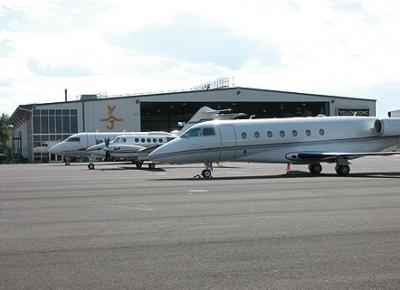 Sunbird can fly you into any civil airport in the U.S. or Canada. "You can schedule the flight to your convenience" says Greg,  "and you won't waste time driving or waiting for a connecting flight." Commercial airlines serve about four thousand destinations in the two countries, whereas Sunbird can reach ten thousand.
Sunbird can also help you locate and purchase an aircraft, and will even provide a pilot. According to Greg, "Doctors or lawyers flying their own aircraft can end up in the obituaries. They have business on their mind, not flying."
Greg Mecklenberg now is chief pilot for Sunbird. Greg Fuller also flies frequently for Sunbird, and Jim Carpenter is a full time pilot there. Mike Tank, a retired Air Force and Forest Service pilot, also works for Sunbird. Mike says "Some people fish, some people golf. I fly." By the end of 2006, Greg expects Sunbird to employ at least 9 pilots.
Sunbird's signature charter aircraft is the Beechcraft King Air C90A, and the Cessna 340 is the workhorse (they have three ). Big things are on the horizon however. In January, Sunbird will add a Cessna Citation Jet to their fleet, extending their range and shortening flight times significantly. The Sunbird aircraft are equipped with a lightning detection system that can actually predict lightning strikes, as well as GPS-linked with weather radar to show the exact perimeters of storms.
Fuller considers other charter services in the area to be partners, not competitors, "We share information and help each other out," he says. Some local charter services use only single-engine planes, which are limited to clear weather flying. Sunbird's multi-engine fleet can fly in any weather, except thunderstorms. The Sunbird fleet are all pressurized aircraft that can fly over and around weather.
Fuller says that a lot of Sunbird's business is related to the Yellowstone Club and Big Sky area. Sunbird frequently flies in architects to design high-end homes. Larry Pierson, the architect planning a large new development at Bridger Bowl, is a client.
Fuller has piloted Harrison Ford, the rock group April Wine (for Rockin the Rivers), and former Presidential candidate George McGovern.  He also flew a passenger twice to Salt Lake to get a lung transplant. "People needing organ transplants may be on a very tight timeline as organs suddenly become available," Fuller explained.
The Yellowstone Jetcenter
Tim Blixseth and Jim Dolan, owners of the Yellowstone Club, started the Yellowstone Jet Center in 2000. The Yellowstone Club, located near Big Sky, is an exclusive ski resort for members only. Dolan also owns the Club at Spanish Peaks, a ski-in, ski out second home community.
Members of the Yellowstone Club fly in from all over the country in private jets. Recognizing that their clientele would want unique and personal service upon arrival, Blixseth and Dolan decided to establish their own Fixed Base Operation, or FBO, called the Yellowstone Jetcenter. An FBO is where you go when you fly in with a private aircraft. FBOs provide aircraft maintenance and storage, fuel, parts, weather information and anything else a pilot might need. At Gallatin Field, the Yellowstone Jet Center is one of two FBOs (Arlin's is the other), and their service goes above and beyond most FBOs.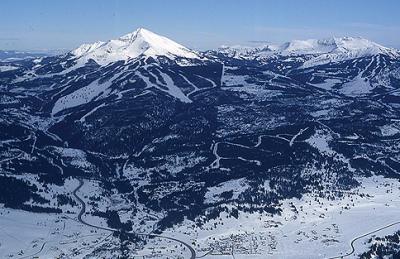 Although the Jetcenter currently caters primarily to residents of the Yellowstone Club, the Jetcenter is available for anyone who can afford it. The Jetcenter can easily arrange charter service, along with anything else travelers might want or need. Foster and his crew provide a full service gateway guaranteeing privacy, safety and security for customers. 
Pilots especially appreciate the homey atmosphere. Oftentimes pilots will need to wait while their employers conduct business, not necessarily knowing when they will be needed again.
At the Jetcenter pilots have access to Internet stations, a snooze room, restrooms and showers, a pilots' lounge with satellite and DVD, a crew service room stocked with coffee and snacks, and a weather/flight planning room with the latest software. "The comforts of home with the capabilities of home base" is the Jetcenter's motto.
For business travelers a concierge service offers rental cars on site, executive catering and courtesy transportation as well as a private conference room.
According to Kent Foster, manager of the Yellowstone Jetcenter, aircraft fuel is their primary retail commodity. Fuel sales have increased fifty per cent in a year and a half, the clearest measure of the growth in demand for the services offered by the Jetcenter.
And the Jetcenter is certainly growing. It already has the largest hangar in Montana that could if needed fit two 737s. Plus the Jetcenter owns the hangar housing Summit Aviation as well as another heated hangar, with several more in the works. "The Yellowstone Club and Spanish Peaks are really just getting started, and capacity is many years away," says Foster. And the World Club is coming to Bozeman, which will bring more international travelers to the Jetcenter.
Of course, aircraft need maintenance and repair. In the Jetcenter is an FAA-certified maintenance facility/repair station, run by Director of Maintenance Dan Carter, for both piston and jet engine aircraft, including Canadair, Falcon, Gulfstream, and Bell Jet Ranger (helicopters). Says Foster, "A pilot sees a light that should not be on, he can bring the plane in." Currently there is an F-100 fighter jet in the hangar that the Jetcenter crew is helping to rebuild for a private collector for use in air shows.
Arlin's Aircraft Service, Inc.  - (800) 953-2471 / (406) 388-1351 - www.arlins.com - Arlin's Aircraft Service, Inc. is a full service FBO providing a full range of services for corporate jet and transient aircraft at Gallatin Field. 
~ Phil Knight is a freelance writer, photographer, environmental investigator and naturalist-guide. Phil's articles poetry and photographs have appeared in Backpacker Magazine, Cross-Country Skier, Mountain Gazette, Shaman's Drum, Funny Times, E Magazine, Outside Bozeman and Carve Magazine, and he has been quoted in Outside Magazine and Playboy. Having lived in Bozeman since 1985, Phil can be reached at [email protected].