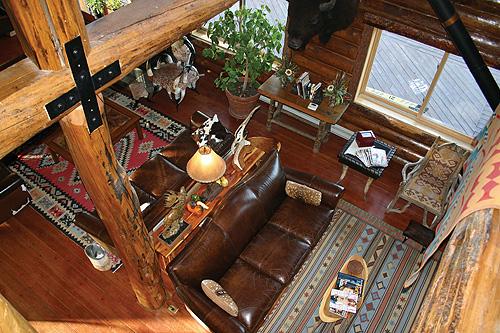 Off Highway 20 heading towards Idaho from West Yellowstone, beyond the South Fork of the Madison River, the weary traveler will find the luxurious Bar-N-Ranch tucked away at the end of a country road.
As the gateway to Yellowstone National Park, most visitors do not linger in the city of West Yellowstone. In earlier times, the Marshall and Goff Stage Lines and later the Oregon Shoreline Railroad shuttled tourists through the area and straight into the park. It was not until 1920 when President Woodrow Wilson signed a proclamation that West Yellowstone became a city, separating itself from the National Forest and becoming its own entity. This city of over 1000 people is worth exploring, and the nearby Bar N Ranch should not be missed.
Yellowstone Park is home to many of Mother Nature's untamed wonders. Life is in constant motion with roaring geysers, steaming fumaroles and boiling hot springs. Buffalo roam free while elk spar and wolves howl. Temperatures frequently drop to subzero levels in the winter and storms in the summer supply lightning and thunder. An explorer to these regions will need a respite, a place to escape and relax.
After turning off the main highway, my husband and I traveled about a mile down Buttermilk road. Posted at the gate to the Bar N Ranch is a sign: "DUSTY 10 MPH Thanks." According to Managing Partner Gayle Gavagan, the sign is to encourage the guests to slow down, take heed of where dogs and children can run free, and to realize that one is on vacation.
Before us is a large 2-story log lodge with stone chimneys on top and dormers protruding outward. We drive by an old Western town façade and pull up to the entrance. Under a large antler chandelier, at the French doors framed in rough hewn logs are three dogs—black and yellow Labradors and a tan mutt—wiggling with welcome.
We skip up the wood steps, move over the rough stone porch, and slip through the doors. The dogs Ranger, Marley and Emma enthusiastically welcome us. Notwithstanding the exuberance of the energetic canines, there is a sense of peace from details well attended to. The natural wood floors shine while the large beams above glow with recent refinishing.
Around the corner from the desk is the Great Room; a large sitting room showcasing an ornate gnarled wood staircase, a three-sided river rock fireplace and two cozy stoves. Natural wood beams tower from floor to ceiling. Large windows afford views of the distant mountains.
The décor is elegant Western with rustic touches; one of the truly authentic lodges in Montana. Cowhide and leather couches along with cow horn chairs provide seating in the large, high ceiling room. Indian themed art pieces such as a cabinet with inlaid twigs and stained glass images of two Indians in headdress, an ornate spear with a beaded handle along with colorful woven rugs are interspersed through the space.
Upstairs seven rooms offer a wood burning fireplace, television and DVD player, a small refrigerator, microwave and coffee maker and a private bathroom. Several rooms have balconies. Each space has its own unique western flare decorated by Managing Owner Gayle Gavagan, who utilizes talents gained from designing windows for Bloomingdale's before she relocated to West Yellowstone. With husband Mike and owners Rick and Jonna Ledyard, the four, since 2004, have used their Chicago backgrounds in the refinement of this retired hay ranch.
Our accommodations are across the parking lot in the Mountain Creek Cabin. Seven small cabins with one or two-bedrooms line the perimeter, some facing the creek and pond. Each continues the log theme of the main lodge.
Convenient cabin-front parking affords easy access to this night's shelter. Cut wood is stacked into a neat pile next to the front entrance. Once inside, a small fireplace, ready-laid for lighting, with logs and kindling beckons.
Western-rustic prevails in the design of this cabin. Roughly hewn accents and refinished logs dominate. The two-room cabin is decorated in colors of red and light blue. Woven Indian style rugs cover the wood floors. Elk themed curtains shade the windows. A print of a moose wading in a river hangs over the fireplace.
Western-rustic prevails in the design of this cabin. Roughly hewn accents and refinished logs dominate. The two-room cabin is decorated in colors of red and light blue. Woven Indian style rugs cover the wood floors. Elk themed curtains shade the windows. A print of a moose wading in a river hangs over the fireplace.
On one end of this spacious room is a denim-covered couch with a pull-out sleeper. A television set with a DVD player provides indoor entertainment. Opposite is a table that seats six people along with a mini refrigerator, microwave oven and coffee maker.
The bedrooms are identical in size. Both queen beds are covered with a light blue comforter accented with pillows covered in red shams and a feather coverlet at the foot. A dresser awaits the unpacking of a suitcase and white robes are ready for wear after a soak in the private hot tub.
In between the rooms is a bathroom with a combined jetted tub and shower. White curtains hang from a large ring, giving the room a whimsical feel. A window allows views of Buttermilk Creek. Plain earth color slate tiles intermixed with tiles imprinted with a moose or an elk cover the floor. Bath products, with "Calm" imprinted on them, make up the final detail for relaxation.
Though the accommodations cater to those who venture from afar, the "N" restaurant is open to all, and locals are welcome. The Bar N Ranch's new Executive Chef Jack Cole has traveled many culinary and hospitality roads. He owned the Aspen Inn in Colorado, last worked at the Grizzly Bar and Grill in Ennis and has contributed to the Northern Hotel in Billings.
His menu is diverse and innovative, yet approachable. In his raspy James Garner voice he says, "I want to make my core menu user friendly." He changes his menu weekly, taking advantage of seasonal products. On this night, his appetizer selections include "sautéed scallops" simply cooked in a garlic white wine butter and "gingered portabella mushroom" with portabella mushroom marinated in teriyaki and charbroiled.
He offers simple unadulterated "field greens" composed of mixed field greens to a salad combination of romaine lettuce with poached pear and sweet onion tossed with feta cheese and finished with a warm bacon and balsamic vinaigrette. For main entrees he lets the diner chose from two selections of beef, two choices of seafood, a choice of chicken and pork and a final offering of pasta. Jack's wife, Pam, creates the pastries to complete the meal. She specializes in European style desserts, such as Bavarian Apple Torte, Mocha Chocolate Pecan Cake and Lemon Curd Tart.
Chef Cole's goal is to encourage locals to return to Bar N to dine. "I think it is a well kept secret out here." In years past, a multi-course meal was offered which required reservations, steered more specifically to special occasions rather than everyday eating.
The newly remodeled dining room is the antithesis of the bar-like options in much of Montana. Music does not blare overhead, cigarette smoke does not taint the air, and flat screen TVs do not occupy every corner. Instead, spalted wood tables are surrounded with log framed chairs covered with tan leather and backed with Indian patterned earth colored cloth. Antler chandeliers dangle from the ceiling. Paintings with regional themes adorn the walls, while large windows cover three sides of the room with views to adjacent Danger Pond and distant Lions Head Mountain.
Local architect S. J. Sheppard feels the food is fresh and flavorful, adding "both parlor and dining rooms have crackling fireplaces emitting warmth, and ambient light." She commends the service with the unobtrusive supervision of the managing owner. Sheppard believes the food is very fairly priced, allowing for the quality and beautiful setting.
Kelli Sanders, co-owner of Free Heel and Wheel, a local sports shop says, "I will definitely recommend Bar N Ranch. The food is consistent; the chef does a really nice job."
When traveling on the road to Yellowstone National Park, venture the six miles to the Bar N Ranch and stay awhile to discover one of the best lodges in Montana. The refined elegance and attention to comfort will refuel even the weariest of travelers.
Bar N Ranch, P.O. Box 250, 890 Buttermilk Road, West Yellowstone, MT 59758
T: 406-646-0300
F: 406-646-0301
~ Stella Fong divides her time between Billings and Big Sky. When time and weather permit, Fong is cooking, cross-country skiing or cycling.