Whenever we approach our ranch on a long winding gravel road that crests a hill at a place called Wolf Point, our hearts skip a beat as the vast grassland, West Boulder River, the mountains of the Absaroka Range, the bison herd, a sky full of raptors, and wild game come into view. It never fails to be a humbling experience. — Tom Brokaw, author and anchor of NBC Nightly News for over 20 years.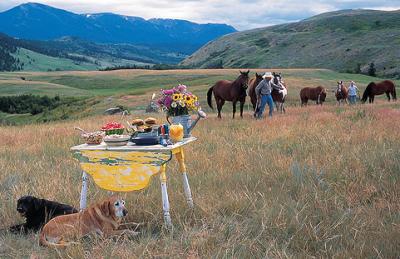 When you live in a remote place, you're maybe even more drawn to company, and because meetings are less frequent, each becomes something of a celebration. Hospitality takes on a new meaning when someone drives 40 miles to have dinner at your house, never mind just to stop by and say hello.
People come here with big dreams, and for the expansive possibilities the land offers. For years I thought about trying to corral these big appetites and this way of life into a book.
Sesame-Soy Venison Chops
Wild game meat has very little fat, so it benefits from a good marinade that will tenderize and add moisture. Serves 6-8.
Marinade:
1 c. red wine
2 T soy sauce
2 T sesame oil
1 T balsamic vinegar
1 garlic clove, crushed
2 T finely chopped rosemary leaves
1 t sugar
12-14 (4-5 oz) venison chops, single rib or backstrap venison without the bone (more of a medallion)
For the marinade, in a small saucepan over medium-low heat, heat the wine, soy sauce, sesame oil, vinegar, garlic, rosemary, and the sugar for 3 minutes. Remove the saucepan from the heat and let cool.
Place the chops in a large bowl and add the marinade, turning to coat. Cover and refrigerate, turning the chops occasionally, for hour or 2.
Meanwhile prepare a hot grill or preheat the broiler. Place the chops on the grill rack 4 to 6 inches over direct heat. For medium, cook for 6 to 8 minutes, turning once. Or broil 2 inches from the heat, turning once for 6 to 8 minutes.
Tom and I both enjoy fishing in the late afternoon and early evening; there's usually an insect hatch and the fish are eating, so it's a good time to catch them. We catch and release all the trout we hook in the river, but about once each summer we catch and release into the frying pan one or two trout from our pond. If I haven't planned dinner beforehand, putting together this quick-and-easy no-fuss one makes the fishing more fun.
Smoked Trout with Horseradish Sauce
Serves 6
2 pints sour cream
1⁄4 c. bottled white horseradish
4 (8 oz.) boned filleted smoke trout
4 lemons, quartered and seeded
4-6 thin slices black bread, lightly buttered and cut into quarters
In a pretty bowl, mix the sour cream and horseradish with a fork. Arrange the fish on a pretty board or platter. Serve with the sauce, lemon wedges, and buttered bread for guests to help themselves.
Our bison herd feels to me as if it has always been on this land, as it surely has. Surrounded by mountains, they roam over a thousand acres of a wide basin that's home to wildflowers and native grasses, as herds perhaps in the hundreds of thousands roamed hundreds of years ago...We're among the few Montana ranches that still host a "domesticated herd."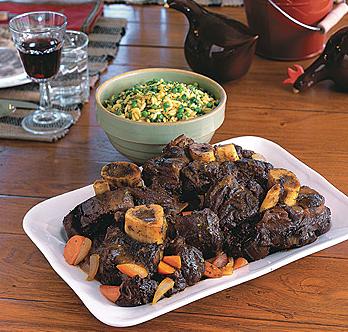 Bison Osso Buco
This recipe originated at one of the Turner bison ranches. Serves 6-8.
6 or 8 (1-pound) bison shanks or veal or lamb shanks
1 cup seasoned flour (see Note)
3 T olive oil
4 cups chicken stock, plus more if needed
2/3 cup white wine
1⁄4 cup chopped fresh parsley
2 T chopped fresh sage
1 sprig fresh rosemary
8 medium garlic cloves, crushed and peeled
Preheat the oven to 350 degrees F.
Dredge the shanks in the seasoned flour. Heat the olive oil in a large heavy skillet over medium-high heat. Add the shanks and brown on all sides. Transfer them to a large casserole dish.
Add the stock, wine, parsley, sage, rosemary, and garlic to the casserole. Bake for 2 hous. Reduce the heat to 300o F and bake, basting the shanks occasionally to keep them tender and moist, and adding more stock if necessary, until the meat is tender and falling from the bone, 4 to 6 hours longer.
Note: To make seasoned flour, combine 1 cup quick-mixing flour (such as Wondra) with 1 teaspoon each garlic salt, dried oregano, dried thyme, dried basil, and freshly ground black pepper.
It's amazing to me so many members of my family gather for meals during reunions. Given the numbers and the potential for chaos, we keep the food simple. We barbecue almost every night: hamburgers, buffalo dogs, chicken. There's always a green salad because a) the garden is full of spinach and lettuce; b) guests can help harvest, wash, and prepare it easily; and c) it goes with good olive oil and vinegar and with all the menus. It's summer at its freshest.
Lemonade Sangria
Serves 6 to 8
5 lemons (about 1 pound)
2 quarts water
3 to 4 T sugar to taste
1 cup blueberries, raspberries, peach slices, or fruit of your choice
18 fresh mint leaves
Squeeze the juice of the lemons into the water (you should have about 1 cup juice). Add the sugar to taste. Pour the sangria into each glass and garnish with berries or fruit slices of your choice and a few mint leaves.
Editor's note: This article is excerpted from Big Sky Cooking, published in 2006 by Artisan Books (www.artisanbooks.com). The contents describe the cadences of the Brokaw's ranch life, specifically Montanan recipes, including Tom's "sunset margaritas" and the "best homemade mustard in the world." Co-authored by Ellen Wright, also added are reflections by Tom McGuane, Jim Harrison, William Hjortsberg, James Prosek, and Verlyn Klinkenborg. Photographs are by Tom Eckererle and Tom Murphy.
~ Meredith Auld Brokaw, formerly a teacher, founded Penny Whistle Toys, was president of the company for 20 years, and is the author of eight Penny Whistle books on parenting and children's activities. Meredith and Tom Brokaw live in New York City and Montana.