We at DM love our 'Cats and our Griz! Whether we tailgate and go the game in person, or gather with friends to catch it on TV, few events bring the state together like a good ol' fashioned 'Cat/Griz matchup. On the eve of the 112th meeting of these two great rivals, we thought it would be fun to share some trivia from the past. Enjoy and Go 'Cats and Go Griz! 
Special thanks to:
Renee Valley, UM Sports Services & Bill Lamberty, Assistant Athletic Director of Media Relations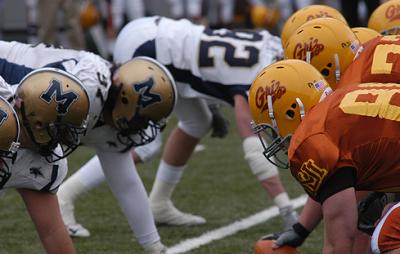 Go Aggies! 
Go Mountain Lions!
An Aggie/Lion rivalry doesn't have the same ring, does it? 
In 1897, the University of Montana (then called Montana State University!) were called the Mountain Lions. At that time, the current Montana State was called Montana State A&M, and like many other A&M schools in the country were known as the Aggies. Montana State A&M became Montana State College around the turn of the century.
The Missoula team became the Bruins in 1911, and finally the Grizzlies in 1912. In Bozeman, the Aggies became the Bobcats in 1919. It wasn't until 1965 that Montana State University became the University of Montana, and Montana State College became Montana State University! 
Brawl Game Attendance
1901     2,000 
1929     7,000
1946   10,000
1967   10,000
1987   17,000
2011   20,000 
The Copper Bowl
From 1926 - 1952, all 'Cat/Griz games were played in Butte!
Largest win
Montana 79, MSU 0 (1904)
Longest win streak
 Montana 16 (1986 - 2001)  
Years when no game was played  10
1911 season canceled  after death of MSU player Charles Lange in a game against Utah which MSU lost 97-0
Bobcat Margin of Victory 38 points  1899, 1902, 1966  
Weather History
Warmest Temperature  67° 1989  
Average Temperature  29° 
Coldest Morning Temperature  -5° in 2000 
Coldest Gametime Temperature  2° in 1978 
Coldest Max Temperature  15° in 1977 
Greatest Precipitation  .61"  1979 
Most Snowfall  5"  1979 
Greatest Snowfall on the Ground
At Gametime   8" 1959
National  Championships
Grizzlies  2 of 7 appearances  1995 & 2001
Bobcats  3 of 3 appearances 1956, 1976 & 1984
In a 0-0 tie vs. St. Joseph's, Ind., at 1956's Aluminum Bowl, MSU was awarded co-national championship, and are considered national champs because they were the NAIA's only unbeaten team that year.
On the Field
Longest Scoring Play
Grizzlies  1974  94 Yards
Longest Field Goal
Bobcats  1965  59 Yards
Longest Rushing Score
Grizzlies  1974 79 Yards
Longest Punt Return for a Score
Bobcats  1965  80 Yards
Longest Interception Score
Grizzlies  1932  92 Yards
Longest Score on Fumble
Bobcats  1941  60 Yards
Over 80 TV satellite parties are held around the country where alumni from both Montana State University and the University of Montana gather to watch the greatest athletic rivalry in the state and one of the longest running rivalries in the nation. Each party is held at a site which can access the game via DirectTV or satellite and is hosted by an alumni volunteer.
Here are some of the states that have parties. Go to www.alumni.montana.edu/events/catgriz/ for more information about hosts and locations.
ALASKA , ARIZONA, ARKANSAS, CALIFORNIA, COLORADO, CONNECTICUT, 
FLORIDA , GEORGIA, GERMANY, HAWAII, IDAHO, ILLINOIS, INDIANA, IOWA 
JAPAN, KANSAS, LOUISIANA, MAINE, MASSACHUSETTS, MICHIGAN, MINNESOTA 
MISSOURI, MONTANA, NEBRASKA, NEVADA, NEW HAMPSHIRE, NEW MEXICO 
NEW YORK, NORTH CAROLINA, NORTH DAKOTA, OHIO, OKLAHOMA, OREGON 
PENNSYLVANIA, RHODE ISLAND, SOUTH DAKOTA, TENNESSEE, TEXAS,
UTAH, VERMONT, WASHINGTON, WASHINGTON, D.C., WEST VIRGINIA, 
WISCONSIN, WYOMING
The Griz lead the series 70-36-5!
2012 'Cat/Griz game November 17 in Missoula!