While every season has its song, autumn's siren call may be the most alluring. Coming at the end of summer's race and before winter's sleep, it is a time of harvest, new school years, animal blessings, Halloween fun, and first snowfalls. It's the season of warm clear days and cool frosty nights. Now gold, orange, and red foliage push flowers aside for top billing. 
Here at Dunrovin Ranch our fall season is full of activities, time for reflection and learning, and celebrating autumn's special gifts: unparalleled mountain riding, harvesting the fruit from our orchard, St. Francis of Assisi's animals' blessings, Halloween costumes and nonsense, and the relaxed family time of Thanksgiving.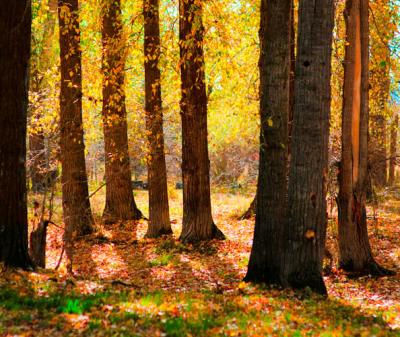 Autumn offers the best possible trail riding. Horses are in peak condition after months of lessons, drill team, and carrying guests. The heat of summer has vanished, taking pesky flies and mosquitoes with it. Cooler temperatures invigorate horse and rider. Both are ready to roll, prompting fast paced runs up mountain trails lined with yellow and crimson leaves. A dusting of winter's first snows accentuates the peaks, creating picture perfect scenes. It's heavenly. The senses sharpen.
While other parts of North America boast of their spectacularly colored deciduous hardwood forests, in this part of Montana, the western and alpine larch are the autumn celebrities. Newcomers to the region often think our forests are dying as the mountain larch begins to turn gold. They are unaccustomed to these unique deciduous (annually shedding leaves) conifers (cone-bearing trees). Entire mountain sides slowly turn from green to bright yellow to naked trees as the larch lose their needles; only to reverse the process the following spring, when new soft yellow-green needles sprout and turn dark green like the surrounding fir and pine trees. 
These majestic larch trees draw Dunrovin on annual fall treks to Carlton Ridge on the skirts of Lolo Peak. Lolo Peak is an iconic feature to Missoula and the Bitterroot Valley. It fills Dunrovin's view to the west. The Carlton Ridge Research Natural Area boasts the most extensive forest of alpine larch in the United States. In late September, Carlton Ridge becomes a cathedral of gold. Twisted by heavy winter snows, the white bark pine and larch intermix to create a spiritual, magical place, where one expects a woodland elf or troll to appear. Bright sunlight casts playful shadows and stirs your imagination. The thin mountain air makes you giddy with joy. It is a place that replenishes the soul.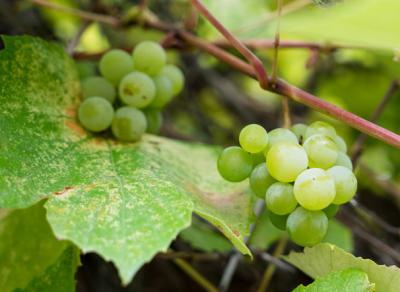 Timing is everything. After Labor Day, we keep a careful eye on the mountain, waiting for the first signs of color to tinge the top of the ridge. We wait and we wait. We are greedy. We want the alpine larch forest at the height of its golden glory. Yet if we wait too long, the trees become inaccessible. A little new snow adds much to our excitement, while too much snow makes the trail impassable. 
Last year, our timing was perfect. Stirring up larch needles through carpets of gold, our horses' feet led us up and up to that golden cathedral under a crisp blue autumn sky. It cast its spell, filling our hearts and eyes and lungs with the majesty of the mountains. The splendor of the moment is made all the more acute by its ephemeral nature. This cannot last; it passes quickly. It is to be savored. It can only live in our memories.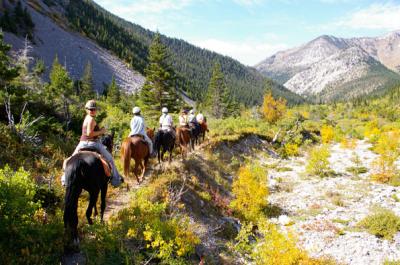 When not mountain riding, you will find the Dunrovin crew out in the orchard harvesting pears, apples, apricots, and plums. Entire weekends are spent canning and cooking and conjuring up plum liquor to give away as Christmas gifts. Apricots, apples, and plums are cooked into a slurry, spread out in a dryer, and made into fruit leather for snacks to take along on next year's trail rides. Fallen apples and pears are chopped and fed to the horses. They love harvest time as much as we do.
Late September's and early October's slower pace and lingering warm weather offer Dunrovin the opportunity to pause from our normal activities and focus more mindfully on our relationship with our animals. During the last week of September, we celebrate our animals, first with our Dunrovin Holistic Animal Wellness Week (beginning September 23rd) and then with a formal blessing of the animals on the feast day of St. Francis of Assisi on October 4. 
Our goal for the Holistic Animal Wellness Week is to create an on-going dialogue with experts and animal owners on how we can support our animals in all aspects of their being—their physical, emotional, mental, and social health. We recognize all of these aspects are connected and integral to every animal's wellness, including our own. This is a perfect time of year for such an event. It is when we begin to think of the next year and how we might want to change things based on this year's experiences. What went right? What went wrong? While the season is still fresh in our minds, we can examine both the challenges and opportunities we encountered with our animals, enlist assistance from professionals, and make ready for a new year by learning and trying new approaches.
And, indeed, that is exactly what we accomplished last year as we incorporated new rehabilitation techniques, zoopharmcognoscy (animals knowing how to medicate themselves) medicinal herbs, and animal Reiki into our ongoing program.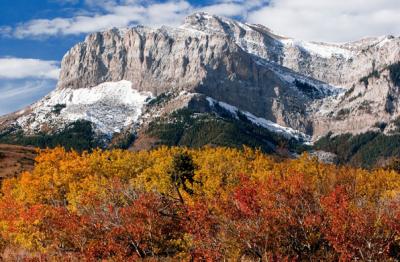 October is punctuated by the Montana School Teacher's Conference (Oct. 19-20) when schools close and kids are looking for some fun. Dunrovin obliges with a two-day kids' camp. At times, we collaborate with the University of Montana's Native American Kyiyo Club to put on a cross- cultural camp with Indian games, constructing a tipi, and demonstrations of the superb horsemanship that is traditional to Montana's tribes. 
Happy for any excuse to dress up and host a party, Dunrovin gives free horseback and carriage rides to any child arriving in costume on Halloween. Naturally, our Donkey Divas vie for center stage with children in outrageous purple and red outfits. Sometimes the donkeys resort to loud brays. Some kids paint any horse naked of adornments. S'mores and cocoa around the fire pit and lots of active lawn games keep everyone warm. 
As fall begins to fade and Thanksgiving draws near, Dunrovin anticipates the first major snowfall. This is when playing in the snow with horses is safe and fun. Ice has not yet formed to cause the horses to slip, so those first blankets of snow are likely to be churned by horses hooves. Snowflakes rise and fall with each foot step. We break out singing "Over the river and through the woods to grandmother's house we go." What a wonderful way to say goodbye to autumn and hello to winter.