Ivan Doig, beloved author and recipient of numerous awards, died this past April.
He wrote classic novels in a unique style about 20th century Montanans and the land, such as Dancing at the Rascal Fair, English Creek, and Ride with Me Mariah Montana; Work Song and Sweet Thunder took place in the Copper King-era of Butte. Bartender's Tale was inspired by his childhood. These last three novels plus a final one to be published in August, Last Bus to Wisdom, were written while he was ill. His two memoirs This House of Sky: Landscapes of a Western Mind and Heart Earth prove he had plenty of grit.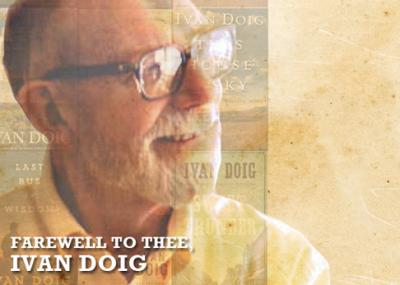 Lois Welch, friend and wife of James Welch, remembered him as a "jovial, natty dresser who loved Scotch and gardening, and always kept a notepad in his pocket.  [Research in Montana] was what he liked to do best.  You didn't find Ivan under a palm tree, you found him in the archives of Helena."
Ivan was born in White Sulphur Springs and suffered the death of his mother when he was six.  He was then raised by his still-grieving father and grandmother as described in the memoir Heart Earth.  At the end of World War II he received a trove of letters his mother wrote, which he writes enabled him to "voyage on her ink."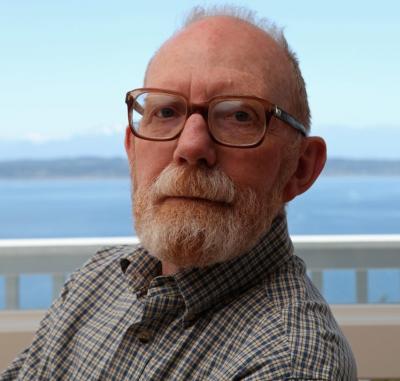 The following is from the concluding pages of Heart Earth:
Summoning myself —  summing myself — is no less complicated, past fifty, than it was in the young-eyed blur at those howling Montana gravesides. Doig, Ivan, writer: independent as a mule, bleeder for the West's last chances, exile in the Montana diaspora from the land, second-generation practical thrower of flings, emotionally skittish of opening himself up like a suitcase, delver into details to the point of pedantry, dreamweaver on a professional basis — some of me is indisputably my father and my grandmother, and some I picked up along the way. But another main side of myself,
I recognize with wonder in the reflection of my mother's letters. It turns out that the chosen world where I strive to live full slam — earth of alphabet, the Twenty-Six country — had this earlier family inhabitant who wordworked, played seriously at phrase, cast a sly eye at the human herd; said onto paper her loves and her fears and her endurance in between; most of all, from somewhere drew up out of herself the half hunch, half habit — the have-to — of eternally keeping score on life, trying to coax out its patterns in regular report, making her words persevere for her. Berneta Augusta Maggie Ringer Doig, as distinct as the clashes of her name.
Ivan is fine, growing like a weed, her pen closes off its last letter ever…