What to do in Montana...
Missoula's Dance Collective
Downtown Dance Collective in Missoula
is a place where an adult of "Any Body" and "Any Ability" can receive dance instruction in a wide variety of styles of dance. "We have dance opportunities for everyone at every level from swing to hip hop to tango, salsa and ballet," says owner, Heather Adams.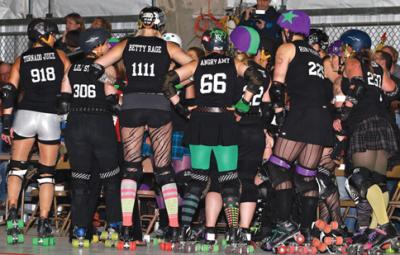 In addition, the Dance Collective has creative dance-based exercise programs such as Zumba, Work Your Assets, Oula, Strip Tease Fitness, and The Booty Barre. This multi-functional space in the heart of Missoula's vibrant downtown community is also home to art exhibits, community functions, fundraisers, and private celebrations.
Downtown Dance Collective is located at 121 West Main St, Missoula. 406-541-7420, www.ddcmontana.com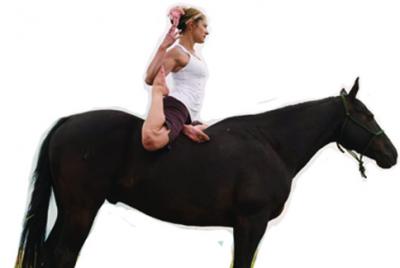 Yoga for Cowgirls 
While yoga and horses might not seem to go together, Big Sky Yoga Retreats' Cowgirl Yoga is proving the mix can lead to the ultimate zen. Founder and teacher Margaret Burns Vap left a hectic life in New York City to move to the Big Sky state, where she became inspired to integrate Montana flair into her yoga practice. Cowgirl yoga offers women a chance to get away for a weekend under the Big Sky and discover how the human-horse connection can deepen through yoga. Cowgirl yoginis will come away sitting surer in the saddle, perfecting their poses, and feeling a sense of inner peace that can only be found when a woman's soul meets her horse's. 
To book a regular, ranch camp, or LUXE Cowgirl Yoga retreat, call 406-587-2390, go to www.cowgirlyoga.com. 
Go Tribal
The tribe is perhaps the most tightly knit community unit in human history; GOTRIbal has taken the concept and applied it to modern day women and healthy living. GOTRIbal is a budding company founded to provide personal, meaningful connections between women who want to live an active lifestyle together.  Anyone can visit gotribalnow.com and create a tribe; others can join based on proximity or similar interests and goals. According to founder and CEO Tanya Maslach, "To create a tribe is to create a place for online peace where you can talk about anything and feel safe." A tribe has already been started in Montana – The 406 Babes. Anyone can join the tribe to connect with other Montana women to support one another in healthy living endeavors, be it relationship advice, or the motivation to sign up for that triathlon. 
Visit www.gotribalnow.com to find a tribe to join or to start your own. 
A Bridal Shop, Bozeman Style
When small town Montana gals, Sari Feenstra and Karyn Bonderud, had the notion to open a bridal shop in Bozeman, they felt there was a niche that needed to be met in Bozeman with dedicated customer service. And so they combined their names and upbringing to create Eskay Bridal, where you can experience being a bride the Montana way while finding couture dresses of impeccable quality. "Our gowns look good with everything from diamonds and stilettos to cowboy boots, and we have prices and styles for every venue," says Bonderud. So, if you're looking for a wedding dress and perhaps a friend too, head to Eskay.
Eskay is located at 1439 West Babcock, Bozeman. 406-577-2259, www.eskaybridal.com. 
Roller Women
Roller derby is on a roll in Montana. With seven current leagues (in Bozeman, Great Falls, Helena, Kalispell, Missoula and two in Billings) and rumors of a Butte roller derby league coming soon, women all around the state are pulling on their skates. It isn't the violent, crazy roller derby most people imagine. Roller derby isn't just about the skating, either. It's about giving back and making connections. "We don't just skate, we've given around $10,000 back to our community," says Bejay Lindseth, co-director of the Electric City Roller GrrrlZ in Great Falls. 
To locate a roller derby league near you, go to: www.derbyroster.com/league.php?type=wft , then check out any league's Web site and/or Facebook page.
Pure Barre is Bar None in Fitness 
Even if you've never been a ballerina, you might be surprised what a ballet barre can do for your body. Pure Barre is a new, total-body workout technique that has women across the nation raising their fitness bar on the barre. The Pure Barre routine targets women's "problem areas" (top of the thighs, back of the arms, core and "seat") using small isometric movements set to pump-you-up music, and it works. Kaitlyn Kurn opened the first and only Pure Barre in Montana in downtown Bozeman, and she encourages women (and men!) of all ages and fitness levels to come in and give the barre a try. "We have people from ages 18 to 75," says Kurn. So if you're looking to build some long, lean muscle, head to Pure Barre in Bozeman where the first class is free and no two classes are alike! 
Pure Barre is located at 34 East Mendenhall St. #R-6 in Bozeman; tel: 406-577-2918.
For more on Pure Barre visit http://purebarre.com/p-technique.html
Virginia Schmidt is a Wyoming native with Montana roots. After graduating from Montana State University this spring, Virginia began work as a social media consultant and will soon move to Austin, TX. She plans to continue writing and embark on exciting new ventures, but also knows the Mountain West has her heart and will pull her back to the Big Sky one day.