I heard voices in the empty kitchen and the air felt strangely heavy. I had stayed in the house before, but never alone. This time, something was off-kilter. I loved its timeworn rooms so I made a sweep of the house with my digital camera. Scrolling through the photos, I noticed orbs — bubbles of light that some believe are evidence of the supernatural, in a number of the frames. Odd, I thought. I struggled to shut and lock the back door in the adjoining room, made certain it was secure, pulled down all the shades, turned out the light, and fumbled my way to bed in the dark.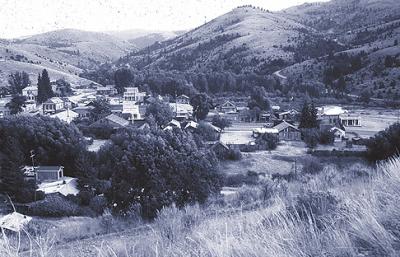 I awoke with a start around 1 a.m. The house was utterly silent, but something wasn't right. What was it? Then it dawned on me that the room was no longer dark. I crept out of bed, stepped into the back room, and a scream stuck in my throat. The back door stood wide open; silver moonlight flooded into the house, touching everything with an eerie metallic glimmer. I instantly knew that the heaviness — whatever it was — had gone out the door.
Later that same week, in August of 2009, I again stayed alone at the restored state-owned Daems House, once home to an early-day physician, on Idaho Street in Virginia City. I took more photographs, but none included orbs.
I often marvel at the traffic this historic street has seen. How many souls have walked in its dust and left their energy behind? Idaho Street indeed has its secrets. Humble ruins and high style homes sit amicably side-by-side on the unpaved street. Here locals tell their stories, and I have told a few as well. Six-year-old Martha Mildred Gohn, for example, who died in 1911, is Idaho Street's winsome spirit. Or Mary Elling, whose stone mansion perches up the hill, lets the current owner know when she disapproves of change. And I now added my own story about the Daems House to the list.
But among Idaho Street's several haunted places, the Bonanza Inn has the most intriguing, and chilling, energy. Built in the mid-1860s as the Madison County courthouse, it served up justice until 1875. In 1876, three Catholic Sisters of Charity arrived from Leavenworth, Kansas, to convert it to St. Mary's Hospital for miners. The sisters battled cholera, typhoid, consumption, gunshots wounds, saloon fights, and mining accidents. Then patients dwindled as mining waned and the sisters moved on in 1879. They, and some of their patients, left an unusual legacy.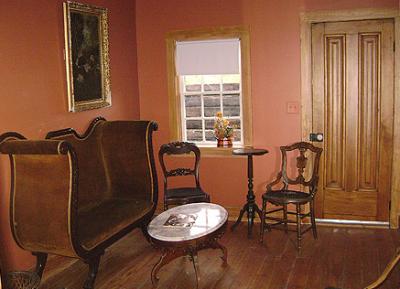 From the 1950s to the present, overnight guests have reported ghostly visits. A female spirit sits by the bed, soothing the sick, comforting the depressed. Some claim to have seen the shadowy nun along Idaho Street or sitting in a pew in the Episcopal Church. I set out to discover her identity.
One of the three Sisters of Charity was an 18-year-old novice who endeared herself to Virginia City. Community women, concerned about Sister Irene's safety among the rough miners, promised each other that whenever pretty Sister Irene left the hospital, one of the women would secretly follow close behind, making sure she was safe. Years later as Mother Superior at St. James Hospital in Butte, Mother Irene McGrath cared for a patient who had known her at Virginia City. She told Mother Irene of the women's service. The seasoned mother superior was overwhelmed to discover this kindness. Does she come back to repay the debt?
Not all encounters at the Bonanza Inn are comforting. In the summer of 1975, the Bonanza Inn housed the production crew filming The Missouri Breaks with Marlon Brando and Jack Nicholson. The occupant in Room 1 was ill and declined dinner in Ennis. As he dozed alone in the building, a loud knocking jolted him awake. He flung open the door to find no one there. Then behind him came a sharp knock at the window. He whirled around, pulled up the shade: no one was there. Then at the door, at the window, at the door—he gathered his belongings and thereafter slept in his car.
After this terrifying incident, Room 1 at the Bonanza Inn sat locked and unused for 20 years. In 1997, the State of Montana acquired the building and readied its eight rooms for housing state workers and others. Fear paralyzed one of the first overnight guests in Room 1. She awakened to see a male figure looming at the foot of her bed, staring at her, wearing a wide-brimmed hat and duster. She watched as he faded away. Some years later, another guest in Room 1 felt someone watching her through the window. She drew back the curtain to find a figure looking in at her. He wore a wide-brimmed hat and a duster.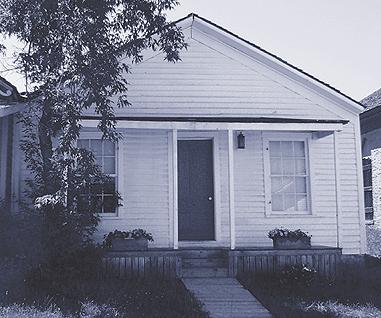 During renovations to the building, another worker staying at the Bonanza spent a scary, sleepless night as something under his bed plucked at the bedsprings. Around this time, removal of old lathe and plaster exposed a Civil War belt buckle someone — perhaps a dying patient — had carefully hidden. Could this belong to the man in the duster?
I stayed in Room 7 in the summer of 2000. Coming out of the steamy bathroom after a shower, a strong unpleasant odor hit me, like that of the geriatric ward where I worked as a candy striper in high school. The cloying smell lingered then dissipated. Another guest in Room 7 awakened to the sound of water splashing, as in a bowl. Later she discovered that the sisters used basins for washing wounds and bathing patients.
The caring entity seems to especially favor Room 2 where one guest reported unseen hands pulling up her covers, and tucking them around her. Professional paranormal investigators came to the same conclusion in 2008. Investigator Russ Wells had seriously injured his knee. He sat in Room 2 and asked the sisters to help him heal. Soothing warmth flooded through his knee. As this occurred, a digital photo captured a large orb over Russ's head. Later, Russ and another investigator both heard footsteps outside Rooms 1 and 2. And that same evening, an EVP (Electronic Voice Phenomenon) captured a female voice on a digital recorder saying "....help you?"
My own recent experience adds to the growing inventory of stories. The August afternoon was intensely hot and the silence profound as I lay down to rest in Room 2, thinking about my lecture that evening. I had the Bonanza Inn all to myself. At first the sounds were so soft I didn't notice.
Then I could hear the small female footsteps in sturdy shoes at the far end of the hallway. She came closer, pausing midway down the hall. I clearly heard a key turn in a lock. The door clicked open and softly closed. I heard a few bumps and clunks, and then more footsteps behind the closed door. Slowly they grew faint and then faded away. Did Sister Irene pay me a visit, or was it someone else?
"I heard that kind of sound that a ghost makes when it wants to tell about something that's on its mind and can't make itself understood, and so can't rest easy in its grave, and has to go about that way every night grieving."
- Mark Twain
~ Ellen Baumler is the interpretive historian at the Montana Historical Society in Helena. Her books weaving history with the supernatural include Montana Chillers, Spirit Tailings, and Beyond Spirit Tailings, were honored with an Award of Merit from the American Association for State and Local History.