As I swung my tool and it latched into a small pocket of ice, my feet cut loose from the small edge of volcanic rock I was balancing on.  I gingerly moved onto the ice, took a deep breath, thought about being light, and shared a look of confidence with my partner. I continued up the overhanging ice, topping out in deep snow and wallowing to a big pine for the belay.  The late season ice was warm and plastic, ideal conditions for a winter escapade in Hyalite Canyon, Montana.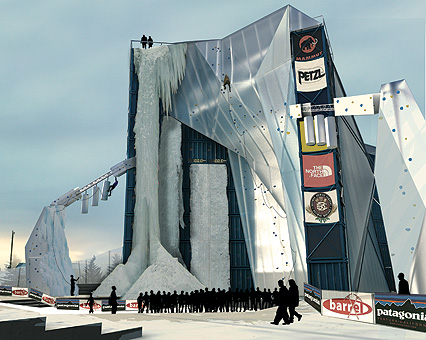 I belayed my partner up the pitch and looked down canyon and took in the views, much as one would savor a sip of fine wine. Twin Falls and the striking Cleopatra's Needle framing the west, a bit north the Scepter and Mummy climbs, and in the lower canyon the novice-friendly Genesis area with the stout Unnamed Wall across Hyalite Creek. 
Tucked in the woods and hidden by cliffs, over 100 climbs adorn the main fork of Hyalite Canyon.  While southwest Montana offers an abundance of ice climbs, Hyalite is as good as it gets for avid ice climbing with over 135 established routes covering the range difficulty. 
Reliable ice begins forming at Thanksgiving and lasts until early April. The five-month season, six if one is willing to hike to higher elevations, is unique in the contiguous states.  For an enthusiastic climber the season offers ample opportunity to seek out climbs. The ease of access, via a plowed road to the Grotto Falls trailhead, is very user-friendly. Once in Hyalite Canyon, the remoteness one feels is exceptional. Pine trees sway in the gentle breeze, snow crunches underfoot, one's breath hangs in the air. It's hard to believe a place as quiet as this is only a 40-minute drive from Bozeman.  Hyalite is a world-class destination with easy access, a long season, and a variety of climbs spanning the range of technical difficulties.
How Gear Shapes the Sport  
Climbing frozen waterfalls is a relatively new adaptation of mountaineering tools and technique. Crampons, spikes attached to one's feet, came about as a way to cross glaciers with security. The ice axe was initially designed for self-arrest, should one slip on the glacier. Climbers, always on the lookout for a good adventure, started taking these simple tools to frozen waterfalls. What at first began as a small diversion to train for the mountains eventually morphed into a unique and specialized discipline in the sport of climbing. By the mid-seventies, with the ascent of the 300-foot Bridalveil outside of Telluride, Colorado, ice climbing had established itself. People began to seek out the delicate ribbons of ice that promised adventure in the finest sense of the word.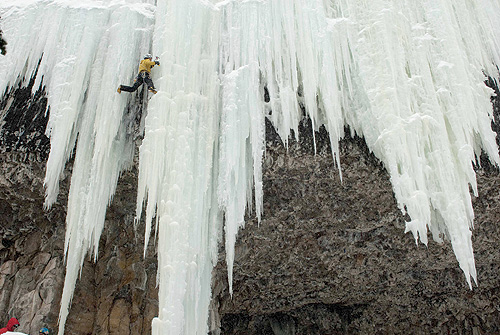 The gear manufacturers responded to the demand for recreational ice climbing with innovative tools designed to make climbing ice safer and more enjoyable. Climbing rope, purposely built to be elastic and absorb the forces of a fall, coupled with cylindrical ice screws allowed climbers to ascend winter's frozen treasures with a degree of security.  Once properly outfitted, the ice climber is protected with a helmet, sturdy boots with enough spikes to make Alice Cooper envious, warm gloves, jackets, and pants capable of keeping you comfortable in a meat locker, a strong harness, and a pair of ice tools. As a design specialization of axes for wood, ice tools have something primal about them. When I swing a tool in a sheet of ice, I'm plugging into a current of energy going back to when we first started grabbing sticks and swung them around.
From a physical standpoint ice climbing is quite a challenge. First off, one must embrace the cold. Without freezing temps there is no ice. Knowing how to keep warm and energized allows one to "feel the pump" as one hangs onto the ice tools. Ascending a pillar of ice involves a majority of the body's muscles and a fair amount of energy. The psychological demands of operating in a risky environment heighten one's senses. Mistakes are costly and the mental process of staying on the ball is a nice antidote to the over-stimulated world in which we live. Participants must live in the moment while on a pitch of climbing, because of the risk associated with it. You are thinking about the next 60 feet of climbing, not the dog's vaccination schedule.
Bozeman's Ice Fest
The shared understanding of risk brings ice climbers together. Each December local climbers pull together to host the Bozeman Ice Fest. Over a three-day weekend climbers can learn from the world's top climbers, check out the latest in gear and clothing, explore new climbs, meet friends and gather each evening to share the stoke.  As it is the first of the annual ice festivals around the world, people travel far and wide to join in for a weekend of adventure and laughter. It is the gathering of the tribe.
That the annual Ice Fest takes place in early December reflects the quality and reliability of ice climbing in Hyalite Canyon. From a geological standpoint, Hyalite Canyon was overlaid with andestie and volcanic debris from a major eruption approximately 23 million years ago. Then, 10,000 to 17,000 ears ago during the most recent ice age, a northward orientation, which, combined with being on the cold side of the Continental Divide, presents ideal conditions to form ice.  Ice forms faster the colder it is, and Montana in the winter is very cold. Temperature, ample water, steep cliffs, are all needed for ice climbing. While individually common, the three attributes together are rare.  Hence, Hyalite Canyon is an excellent destination.
Ice climbing is hard work. It is cold, scary, and demands much from the individual. If this sounds like your cup of tea, sign up for a lesson with Montana Alpine Guides or a clinic at the Bozeman Ice Festival. If you seek the exhilaration of standing atop of a 300-foot cascade of ice and like the teamwork that develops from a meaningful challenge, then ice climbing could be worth a try.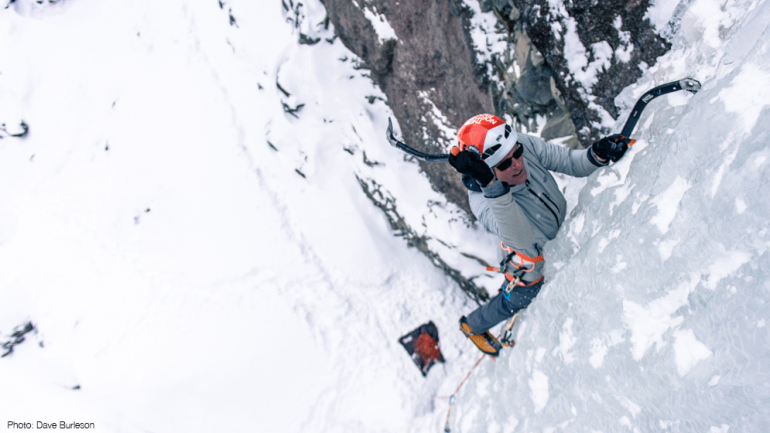 How to get started...
 There are several ways to experience Montana ice climbing. If you are an experienced ice climber check out Joe Josephson's excellent guide book Winter Dance. The climbs are listed by location and include a bit of historical information. If you are new to the sport, Winter Dance is a great motivational tool. As climbing is a very dangerous sport it is essential that one seek out proper instruction. Having someone "show you the ropes" might sound cliché; yet in climbing it is well advised to have a guide to make sure the first few times out you are not making any mistakes. Gravity, after all, plays for keeps and is indiscriminate. Operating with a special use permit for Hyalite Canyon, Montana Alpine Guides can take beginners out for an adventurous day of swinging tools and kicking crampons. The guides know the best locations and can tailor a day to your group's level of expertise. 
Bozeman Gets World cup Ice Tower
At the 2014 Winter Olympics in Sochi, Russia, competition ice climbing will be a demonstration sport. Keen on the sport, the Russians promise to hold an eye-opening event at the Winter Olympics. For the United States to compete, athletes will need to be selected based on their ability. The climbers compete on a World Cup-sanctioned structure for speed and difficulty. Currently there is not a World Cup "comp wall" in the U.S.  As Bozeman is home to reliable cold temperatures and a motivated group of climbers, there are plans to construct a World Cup standard climbing structure at the Gallatin County Fairgrounds Events park to further competitive ice climbing in the United States. 
In the Spring of 2011 the Montana State University School of Architecture, Friends of Hyalite, and a number of renowned Bozeman climbers organized a design competition to generate conceptual ideas for the proposed ice climbing venue. A team lead by me, Michael Spencer, a graduate of the school of architecture, with Tymer Tilton, a graduate student in the school of architecture, and P.J. Kolnik, a senior civil engineering student, won the competition with their submission, Mass Appeal. 
The proposal expands on the initial competition requirements and calls for an outdoor events center for the greater Bozeman community, which could include a large outdoor concert venue and a "mountain sports" hostel, with adequate funding. The project is expected to be complete in time to hold the December 2013 Ice Climbing World Cup. See updates at http://bozemanicetower.wordpress.com
~ Conrad Anker is Captain of The North Face athlete team and lives in Bozeman with his family. In 2002, Conrad and his wife, Jenni, founded the Khumbu Climbing Center, a vocational training program for high-altitude Sherpa in Nepal. The program teaches safe mountain practices on the frozen waterfall of the Mt Everest region.  Please visit www.alexlowe.org for further information.