Exactly how shall we be comforted during our long, cold Montana winters? Should we conjure up a Norman Rockwell style image of our hearty pioneer forbears gathered 'round a roaring fire in a hunting camp? Those idealized scenes of Americana permeate so much of the commercial landscape we're exposed to, that we may actually end up disappointed rather than comforted. 
So how shall we pull it off?
Here's how: We'll create our own comfort with a classic approach to beef stew and soup that will satiate both hunters and gatherers, while at the same time changing our approaches to fat content, seasoning and nutrition.
STEW
First on the list is the use of fat. By using virgin (not extra virgin) olive oil, you're using a type of fat that is better for your body than most others. Calorie-wise, however, fat is fat. An ounce of fat, no matter what the source, is 14 grams of fat. But the chemistry of the human body is such that you need fat in order to metabolize protein. So use a good fat like virgin olive oil.
Next use a lean cut of meat and trim it of most (not all) of the fat and any silver skin that may be present.
Consider the vegetables you'll use to fill out the stew. Both onions and carrots are important because as they cook they release natural sugars that add great flavor to the stew. I like adding rosemary for a "woodsy" component to the stew. Most important of all, however, is not to forget to use salt and pepper. The lack of these basic seasonings is the primary reason that a stew can taste "flat."
Finally, there are two distinct cooking methods I use when making this stew. First, I use a higher heat to caramelize the onions and the beef. By caramelizing the onions and getting a good sear on the beef, you add a layer of flavor often lacking in stews.
Once that occurs and all of the other ingredients are added to the pot (it's a perfect opportunity to use that cast iron Dutch oven), the heat goes to medium low or low so that the tightly wound proteins and collagens in the beef have time to relax while bathing in the succulent sauce that you'll create in the process.
When I cook with wine, and I definitely add wine to this stew, I cook with the wine I would drink. I do not use what supermarkets term "cooking wine." That stuff is laden with sodium. So it bears repeating: Cook with a wine you'd drink.
One final note regarding the preparation of the beef: I salt and pepper the meat and then coat the cubes in all-purpose flour, shaking off the excess. This addition of flour will help thicken the sauce. But if you have a problem with gluten in your diet, you can coat the beef in rice flour. It works just as well and you'll accomplish the same thickening result. And just so you know – this recipe works equally as well with venison.
INGREDIENTS
3 Tbsp. virgin olive oil (not extra virgin – that's for dipping bread or making salad dressing)
2 lbs. cubed beef (chuck or stew beef)
2 med. white onions, diced
2 Tbsp. all-purpose flour or rice flour depending on your tolerance for gluten
1 tsp. salt
Freshly ground black pepper, to taste
1 1/2 cups dry red wine
3 14-1/2 oz. cans of diced tomatoes with juice
6 small red potatoes, scrubbed, cut into chunks, skin on
4 carrots, peeled and cut into "coins"
4 celery stalks, washed and cut into 1-inch pieces
1 lb. Cremini (baby Portabella) mushrooms, roughly chopped
2 tsp dried oregano
2 tsp. fresh rosemary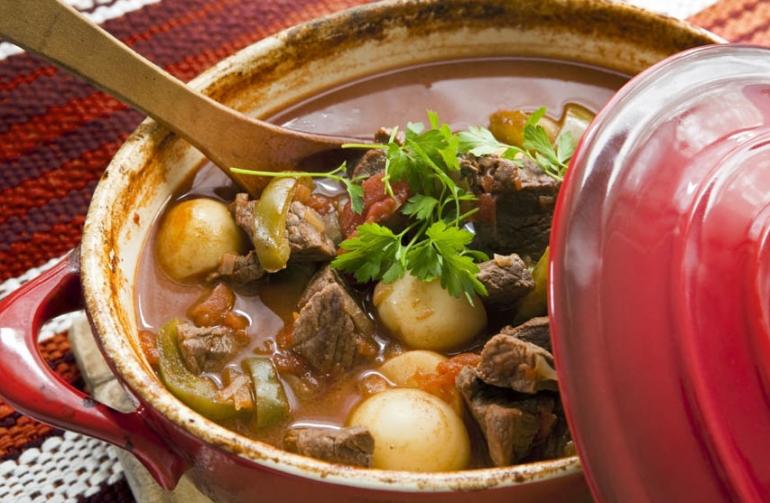 METHOD
Salt and pepper the meat and coat in flour. Heat the oil in a deep stew pot or Dutch oven over medium high heat. Add the onions and sauté until caramelized. Add the stew meat coated with the flour and cook until browned on all sides.
Add the wine, tomatoes and their juices, the carrots, and celery. Bring to a boil, and then reduce to a simmer. Cook over low heat for at least one hour, adding oregano and rosemary at about the 45 minutes point. Stir occasionally.
Serve with warm crusty bread.
SOUP
The vegetable most often identified with this time of year is, of course, the pumpkin. I've got a soup that'll elevate any late fall or winter meal because it has both savory and sweet elements and, with a little extra flourish, you can make a spectacular presentation, too.
I am grateful to my unknown friends in the canned vegetable business who save me both time and effort with canned pumpkin. It's important that you not confuse canned pumpkin with canned pumpkin pie filling. The former is unseasoned and the latter contains sugar and spices that won't make a very good soup.
To add extra body to the soup, I use one Russet potato, peeled and cut into cubes. Once the potato cubes are fork tender, I puree the entire mixture, using either an immersion blender or carefully ladling the soup into a blender. If you're using the blender method, then I caution you to puree in small (2-cup) batches, as hot liquids expand and your soup may end up on the ceiling rather than in bowls on your dinner table.
The flourish I mentioned earlier comes in two forms. First, I use spiced and roasted pumpkin seeds. They'll float nicely on top of the soup. I also use slightly thickened heavy cream in a squeeze bottle, making zig-zags across the surface of the soup.
Ingredients
2 Tbsp. olive oil
1 large onion, coarsely chopped
3 garlic cloves, minced
1 1/2 tsp. ground cumin
1 1/2 tsp. ground coriander
1/2 tsp. cayenne
1 28 oz. can solid-pack pumpkin
1 14-1/2 oz. can chicken broth
1 large Russet potato, peeled and cut into 1-inch dice
1 Tbsp. sugar
1 1/2 tsp. salt
1/2 tsp. coarsely ground black pepper
1/3 cup heavy cream, slightly thickened
1/2 cup pumpkin seeds, spiced and roasted
Method
In 6-quart saucepan or soup pot, heat oil over medium heat until hot. Add onion, and cook 15 to 20 minutes until tender and golden, stirring occasionally.
Add garlic, cumin, coriander and cayenne and cook another minute. Stir in pumpkin, chicken broth, potato cubes, sugar, salt and pepper and 6 cups of hot water. Heat to boiling, reduce heat to medium low and let simmer for 20 minutes or until potato cubes are fork tender.
Remove pot from heat. Use a stick blender to puree the mixture until very smooth, or carefully ladle mixture into a blender in 2 cup amounts and cautiously blend as hot liquids tend to expand and splash up. Pour blended soup into a large bowl.
Reheat over medium heat until hot. Serve with slightly thickened heavy cream and toasted, spiced pumpkin seeds.