Nestled beneath the towering mountains, Lone Mountain Ranch is an icon of the old West—inviting, warming, breathtaking with a rustic elegance.
Among the high profile development in Big Sky of multi-story hotels, golf course condos and ski lodges, Lone Mountain Ranch embodies the historic simplicity of Montana.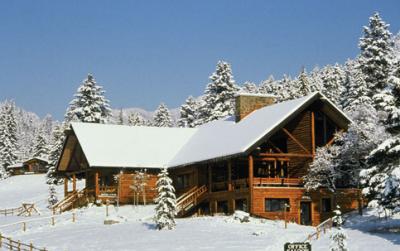 Driving up the dirt road with Lone Peak looming above, the road makes its way past a small creek feeding the Gallatin River. Large lodgepole pines line one side while the mountains rise up from the other side. 
Protected in this small valley, Lone Mountain Ranch provides the feeling of being a world away, with a backdrop of historic buildings, comfortable settings and hospitality. Hosting weeklong vacation packages, the Ranch provides a wealth of opportunities to appreciate, explore, and relax.
A large, cozy lodge embodies the historic atmosphere of the Ranch. Native lodgepole pines, hand-chipped, and hauled out of the woods by draft horses over 80 years ago, create the framework of the lodge. The doors and locks are all handcrafted. And antler chandeliers, massive stone fireplaces, and a cowboy boot as a tip jar at the bar provide decor.
An old barn has become the headquarters of one of the premier Nordic ski resorts in North America in the winter and an Orvis-endorsed fly-fishing shop in the summer.
A small creek runs by a few cabins' deck, which overlook its babbling waters. Tucked among pine groves, 23 cabins provide a private yet authentic home for the next week for the guests at Lone Mountain Ranch, in both summer and winter.
History
Wandering through Lone Mountain Ranch, the architecture and style speaks of a rich history that is a tale in-and-of-itself. 
In 1926, the Butler-Kilburn family, a Chicago paper mill tycoon, bought the ranch from the original homesteader for just $50 an acre. 
In just four short years they built The B-K, an elaborate spread of family cabins, a bath house, gatekeeper's and cook's cabins, an ice house, two guest cabins, corrals, and the dining room modeled after the grand elegance of Old Faithful Lodge.
A collector of fine furniture, valuable glassware and Navajo rugs, Florence Kilbourne wanted her ranch to be a balance between the authentic rustic and the finely beautiful. Unfortunately, it was forced to change operation to a dude ranch during the Great Depression. 
It was then sold a few times after World War II, when it became a boy's camp, a base area for a logging company, and by the mid-1950s, it finally became the Lone Mountain Ranch, a dude ranch and a hunting and fishing camp. It's hosted a few owners in its later years, including the Big Sky Corporation. Before it was sold in 1977, Big Sky Corporation required a rigorous review, of which Bob and Vivian Schaap were selected out of 12 proposals due to its year-round plan for the Ranch.
Lone Mountain Resort became a guest ranch and cross-county ski resort, hosting family-style, locally-operated events,  and providing horseback riding and fly-fishing in the summer months. 
Lone Mountain Ranch was listed on the National Register of Historic Places in December of 2006.  A book on its background with vintage photographs is being prepared.
The Ranch Today
The Lone Mountain Ranch was built on the Code of the West: Be goodwill ambassadors, showing friendliness to visitors and neighbors alike, and be good stewards of the land.
And it continues to operate under the same code. Guests often come one year and return year after year, with close to a 75 percent return rate. Why? 
The Ranch, run by Bob and Vivian Schaap and their three girls, was founded on western hospitality, a sense of family, great respect for the environment and a love of outdoor activities.
Lone Mountain Ranch is the ideal setting to enjoy and appreciate the natural amenities of Montana and the Greater Yellowstone Ecosystem. From fly-fishing dozens of rivers, horseback riding, hiking, and biking in the summer months, to unmatched downhill skiing, extensive and renowned Nordic ski trails and majestic sleighride dinners—there's a reason why the Ranch hosts return guests and endless new friends for the past 30 years. 
In the winter, there is nothing that fits quite like a stay at Lone Mountain Ranch—everything is provided and every need accommodated.
After getting picked up at the airport, knowledgeable drivers point out good winter fishing holes, geologic formations, bald eagles and other sights in the Gallatin River canyon.
As you wind your way into Big Sky, Lone Peak looms above. Greeting you, a guest service ambassador will give a small tour, orienting you to the ranch, meal times, activities, live music and all that lies in between, before taking you to a cabin that will be home for the next seven days. 
The successful aspect of the Lone Mountain Ranch is the family-style atmosphere. The first night, since all guests arrive on the same day, a wine and cheese social is held. The Ranch has become an annual gathering ground for families, romantic couples and, of course, newly found friends.
Winter Activities
Lone Mountain Ranch is located just six miles from Moonlight Basin and Big Sky Ski Resort, providing unparalleled downhill skiing options and other winter highlights. All activities are open to the public on a per day, no accommodation basis.
Nordic Trails and Ski School
Lone Mountain Ranch is voted #1 Nordic Ski Resort in North America, boasting impeccably groomed ski trails and over 80 km of rolling meadows to exhilarating downhills.
The professional ski instructors on-site provide a ski refresher and assessment class. Group workshops are available along with a wide variety of terrain. 
Some trails are mellow, winding down into Meadow Village Center and the golf course. Some are for the adventuresome, such as the Siberia and Mongolia trails, which will take guide you up to a vista point above the Ranch. 
The Big Sky community is deeply invested and cherishes this Nordic track, so locals, tourists and ranch guests share the extensive network. Groomed daily, this Nordic trails system is unique, truly offering ski-in, ski-out access at the Lone Mountain Ranch.
Yellowstone Backcountry Tours
Lone Mountain Ranch is located in the Greater Yellowstone Ecosystem, where winter is a spectacular time to visit because of the abundant wildlife. The Ranch offer trips in the Gallatin National Forest and in Yellowstone National Park. Or, take a ride in a snowcoach into the Park, coupled with skiing or snowshoeing adventure for a unique experience with views of the waterfalls and geothermal features. And of course, a naturalist and guide will accompany you.  
Outdoor Youth Adventures
The energy level of kids can often overwhelm parents. That's why the dynamic youth outdoor adventure days are just the ticket to wear them out. Mornings consist of ski lessons and in the afternoon, kids learn about the natural world around the Ranch with snow kickball, tubing, animal tracking, low ropes elements and mountain men arts & crafts.
Delectable Food
The atmosphere may feel rustic, but the food is anything but. Breakfast and lunch are served buffet style, with sweeping tables laden with nutritious food for the day's outdoor activities. And, of course, there is an opportunity to make lunch during the breakfast meal in case you want to pack out for the day's adventure!
For dinner, reservations are made with other families or couples that are staying at the Ranch. Dinners are served in sit-down formal style and offer a different menu every night of the week.  
Perhaps you'll start off with baked Brie in puff pastry and organic green salad with blueberry vinaigrette. For dinner, you may choose between seven options: Montana steak wrapped in bacon with a vanilla demi-glace, a rack of venison, pistachio- crusted, locally raised rack of lamb, Montana raised bison t-bone, wild striped bass filet, vegetarian pasta or a roast duckling breast in a plum sauce. 
Although the rustic ranch may be the setting, meals are five-star and linger on the pallet for hours afterwards.
Sleighride Dinners
Capturing true winter magic, a sleighride dinner is an experience to remember. Loaded into sleighs with a capacity for 14 people, pulled by two horses, you travel up to North Fork Cabin where wood stoves and kerosene lamps provide light and warmth. A 125-year-old cook stove from Northern Montana cooks up a prime rib dinner served on long family-style tables. Folk songwriters provide atmosphere and there are a few sing-a-longs before you return to the heart of the ranch for the evening. 
Lone Mountain's Future
In June of 2007, Everlands, the creator and sponsor of the Guggenheim Conservation Prize, purchased Lone Mountain Ranch. The Ranch will soon become a part of the worldwide luxury resort network, available only on a member-basis. Lone Mountain Ranch is one of the eight exceptional small properties Everlands has acquired in their portfolio. 
Others include: The Point at Saranac Lake in Upstate New York and the Oasis at Castle Hot Springs, a historic spa in Arizona. They have also acquired fishing lodges in Alaska, New Zealand ,and the Bahamas, as well as an Inn on Martha's Vineyard. The ultimate goal is a global portfolio of the world's best outdoor retreats and sporting estates with unmatched outdoor experiences and to preserve them for future generations.
Everlands chose Lone Mountain Ranch after an extensive search for the best of the best Montana experiences. In Lone Mountain Ranch, they found qualities that are so important to an Everlands property: history, authenticity, wonderful team atmosphere and dedicated staff, spectacular setting and unparalleled outdoor experiences—all traits worthy of conserving.
Since the Nordic ski trails are an integral part of the experience of the ranch as well as the community, Everlands will continue to groom and ensure access for the public.
Lone Mountain Ranch will operate as usual through summer 2008, after which plans are uncertain.  So, it's a good time to rush out and enjoy this ranch as it has been and appreciate the splendor of Montana's natural beauty, the good qualities of life, and an adventure that can last you a lifetime in memories.
~ Lucia Stewart is the Bozeman editor for NewWest.Net, an integrated network of voices in the vibrantly changing region of the Rocky Mountains. One of her life's aspiration: no excuses needed for powder days or river trips.