Montana in 30 Years: Farms & Ranches
Q's and A's from a Ranching Specialist and a Farming Specialist

Bonus: 'Betting on the Farm' by Susan Duncan
MONTANA IN 30 YEARS: FARMS & RANCHES
Questions answered by: Eric Belasco(Ranching Specialist) & Anton Bekkerman (Farming Specialist)
Farm and ranch life have been endemic to Montana's life and culture for over 150 years.  How might things look different in 2045?
Ranching in Montana is one of the most iconic occupations in the state as well as one of the oldest.  Over the last 150 years, few things have changed in this business: it is still a labor intensive industry that is vulnerable to weather and price swings.  Montana has specialized in the cow-calf sector, which is not likely to change anytime soon.  While there will continue to be growing demand to establish niche markets and keeps heavier animals in Montana, I think much of what ranching is today will be unchanged in 30 years. 
Montana farming will remain an important aspect of the state's economy and will become an increasingly important supplier of commodities to a growing world population and global economy. It is likely that there will be continued demand from Asian consumers for Montana's high-quality wheat and Montana's dry pulse industry, which is already the largest in the United States and will be a well-established supplier of plant-based protein for food products by 2045. 
Perhaps the largest changes will be in the new ways that technology will be used to maximize outputs and minimize inputs. In a not-so-unreasonable scenario, farmers in 2045 would see precision agriculture technology be standard on all farm equipment, unmanned aerial vehicles (UAVs) providing highly detailed information and data about their farms, and software for analyzing and making cost-effective adjustments will be at farmers' finger tips. Perhaps most importantly, the generation of 2045 farmers will have grown up in the digital age and will be astute liaisons between technology and food production.
To what extent do you see climate change impacting the food production of farms and ranches over the next 30 years?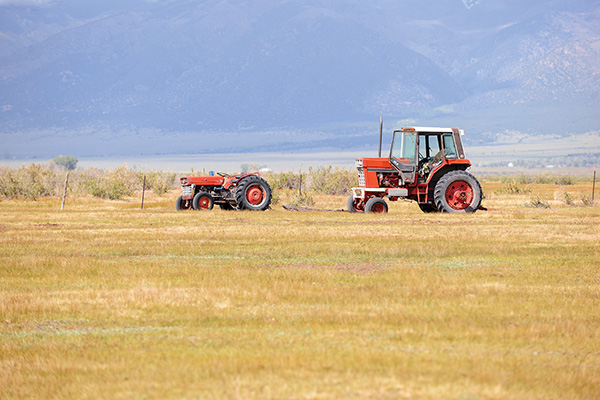 Montana's agriculture is highly dependent on dryland farming; that is, farming that is contingent on rain and available soil moisture. Therefore, the impacts of climate change will depend on how quickly changes occur and the specific effects of the changes. Warmer climate without a significant reduction in rainfall is likely to bode well for many Montana farms and ranches. However, reductions in rainfall, even seemingly small ones, can lead to long periods of production and economic uncertainty. Typical responses to drought mean that ranches need to sell more of their herd than they would under normal circumstances.  Building this herd back to scale can be difficult, particularly over the last 20 years with an aging ranch population and opportunities to convert ranch land to grain operations and other land acquisitions.
Furthermore, we are likely to see some staples of Montana's farming, such as hard red spring wheat, leave the state for cooler temperatures in Canada, while other crops may become part of Montana's new agricultural landscape. Ultimately, there is likely to be a race between the effects of climate change and technological innovations in farming equipment, crop varieties, input management techniques, and approaches to managing pests, weeds, and other challenging aspects that could benefit from warmer and potentially drier conditions.  
Can traditional farm and ranch life survive the out-migration of workers and younger family members, as well as the decline of small towns and cities?
Over the past century, farms in the United States have consolidated and grown in size. As technological innovation continues to supplement and, to some extent, replace farm labor, most of Montana's commodity producing farms will likely continue to consolidate and grow (albeit likely not at the same speed as in the past 100 years). This is likely to have some impact on rural communities, but the extent of these changes is difficult to predict.  For example, seasonal work has been critical for ranches during calving season, branding, or just the day-to-day operation.  However, ranches have been adapting to the reality of less labor availability for some time now and will continue to do so.  
It is important to recognize that food production — Montana's largest industry — is not likely to go out of style. In fact, the U.S. agricultural industry is a growing field. However, the employment growth is expected to happen in the science of agricultural production and processing, rather than food production. The U.S. Bureau of Labor Statistics predicts employment growths of 8-11% by 2022 in the fields of soil, plant, and animal science and technology, but as much as a 20% decline in the need for farmers, ranchers, and other agricultural laborers. 
As the industry transitions to a more technology and science based environment, Montana will, too, transition to being a place where rural communities are places that support highly tech-based agricultural production. Perhaps Montana can even become a pioneer of agricultural research and innovation, emerging as the Silicon Valley of large-scale commodity production. 
How important are conservation easements and land trusts to the future management and preservation of farms and ranches?
Conservation easement and, more generally, land ownership issues are a highly controversial topic and are often very case-specific. In each case, it is important to understand the economic trade-offs between private and public welfare of an easement as well as the effectiveness and efficiency of private or public land management.  Experimentation in this area, including the American Prairie Reserve effort, provides innovative attempts to link together private and public lands through identifying the needs to conserve and respect ecology and wildlife while providing private farms and ranches through profitable enterprises.
In what ways can farmers and ranchers best cope with changing conditions in the economy and environment to continue their way of life?
Farmers and ranchers must continually pursue innovation and learning about the dynamic and constantly changing production, marketing, and policy environments. An increasing number of farmers and ranchers have college degrees, understand effective ways to use technology for information gathering and analysis, and have a deeper knowledge of the global nature of the agricultural industry. These are becoming a necessary condition to be competitive in production agriculture, but they are not sufficient to remain sustainable in the face of increasingly uncertain climate, geopolitical, and market conditions. A passion for the agricultural way of life must be complemented by a passion for being a life-long learner and innovator.
Eric Belasco received his Ph.D. (in Economics) from North Carolina State University.  He joined the Department of Agricultural Economics and Economics at Montana State University in 2001 and now focuses on research related to agricultural policy, cattle markets, risk management, and financial engineering. He is currently working on projects, such as the economic viability of biodegradble mulches and the delivery of organic crop insurance.  He moved from Lubbock, TX in 2011 with his wife, Megan, and their three kids.
Dr. Anton Bekkerman joined the Department of Agricultural Economics and Economics at Montana State University in 2009 after completing his PhD at North Carolina State University. Bekkerman's primary areas of research are grain marketing, understanding how grain prices are affected by changes in supply chain infrastructures and quality demands, and analyzing the economic trade-offs of adopting alternative dryland cropping systems in Montana. One of his current projects is an investigation of how new grain loading technologies are affecting prices that Montana farmers receive for their wheat.
* * * *
BETTING ON THE FARM 
By Susan Duncan
Every day we balance our lives on three floating lily pads — biology/climate, economics, and social/political forces. These forces create uncontrollable and unpredictable income risks. Daily, hands-on involvement creates awareness of changing conditions and changing options. Survival depends on constant adaptation and innovation in production techniques, products, and markets — some tiny tweaks, some major restructuring. 
Opportunity is created on the farm by re-arranging assets, using them differently, then adding in new assets/technologies where appropriate. Opportunity does not come from outside or through technology alone.  Farmers and ranchers are fly-by-the-seat-of-your-pants high stakes entrepreneurs. They actually bet the farm every year to continue. Farming and ranching requires all your time and money, all of your mind, body, and soul — and demands — even more. The personal stress of decision-making is high. The risk of burn-out it high.
A new crop of farmers and ranchers will find the capital requirements daunting. They will seek out ways to farm on smaller acreages, on rooftops, and without soil (hydroponic greenhouses) — in urban and suburban environments. Large scale agriculture may face competition for Montana's land and water with foreign governments (Saudi Arabia and China) and land trusts.  Meanwhile, urban development is claiming some of the best soils and water rights in the state.
Today, consumers want more than product. Stung by recalls, they want to know the people and processes behind the product. They want assurance that the land and lifeforms that produce food are well cared for. Farmers and ranchers have to communicate with their consumers and build trust — or they won't be allowed to farm.
* * * *
Susan Duncan and her husband, Richard, built a 76-acre irrigated farm from a fallow grain field in the Gallatin Valley since 1979. After 25 years of infrastructure building, they have a self-contained grass fed beef operation based on Irish Dexter cattle. Dexter cattle are a half sized, heritage breed used for meat, milk, and draft animals in Ireland. Raised from conception to consumption, they sell live steers for locker beef in a size small families can afford to buy and have room to store. Susan's ag writing has appeared in the Bozeman Chronicle, Rocky Mountain Gardening (Zone 4) and NewWest.net