Montana in 30 Years: RIVERS
Interview with Scott Bosse, Northern Rockies Director for American Rivers
Scott Bosse
is the Northern Rockies Director for American Rivers based in Bozeman. He has spent the last two decades of his career working for nonprofit conservation organizations in the Northern Rockies and Pacific Northwest. Prior to that, he worked as a fishing guide, commercial fisherman, and fisheries biologist. He lives in Bozeman with his wife, Mara, and chocolate lab, Gus.
• • • •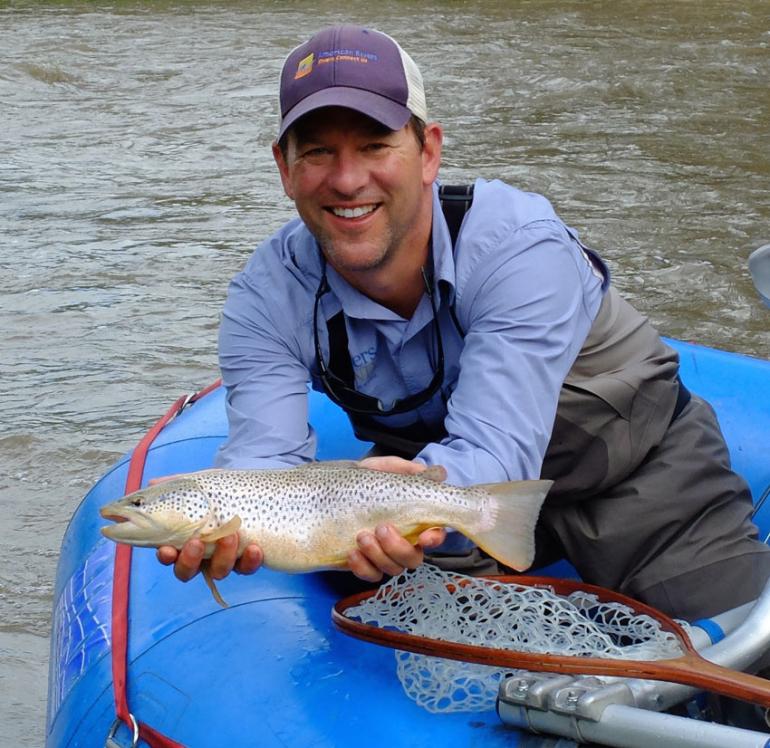 In general, how will the rivers in Montana vary from their present uses in 2048?
Montanans and visitors alike will continue to flock to our rivers to recreate, so much so that new permit systems will need to be instituted to limit crowding on some of our most popular waterways. The South Fork Flathead, one of our wildest floatable rivers, likely will go to a Smith River type lottery system within a decade as a result of skyrocketing use by packrafters in search of solitude. I can see new use limits also being implemented on the Big Hole, Bitterroot, and Madison rivers during peak times to reduce congestion from float fishing. Montana's stream-access law, one of the nation's most favorable in terms of allowing public use of our waterways, will withstand numerous legal and legislative challenges funded by wealthy out-of-state landowners who seek to privatize our rivers. A couple of high-profile state elected officials and judges will be driven from office when it is discovered that they illegally accepted campaign contributions from out-of-state billionaires who wanted the stream-access law overturned. 
Do you anticipate any kind of return to "wild and free-flowing" rivers over the next 30 years?
Given that climate change and population growth will only amp up the pressure to build more water storage in the West, I don't see a lot of large dams being removed in Montana over the next few decades. There will be some exceptions, possibly including Ennis Lake Dam on the Madison River, whose federal license expires in 2040 and whose years are numbered as its overheated reservoir rapidly is filling with silt. But that doesn't mean we can't "re-wild" rivers in other ways. For example, there will be a tremendous need to keep more water higher in our major river systems longer into the summer to meet our future water supply needs. One way to do that is by reintroducing beaver to headwaters areas where they can build small dams that act as storage reservoirs. Another way to do that is to de-channelize sections of highly altered rivers like the Yellowstone by punching holes in their levees and riprap at strategic locations to give them access to their historic floodplains. By restoring the ability of rivers to "breathe" within their floodplains, we can buffer the impacts of droughts and floods, avoid building expensive and environmentally destructive dams, and restore critical wildlife habitats such as side-channels, wetlands, and riparian cottonwood forests. 
What changes might we expect in Montana river management in the coming years?
I think we'll see three major changes. First, we'll almost certainly have more permit systems in place to address overcrowding from anglers and floaters. We're already seeing that happen on the Big Hole and the West Fork of the Bitterroot. Second, all river users, not just anglers and hunters, will have to purchase recreational licenses to generate funds to maintain public access sites and combat the spread of invasive species such as quagga mussels, saltcedar, and Russian olive. Third, we'll see more pressure from motorized recreation on our rivers, especially on big rivers like the Flathead, Missouri, and Yellowstone. This will prompt calls for new regulations that seek to put the genie back in the bottle. We'll regret not addressing this issue proactively when it first came up in 2017.
What are the prospects for Montana rivers and "wild and scenic" designations?
As the birthplace of the idea for the federal Wild and Scenic Rivers Act and home to more unprotected wild rivers than almost any other state, Montana is overripe for more Wild and Scenic River designations. The 50th anniversary of the Wild and Scenic Rivers Act in 2018 will be the catalyst that finally makes it happen. Following a decade-long campaign led by Montanans for Healthy Rivers, Congress will pass a sweeping Wild and Scenic Rivers bill in 2019 that permanently protects more than 500 miles of rivers in the Crown of the Continent and Greater Yellowstone ecosystems. Among the many storied rivers protected by this bill will be the public lands reaches of the Yellowstone, Madison, Gallatin, Dearborn and Smith. Another 1,000 miles of Montana's rivers will gain Wild and Scenic designation over the next few decades after fast-growing western states like California, Nevada and Utah look to build new dams and interstate water diversions on rivers emanating from Glacier and Yellowstone national parks. 
How might future river health vary east and west of the continental divide?
Since the western part of the state generally is wetter and higher in elevation, its rivers will remain colder and fuller than rivers east of the divide. That's good news for trout anglers, paddlers, and other recreational users. But because some of the fastest growing areas of the state are west of the divide (e.g., the Flathead and Bitterroot valleys), floodplain development will continue to pose a serious threat to its rivers. On the east side of the divide, which tends to be drier and lower, the biggest threat to rivers will continue to come from over-appropriation of water to meet the needs of irrigated agriculture and fast-growing cities like Bozeman. Our east-side rivers also will continue to face serious threats from oil and gas drilling and associated pipelines. There are 6,700 miles of hazardous materials pipelines in the state that cross our rivers at 9,000 locations. That means the potential is high for more catastrophic pipeline spills like the ones that occurred on the Yellowstone in 2011 and 2015.
Climate change. Many people do not like to hear it, but how will climate change affect river health, and what might be the result?
Climate change already is wreaking havoc on Montana's rivers and it will only get worse over the coming decades. The biggest change is coming from reduced winter snowpacks, which is resulting in lower stream flows in summer and fall.  These changes are slowly but surely shortening the floating season on popular rivers like the Gallatin, Dearborn, and Smith. The peak floating season on the Smith will move up a month by 2040. In addition to lower stream flows, we can expect to see much higher water temperatures, which will dramatically alter fish communities, cause more algae blooms, and make disease outbreaks like the one that caused the 2016 fish kill on the Yellowstone River more common. Warm water species will continue to spread upstream and cold water species will retreat to the highest headwaters or disappear altogether. Smallmouth bass will become common throughout the Paradise Valley stretch of the Yellowstone River and carp and northern pike fishing will increase in popularity on rivers like the Missouri, Lower Madison and Bitterroot. Sorry to be such a buzz killer, but the future is already happening.
Other than climate change, what are the greatest threats to Montana's rivers?
I see three major threats to Montana's rivers, all of which are amplified by climate change. The first is over-appropriation of water due primarily to irrigated agriculture, which consumes 97 percent of the surface water in the state. Already 2,835 miles of Montana's waterways are chronically dewatered. The Big Hole and Musselshell are two classic examples. The second threat is floodplain development, especially along large, dynamic rivers like the Yellowstone, Bitterroot, and Flathead. As more homes are built along these rivers, more riprap and levees are constructed to protect them from flooding and erosion. As rivers become channelized, not only do they lose their ability to buffer droughts and floods, but they also are robbed of crucial fish and wildlife habitats such as side-channels, wetlands, and cottonwood forests. Finally, I think we're going to see a new wave of dam building in this country as a direct result of climate change. In particular, some of the fastest-growing western states like California, Nevada, and Utah are going to start looking to build water storage dams in Montana to meet their future water supply needs. We're the last best fountainhead in the West.