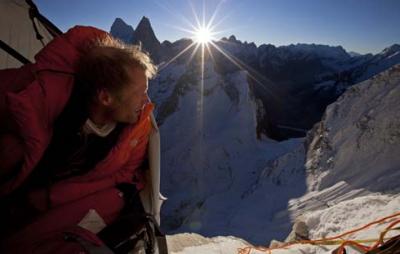 Conrad Anker's specialty is climbing the most challenging terrain he can find, journeys that have taken him three times to Mt. Everest, the northern realms of Alaska, and to the furthest southern reaches of Patagonia and Antartica, where in 1997, with Alex Lowe and Jon Krakauer, he climbed Rakekniven, a 2,500 foot wall in Queen Maud Land.  He is one of three friends in the recent, award-winning film Meru who battle the harshest elements in attempting to climb the Shark's Fin, the most dangerous and complicated peak in the Himalayas.  Captain of the North Face Athlete Team, he also relishes the icy walls of Montana.  He resides in Bozeman with his wife, artist Jenni, and their sons, Max, Sam, and Isaac.
* * * *
When I was a boy I wanted to grow up to be... an astronaut.
One thing I really am afraid of is... debt.
If I had a single wish that would come true it would be... to end violence.
One critical thing most people don't understand about mountain climbing is... the teamwork that creates the foundation of a successful ascent.
When my climbing days are over... I think I'll hike and garden.
My one everyday ritual... is putting my left shoe or boot on first.
The greatest danger on any climb... is really getting in over your head.
Ice climbing... is an excellent way to play with knives on daggers of ice.
I make Montana my home because...  the people match the beauty — high, wide and handsome.
Sometimes I ask myself... why I climb.
Nothing to me is more peaceful than... watching a butterfly flit across a spring meadow.
The most powerful dream I ever had... took me to a windswept plateau in Tibet with yak nomads. 
Does anyone really believe humans... are not the cause of climate change?
If I wasn't a climber I would probably be... a polar explorer.
The most unreal moment in my life... was when my climbing partner Alex Lowe was swept to his death by an avalanche on the 5th of October 1999. 
I am frustrated... by people who navigate life with arrogance and entitlement.
My epitaph?  It will say...  "Be good, be kind, be happy."
One thing I have yet to accomplish in my life...  is service to others. 
The one question I get asked most is... "What is your next climb?"
Today?  I think today I'll...  go for a hike with the love of my life, Jenni, and our dogs.