Montanans You Should Know: Mike Gurnett
Fish, Wildlife, & Parks Film-maker (Interview)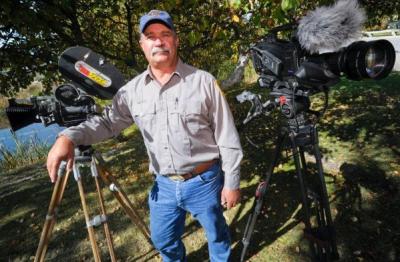 The descendants of Montana homesteaders, Mike Gurnett produces films & videos. For 37 years he produced films for Fish, Wildlife & Parks. As director, writer, cameraman, editor, and host, he created over 300 television news reports.  He's won over 25 national & international awards, including three "Best of Show" by the Time-Outdoors Writers Association, first in the Banff Mountain Film Festival, and gold medals at the New York Film Festival.  He's chairman of the PRCA "Last Chance Stampede Rodeo" and a trustee of the Montana Cowboy Hall of Fame. His email address is

[email protected]
* * * *
1. The one thing I know for sure about filming wildlife is…maybe second to family, there needs to be no place that you would rather be than in the field behind the camera because it takes patience, isolation,  and focus.
2. My favorite work in 37 years of FWP filmmaking was…probably the elk fight that is in our film titled "The Last Parable" because from that sequence I got hooked on the positive audience feedback to watching wildlife behavior they had never seen before and it taught me to become a student of wildlife behavior in order to help anticipate when something special was about to happen.
3. Sometimes I just can't believe…that I am not 35 years old.
4. Now that I'm retired I've decided to…learn to weld sculptures of fish and birds and  when someone else sees them I'm hoping they can tell the difference between the two.
5. If a picture is worth a thousand words, than a film is…worth a thousand pictures.
6. I can't imagine a day without…a black lab.
7. When I'm really hungry I like to sit down to…thin-sliced barbecued flank stack unless I am reasonably sure someone else is buying then its Alaskan king crab.
8. If I had my hands on that magic lamp my three wishes would be…a long, happy and healthy life for our kids; a comfortable retirement for Lauri and me; and of course a Harley.
9. If I wrote a book about my life the title would be…"I Just Can't Seem to Worry About Time Or Money"
10. Very few people know that I…am the chairman of Helena's PRCA rodeo committee.
11. Can anyone tell me where I put…my keys, wallet, check book, tape measure, pen, and reading glasses.
12. When I look for inspiration I look to…the honest wildlife and working landscape artwork of my late friend Larry Zabel.
13. A good wildlife filmmaker should always expect…to get to the field before dawn and stay until dark.
14. My favorite Hollywood movie?  It's…hands down Unforgiven.
15. I once had a silly temper tantrum over…someone else cheating on their time roll and come to think of it, I'm still mad.
16. Once people get to know me I think they…understand that I am sincerely interested in learning their story.
17. When I need a break from filmmaking I like to…grab the raft, head to the Big Hole River, launch at divide right before sunrise, sit in the front seat, double haul my Winston 7 weight and drop a stimulator right upstream from a rising brown trout with a strong coffee in the cup holder. 
18. The one thing missing from my FWP filmmaking career is a film about…the equal importance of cultural stewardship and land stewardship for the future of our natural resource management,  wildlife populations and the Montana way of life.
19. There's a reason they call Montana "The Last Best Place."  It's because…some things remain not for sale.
20. Right now I think it's time for me to…do some sit-ups.