Montana's Native American Women Smash the Couture Ceiling
Video: Watch Belinda Bullshoe @ Couture Fashion Week
"We are smack dab in the middle of a Native fashion renaissance," proclaims Karen Kramer, Peabody Essex Museum's curator of Native American art and culture, at the first showcase of contemporary Native American fashion. The (Salem, Massachusetts) Peabody show will travel to top museums across the country with exhibits of individuals making creative use of their heritage. No stereotypical traditional designs.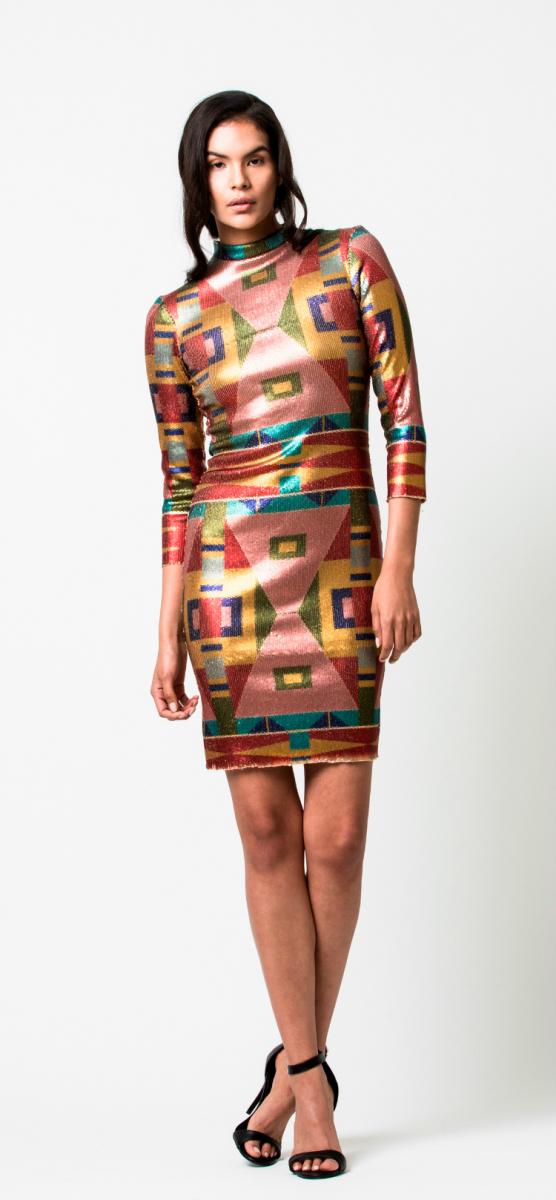 Bethany Yellowtail grew up on the Crow reservation. She was part Crow, part Northern Cheyenne.
She designs pieces with details that she learned from her ancestors—jewelry, blankets, dresses, hats, purses, and scarves. She had her first show at the Crow Fair but now lives in Los Angeles.
Her father was a cattle rancher, her mother a nurse at a veteran's home in Madison County. She had brothers and sisters, and all of them played basketball. She was accepted and then dropped from Brooks College in California but her home economics teacher fought to get her re-admitted.  
While she had made patterns and sewn for years, she focused on design and color; she intended to have her own brand and have her clothes sold in department stores. She worked at Starbucks, interned at a small design company, and then got a phone call from a luxury women's brand.  She spent two years there helping with pattern-making, fittings, sewers, and getting garments store-ready.  She worked for more companies, studied at the Fashion Institute of Design and Merchandise in Los Angeles, all the while creating her own designs. Then she found a business partner who helped her develop a plan, especially for online sales.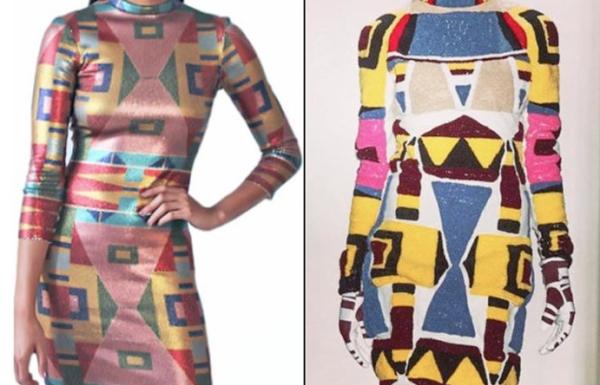 Recently she launched a platform featuring Crow artisans and their beadwork and artwork. See her work and others at www.byellowtail.com
 Another design—Apsaalooke Nights dress—is based on beadwork from her great-grandmother's collection.  It reveals specific shapes of the Crow people which "natives could spot a mile away," she said. Another designer made something in geometric shapes that to the untrained eye looked similar. She felt gutted, erased, just as indigenous voices had gone unheard or ignored. Indigenous designers needed to be protected.
The challenge for indigenous women was and is that their original designs are stolen and repackaged by corporate fashion brands at both the high and low ends. For instance, dazzling headdresses that were sacred to natives and only worn by tribal leaders, have been utilized by the public in no spiritual context. Another form of colonization. Native Americans agree that if they benefit from the stealing in some way at least that is easier to swallow.  
Isaac Misrahi and Ralph Lauren have done riffs of native symbols. If those designers had paid the tribes or used native workers and compensated them, that would been fairer. It's difficult to trademark a tribe's name because as with the Lakota, there are several bands within a tribe. Only the Navajo have trademarked their tribal name. Another difficulty is that tribal symbols belong to the community and the tribe is too poor to fight back. You can learn more about this problem in the sidebar or at a popular blog called Native Appropriations, run by a Cherokee, Harvard-educated, postdoctoral fellow at Brown named Adrienne Keene. 
Belinda Bullshoe is a Blackfeet designer from Browning who has realized her dream of showing her creations before the global elite of fashion design during New York's Fashion Week.  
Like Bethany and so many other native women, she learned to sew from her grandmother. She says, "My grandmother never measured. She knew, instant.
I do not draw my dresses. Once I have it in my head, how I want to design it,
I design it. I want people to understand that when I make these dresses, I'm not just creating them, they have a meaning to them, based on our culture. We call the buffalo 'innii', that's our lifeline. The red strip on the buffalo dress represents the heartbeat of the buffalo."  The buffalo dress is her favorite.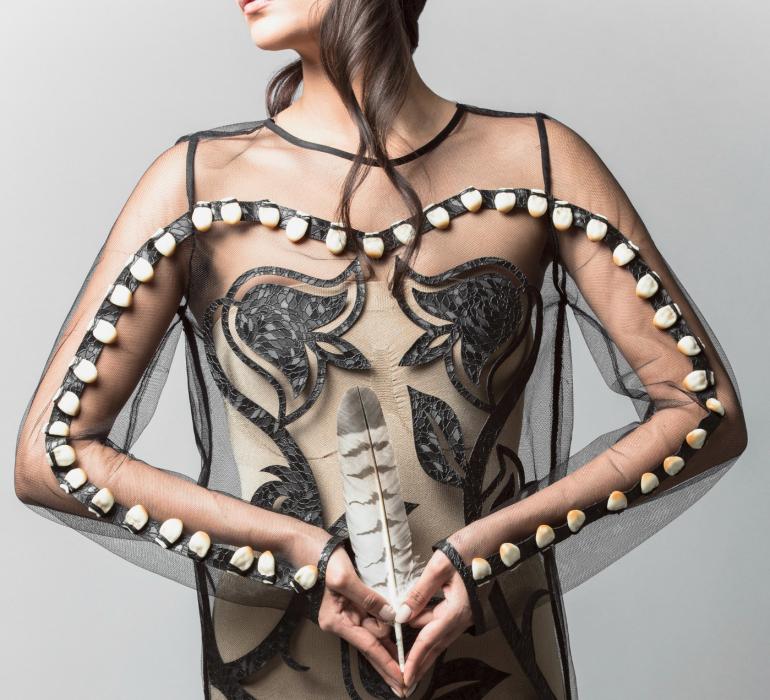 Belinda had designed a dress for a Vermont woman who facilitated her being invited to the NY Fashion Show. While an invitation is required, she also had to raise the money for travel, lodgings, food, etc. At the final moment Bullshoe was certain that she'd raised enough money (a large amount from the Great Falls Tribune) to transport herself, her husband and mother, plus newly designed dresses.  
 A snowstorm nearly prevented the group's plane from leaving Great Falls. The snow followed them to New York City, creating huge drifts and delaying one of her models. Belinda was forced to find and fit a new model at the last moment, apply makeup, fix hair, and be ready to send her creations onto the stage first. As the music rose, an attendant told Belinda that she must go on the runway too at the end. Belinda practically had to drag her mother along. She prayed to herself, "Please Belinda don't cry," even as she realized she had finally achieved her dream. Now she's been invited back this Fall and will go to Paris too.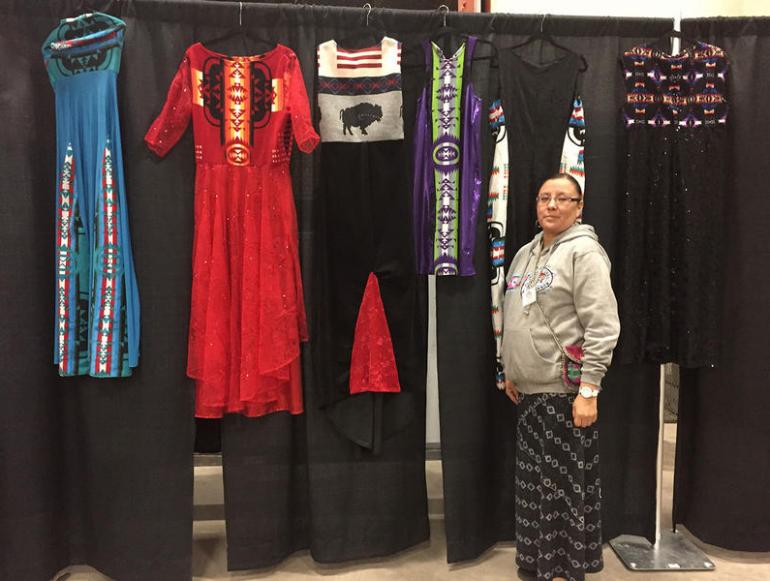 The new Native designers use handed-down Native techniques and incorporate feathers, shells, skins, furs, and beads, but they celebrate their sophisticated modernity, sometimes with a hip-hop touch. They shake off preconceived notions of what Native style is. They live in two worlds.
A reviewer writes, "I've seen a really young, vibrant community emerging—designers who are creating haute couture and unique, one-of-a-kind ensembles, as well as an upsweep of streetwear."  
Social media helps these designers sell their pieces. They are not interested in mass production so much as making a decent profit. They don't want to make the same thing over and over because some pieces take so long to make. Find them on the Web, Facebook, or Bethany's Web site.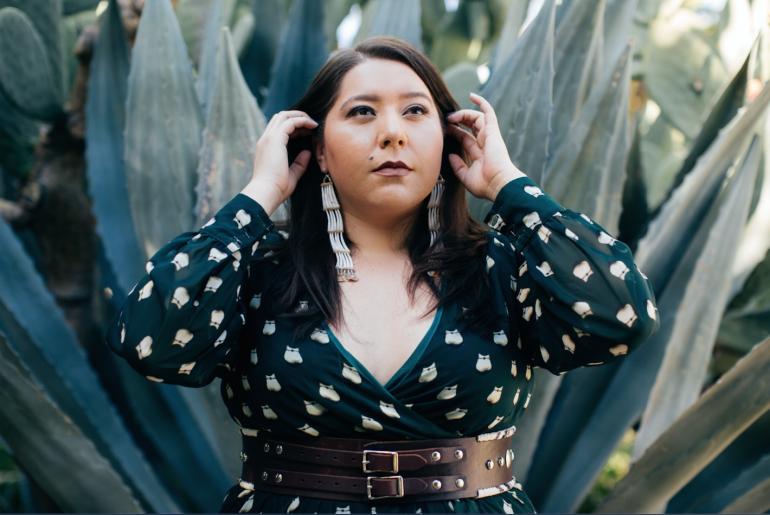 In June 2015, BYELLOWTAIL launched THE BYELLOWTAIL COLLECTIVE, a brand initiative that features art from Native American makers primarily from the Great Plains tribal regions. All pieces are handmade using time-honored techniques and traditional methods passed down from family generations. The COLLECTIVE proudly carries heirloom-quality artisanal goods, jewelry, and fashion accessories from some of the finest Native artisans around the country. Set on re-invention of tradition and continuity of culture, BYELLOWTAIL shares indigenous art and fashion with the world while providing empowering, entrepreneurial initiatives for Native people. www.byellowtail.com
TOP 5 TIPS FOR MONTANA ENTREPRENEURS, 
FROM RENOWNED FASHION DESIGNER BETHANY YELLOWTAIL
1. It doesn't matter where you come from, you deserve to live your dreams just like anyone else.
Sometimes coming from rural areas it feels like a pipe dream to think you could be a fashion designer—but why can't we??
2. Don't let fear stop you. I think we shy away from things we deserve too often.
3. Find your voice and know it's just as valuable as anyone else's.
4. Find your core values and vision. Develop a product or service that represents your core values.
That directly translates into yourbrand, and attracts conscious consumers.
5.There isn't one way to do anything. There is no roadmap. The way people are purchasing now
is so uncharted—it frees you to make decisions how you want to and find your way. 
ABOUT NATIVE AMERICAN TRADEMARK/ BRANDNAME PROTECTION
For 25 years an epic legal battle took place over the use of the name "Redskins" by the NFL team. Despite protests, the fight petered out once the Judge pronounced the team the winner deeming that no harm nor prejudice was intended.  In this case common law applied.
The Navajo Nation sued Urban Outfitters for selling "tacky" goods and calling them Navajo-made. The Indian Arts and Crafts Act says it is illegal to produce a product that says it's Indian made when it is not.
But Mazda came to the tribe and asked for permission to use the name on an SUV.  They promised to use the word with dignity and gave a car to use in its government offices.  
If the tribe is treated with respect and is given a benefit in exchange for use of its name, permission is more likely granted.
Native names and symbols appear more frequently on food, cosmetics, pictures, books, spiritual practices, etc. now because of more interest in Indian peoples.
The obvious reason is that they make money.
But the impoverished tribes don't have the wherewithal of a Coca Cola company to protect its trademark on products.
Many states have laws to prevent improper labeling and advertising but courts apply the same laws differently. A more stringent law is needed to protect Indian names and symbols.
For a complete discussion of tribal protections of their names, see www.culturalsurvival.org/publications/cultural-survival-quarterly/whats-name-can-native-americans-control-outsiders-use