Forrester's Big Horn River Resort
The distinctive grind of wet sand against metal momentarily interrupts the cries of the upland birds as the drift boat breaks from the banks of the Bighorn River. The oars take the first dip. Then the heaviness lifts and we float free. The flow glides by hills now parched golden, rock outcroppings, and thick cottonwoods. The near silence marks the beginning of a day full of fly fishing rapture.
Legendary for its abundance of fish, the Bighorn River in southeastern Montana journeys 84 miles through the Crow Indian Reservation and joins up with the Yellowstone River. Critics claim it is over fished. But, when a skilled guide lines the boat up just right through a flow and a big brown or rainbow decides to rise and take your fly, that will be the last thing on your mind.
"The Bighorn River is consistent," says Nick Forrester, owner of Forrester's Bighorn River Resort, located directly on the banks of the Bighorn River just outside of Fort Smith, Montana.
"You can take someone who has never touched a fly rod and show them a few things on the lawn, and they'll catch fish," said Forrester. "There is no better way to learn than to catch fish and you're going to catch fish on the Bighorn. It teaches a beginner how to handle a big fish on a big river."
Owners Nick and Francine Forrester built their resort on the southern bluffs of the Bighorn River 10 years ago. A bear of a man who seems more at home outside than inside, Nick is a former wildlife biologist whose area of expertise, upland game birds, is not far afield from his role as proprietor, outfitter and guide. Francine is a chef who trained in New York City and California. Her cuisine offers the perfect close to a day on the river.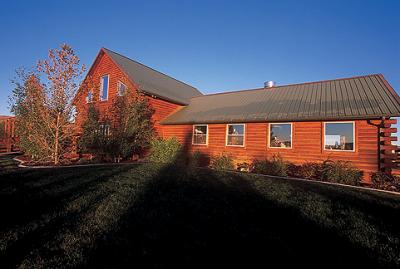 The resort—the only lodge in the United States to earn all four Orvis endorsements for fly fishing lodge, wing shooting, outfitter and expedition—is located on the coveted upper three-mile stretch of the Bighorn River that make fishermen salivate. A tail water fishery, the upper 13 miles of the river (where no motorized boats are allowed) is known as the best section. But while miles 13 through 24 of the river may offer less fish, they're often bigger, according to Nick.
"The Bighorn River fishes good all year," Nick says. It's estimated that the river is home to about 8,000 fish per mile —many are 18 to 22 inches in length.
The resort's seven log cabins line the bluff above the river. They're private, basic and comfortable. A two-story river rock fireplace is a welcoming aspect as guests enter the main lodge.
Good wine and delectable appetizers only enhance the red-orange glow of sunset from the deck of the lodge. While the Forresters employ a full-time chef, Francine still influences the menus and oversees quality control.
"A big focus for us is working with foods that are fresh and in season. We try to use a lot of organic," Francine says.
Forrester's has access to about 103,000 acres for hunting upland bird such as ring neck pheasant, sharp tail grouse and Hungarian and Chuckar partridge. Many of their professional guides are Crow Indian tribal members born and raised on the land. A "cast and blast" package is available for those sportsmen interested in two days of hunting and two days of fishing.
For those seeking a backcountry adventure, a rough truck ride lands you in the remote outpost camp in the Cloud Peak Wilderness area. White canvas tents reminiscent of civil war campsites serve as cabins and cookhouse. Even in this remote location, the food is delicious. Sleep comes easily after a day of hiking, hunting or fishing crystal clear mountain streams or lakes for brook, cutthroat, golden and rainbow trout.
"What's really wonderful about our lodge is that people are coming to fish a very famous river, but they get to come back to a high level of service," Francine said. "Everything is aimed at making sure guests have a memorable, comfortable experience."
From each log cabin's front porch guests can relax at day's end. Knee-high grass waves in the breeze, beckoning one to contemplate what may be around that bend in the river. As the Forresters' put it, "It's where Montana keeps her promises."
Contact Forrester's Bighorn River Resort at 800-665-3799 or www.forrestersbighorn.com
Spotted Bear Ranch
Situated in the dense woods of the Flathead National Forest in Northwest Montana, Spotted Bear Ranch has been providing hunters and fishermen with remote adventures since 1939. The only guest ranch on the banks of the South Fork of the Flathead River, it may well be one of the only places left to reel in a wild bull trout.
The South Fork of the Flat Head River originates in the Bob Marshall Wilderness and flows into the Hungry Horse Reservoir. Federally protected under the Wild and Scenic River Act, it doesn't pass through any semblance of mankind before it glides by the lodge. It's inaccessibility means guests can catch 20 to 30 trout a day on a dry fly without ever catching lines (or eyes) with another fisherman.
Owners and managers Mark and Gail McCoy loved their trips to the ranch over the years so much so that they were compelled to buy it in January 2005. While they have made subtle changes, such as updating the kitchen with stainless steel counters, they believe the ranch has a charm that cannot be improved upon. This view is shared by the majority of guests who return year after year. One group will be returning for the 15th year in row, Gail McCoy says.
Fifty-five miles from the nearest town, the Spotted Bear's remoteness is what attracts guests.
"It makes it kind of magical," says Gail McCoy. "It lets you step back in time a bit."
Guests sleep in private, comfortable cabins and dine in the historic main lodge. The ranch opens May 1 with bear hunting, fishing trips run from mid-June to mid-September, elk bow hunting begins in September 1 and rifle hunting mid-September through October. Three and five day trips are offered.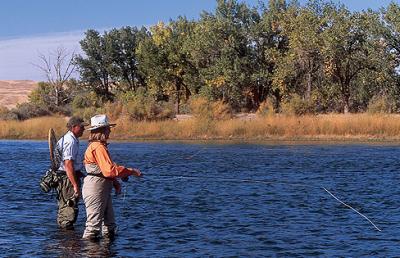 The Spotted Bear may be best known for its Wilderness Expedition, which is a six-day guided backcountry trip. Guests ride horseback for two days into the Bob Marshall Wilderness, float for three days down the South Fork of the Flathead River. The expedition has been a two-time recipient of the prestigious Orvis Endorsed Expedition of the Year. Guests get to immerse themselves in the woods with a chance to land a native Westslope cutthroat or wild bull trout without the hassle of camping on their own. The trips are so popular that they book up years in advance.
There are some places you can get to on your own, but this is an area that you really need a guide, McCoy says.
"It's an unforgettable adventure," McCoy says. "Consistently our guests say it is one of or the most memorable thing they've done in their lifetime. They come back for the experience of the place. It's hard to put your thumb on the magic of it, but it is very unique. The guests that come back really get it."
For more information, call 800-223-4333 or visit www.spottedbear.com
Canyon Creek Guest Ranch
Canyon Creek Guest Ranch began its 65-year history as a forest service outpost. Since its rugged beginnings, it has evolved into a remote sanctuary for families and friends to enjoy one another and the wonders of nature. Seventeen miles from the nearest road, Canyon Creek sits on the edge of a babbling stream amid 500,000 acres of old-growth forest in the Pioneer Mountains of SW Montana, near Melrose.
Removed from the tiny technologies we all carry, the ranch is off the grid—electricity is generated on site and a satellite phone is the only connection to the outside world. It was for just these reasons that owner Dave Wellington fell in love with Canyon Creek and purchased it in 1997.
An avid outdoorsman, Wellington — a CPA from Nebraska — has vacationed at Canyon Creek with his family since 1974. At an elevation of 7,500 feet, the ranch offers access to 120,000 acres of wilderness; fly-fishing on lakes and rivers (including the famed Big Hole River), horseback riding and history.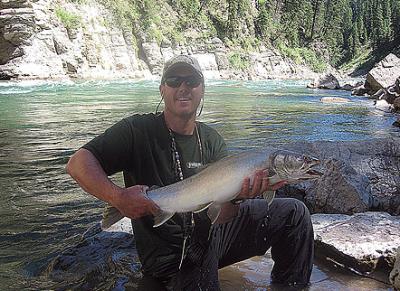 A family-friendly atmosphere, Canyon creek has one single and four duplex rustic cabins each with a living area, fireplace and lofts for children. Activities include: beginning photography, a hike with a naturalist, horseback riding, fishing and a chance to spot deer, elk, moose, bighorn sheep, bald eagles and possibly a black bear or mountain lion. Days are planned according to your group's wishes with an emphasis on kids' activities as needed.
"It's a magical place for kids," says Wellington, who has memories of hiking this area with his own son on his shoulders. "One of the reasons we purchased the guest ranch is because of our memories of seeing our children enjoy the back country. My son is now 36 years old," Wellington said.
Meals are served "Montana homestyle;" the chef prepares three meals a day and works to make them upscale and delicious. Filet and lobster are often on the menu.
Fishermen can cast their luck at landing rainbow, cutthroat or brook trout in any of the six alpine lakes in the area. The Big Hole River offers a chance to catch a Fluvial Arctic grayling – one of the last places in the lower 48 states where they still exist. Canyon Creek partners with a fly fishing school for those wanting more instruction on how to land that beautiful trout.
A short five-mile hike can land you at Canyon Lake or Grayling Lake with views of Black Lion Mountain or Sharp Mountain. An area rich with history, the Hecla Mines with its ghost town is 17 miles from the ranch. Just eight miles away by foot or car, odd beehive-shaped charcoal kilns dot the landscape and bring western history to life. Now quiet for more than a century, the kilns were used to make charcoal to fuel the ore smelters for the once thriving silver mining industry. Wellington actually helped save that part of history. One day as he drove by the area he noticed smoke. He stopped to investigate and discovered a cigarette butt in the old kilns. He got the ranch's fire fighting equipment and staff and put out the fire. It was a windy day and the fire could have blown up the ridge, he said.
"I've been many places around the world and this is, without a doubt, the most beautiful place I've been," Wellington says. "Its quiet restores your soul. Truly for someone with an outdoor interest, it offers one of the widest spectrums of activities without a fast pace."
The season at Canyon Creek Guest Ranch begins June 1 and ends November 30th. Elk and other big game hunting trips are available in the fall. For those interested in a place of their own, Wellington is part of a group that is building private homes for outdoors people. Meriwether Ranch offers private or fractional residences. To learn more about Meriwether Ranch, visit www.MeriwetherRanch.com
For more information on Canyon Creek Guest Ranch, visit www.canyoncreekguestranch.com or call 877-518-2407.
~ Kimberley Yablonski is a freelance writer who contributes to regional and national magazines. Whenever possible, you can find her hiking the mountains of Montana. She can always use some healing that comes from a day spent fly fishing on Montana's rivers.