Since my father owned a powersports dealership in Helena for over 30 years, I was born and bred on motorized toys. I've ridden four-wheelers and snowmobiles for years but most recently, I've taken up dirt bikes. Dirt biking is a challenging, competitive, and adrenaline-filled sport. Traditionally a male-dominated activity, increasing numbers of women are showing up on trails and starting lines unafraid of a little speed and dirt. For any gals starting to ride or those who have always wanted to, here are five riding tips.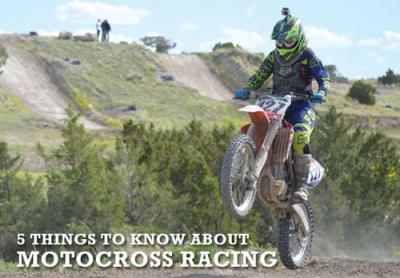 1) Pick the right bike
To ensure becoming a comfortable and confident rider, it's crucial to consider the following. What is your height and weight? Be sure that at least the balls of your feet touch the ground when sitting so you can hold the bike up and safely start and stop. Lowering kits can be added to bikes until you get comfortable with its height. When comparing your weight to the bike's, make sure the bike isn't so heavy that you can't pick it up. Do you want a two-stroke or four-stroke? At the beginner level, four-strokes are less intense and more user-friendly in letting the rider choose how they want to ride. Two-strokes are more abrupt and meant to be ridden fast and aggressively. Will you be riding mainly tracks or trails? Track riding works better with a motocross-designed bike that is lighter and has better suspension for jumping. Off-road-designed four-strokes work better on tight trails, especially those equipped with lower gearing, skid plates, and hand guards for rougher, rock and tree strewn terrain. Both styles can handle most terrains with an experienced rider though. Kick start or electric? For beginners, electric start makes things less frustrating, especially when you stall out on a hill.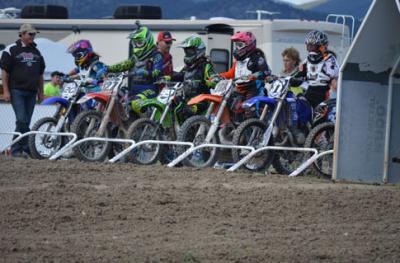 2) Correctly position your body 
Proper body positioning and weight distribution makes riding easier and more comfortable. I personally hate riding down steep hills, but I've learned that standing up with my weight slightly forward and gripping the sides of the bike with my thighs actually gives me more stability and control. When jumping, make sure your weight is back and adjust the angle of the bike in the air by using the throttle and rear brake. Adjust the bike angle for landing according to whether the ground is level, slightly downhill or uphill.
Just remember, you ride the bike; the bike doesn't ride you.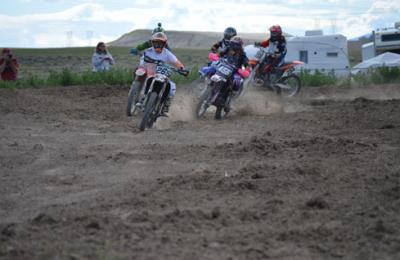 3) Don't be afraid to sign up for your first race!
Montana's flourishing race community provides opportunities for everyone from newbies to veteran riders. Women's and class C events are always offered so you can ride alongside ladies and beginner riders. There are motocross tracks in Anaconda, Billings, Bozeman, Dillon, Great Falls, Helena, Livingston, and Niarada. All are run by local organizations that sponsor races throughout the year. Also larger race events from springtime to fall offer traditional motocross as well as cross-country trail riding. High Country Motocross Association (HCMA) puts on several races from April through July each year. There is the Big Sky MX Challenge race series from May—August. There's also the Montana XC Series, which includes a variety of events and varied terrain. Your first race will be the hardest, but you'll come out of it with a greater skill set and more confidence.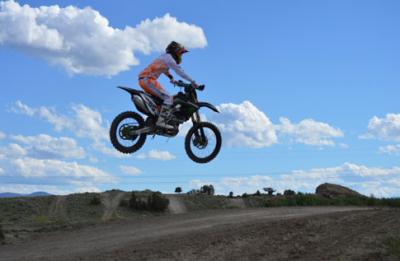 4) Don't be intimidated by the boys
The first thing I do when I pull up to a race or riding area is scout for a ponytail popping out of a helmet. Being one of the few, if not the only girl riding is scary but also fulfilling. Men tend to be impressed if you can ride and are helpful and supportive as you progress. Use them as a resource but don't let their egos talk you out of thinking you can't ride as well as them. You are helping set a new standard for what women are capable of, so be proud of yourself.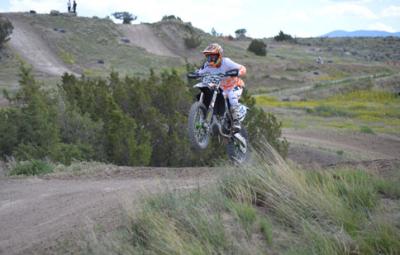 5) Practice shifting
Shifting gears isn't hard to learn, but mastering how to do it quickly and smoothly takes practice. I've particularly struggled with down-shifting in a hurry. As a result, I often prematurely downshift to slow down for tight turns which makes me lose time. So practice! Find a long, straight stretch of track/trail to ride on. Pretend it's a race, start and accelerate out quickly, shifting up as you go. Pick a spot ahead of you that you want to come to a complete stop at. Then practice hitting both your front and rear brakes simultaneously while downshifting until you come to a stop at your chosen point.
Now get out and ride!
Bikes for motocross
•  Honda CRF150R, CRF250R
•  Kawasaki KX65, KX85, KX100,KX250F
•  Suzuki RFZ250, RM85
•  Yamaha YZ85, YZ125, YZ250F
•  KTM 125SX, 85SX, 150SX, 250SX
Lacey Middlestead is a Helena-based freelance writer and outdoor enthusiast whose first love is Montana. She's been described as having "mismatched genetics" for her escapades in hockey and motocross but utilizes them to write anecdotes for the Helena Vigilante and on her blog:  bitofgracebitofgrit.blogspot.com