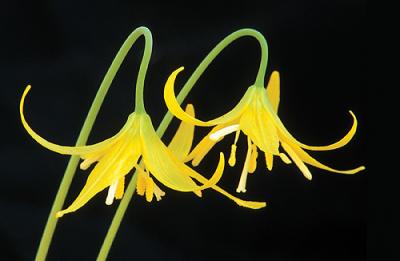 Photographing Montana' s wildflowers invites you to explore your own back yard, along with our shared open landscapes. Photography teaches you to observe and to focus. When you shoot a flower, you see the fine details and make choices about which aspect of the flower to document. The stamen? The inside of the flower? The edge of a petal? To help you get started or to improve your flower photography, here are some tips from four successful Montana photographers about where, when and how to photograph flowers.
Missoula's Kathy Eyster loves discovering harbingers of spring tucked in secret places in the forest or meadow, and right down the road from where she lives. "Become familiar with your surroundings and check them often. Wildflowers are fleeting. There are different flowers in different environments. Look in late April and early May, later in the summer as you rise in elevation." In western Montana, specific locations include: Council Grove State Park, Nine Pipes Wildlife Refuge, National Bison Range, Garnet Ghost Town, and Skalkaho Pass.
Sandra Nykerk photographs extensively in Yellowstone National Park. Her preferred locations are any mosquito- and breeze-free location in the park or alpine meadows in late June or the first week of July. In June, the dry scrabble hillsides right outside Gardiner, at the Northern Entrance to Yellowstone, are full of prickly pear and bitterroot.
Billings photographer Phil Bell says that his favorite places to take flower photos are the mountain foothills in the spring or the local greenhouses in winter. "I've been known to purchase flowers to take home and do some creative things with controlled studio lighting."
For Bozeman's John Winnie it's less about where and more about when, "I prefer to go out in foul weather. Water droplets add interest and highlights, and plants in the rain are clean of dust and at their healthiest."
Find when flowers bloom in Montana with a Montana-specific wildflower guide. Winnie recommends three by Dr. Dee Strickler: Alpine Wildflowers, Prairie Wildflowers, and Forest Wildflowers. Online, visit: http://montana.plant-life.org. The menu on the left includes a link for Montana flowering times by month and by species. Click a plant name and you'll get a photograph of that plan with a description of its characteristics and a guide to where it grows. There are 30 flowers listed for April and over 100 in May. Remember that depending on the microclimate, the same flower that would bloom in the lowlands in April, may just be poking through the green in a mountain meadow in late June.
Keep these tips in mind when you head out to photograph.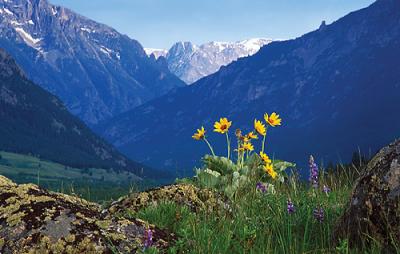 Best time of day for photographing
"The number one, cardinal guideline for shooting wildflowers," says Nykerk, "is to not shoot in direct, midday sun." Harsh sunlight creates deep shadows without detail and washes out the color. Winnie agrees. "Cloud cover diffuses sunlight, so shadows are open and highlights don't blow out, making for richer, deeper colors with a broader tonal range." Also, shoot early or late in the day to lessen breezes causing subject motion.
Tips for Lighting
•When shooting on a bright but overcast day, don't include the sky because it makes a bright spot in the image that will draw the eye.
•Diffuse harsh sunlight by holding a white sheet or garbage bag over your subject. Diffused light looks warm, soft, and natural. Other accessories you might consider using are: 1. a translucent studio umbrella, a reflector, or even a big sheet of heavy-duty aluminum foil to manage light or block wind. (The studio umbrella can also be used to protect gear from rain.) 2. a gold reflector to mimic sunset light and warm colors.
•Your camera's built in flash can blow out details. Diffuse it and it adds a bit of sparkle.
•Using an off-camera flash behind or under the flower can really make it "pop."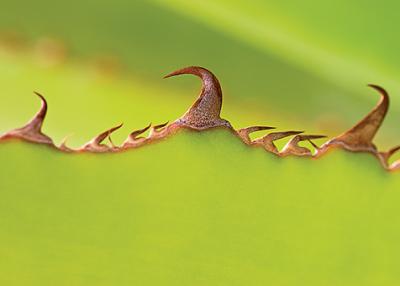 Getting ready
Winnie says, "Some flowers, particularly those with fine patterns or complex structures, demand a ground-level close-up, whereas others are best portrayed as part of a larger landscape." He says, "Be prepared to get wet and dirty. You have to be willing to crawl around to get a good shot. Tough, loose- fitting work clothing, like canvas carpenter jeans are a good way to go —the thick fabric keeps you from getting scraped up."
To protect your camera in damp weather, try the RainsleeveTM , available at full service photography stores. A simple clear plastic sleeve with a drawstring front, this little miracle camera-saver costs $6.95 for two. It fits lenses up to seven inches in diameter and 18 inches long (think telephoto), and it works when using a tripod. Keep them in your camera case.
Tips for composing your shot
• Resist centering your shot on the flower you want to capture.
• Include two or more flowers or a bud to make your photo more interesting and to support the main subject.
• Get in close to your subject and then get closer.
• Be sure there are no objects in the back or foreground of the picture to compete for attention with your subject.
• Find distracting objects by looking through the viewfinder or on the LCD screen on the back of your camera and remove them.
• Take care not to alter habitat when cleaning up a scene, especially when photographing in the wild.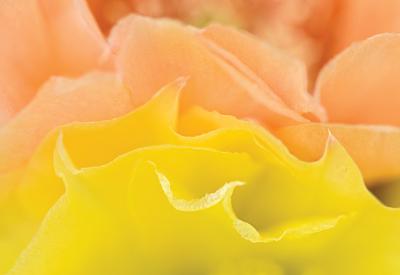 Stabilize your camera
Vibration kills sharpness as surely as a bad lens or bad focusing.
• Use a tripod with everything locked down tight, and a cable release or self-timer to keep from jiggling the camera when you push the shutter.
• Use a tripod with legs that spread parallel, or nearly parallel to the ground, to simplify getting your camera into position.
• A good alternative to a tripod is a large beanbag. Cheap, stable and lightweight, they allow relatively easy positioning of the camera at ground level.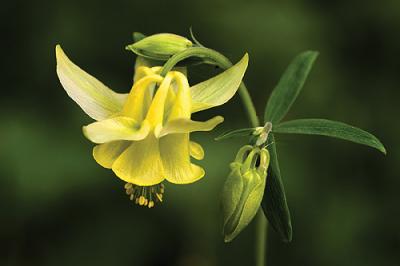 Cameras and lenses
You don't have to own a camera that accepts a macro lens to take beautiful flower images. Eyster says that your point and shoot can do a fine job. With it, use the flower mode for macro images. Pay particular attention to backgrounds since your point and shoot records more background details that might interfere with your subject.
For a camera that accepts interchangeable lenses, Nykerk suggests starting with extension tubes or a two element close-up filter. "Most of today's zoom lenses have macro modes and some of them deliver excellent macro images. However, if you're serious about getting close, with high magnifications and high quality, then you want to look at a macro lens."
Winnie's favorite lenses are a 50mm macro for tight, detailed close-ups and a 17-40 zoom for landscapes. He says, "The 17-40 can focus very closely, and at the wide end using small apertures I can get everything from flowers in the foreground to mountains in the background in sharp focus."
Tips for camera modes & focus
• Use manual focus on cameras that accept interchangeable lenses (but not with point and shoot cameras). Then, change the focus point/area to a part of the picture you want sharp so you don't have to move the camera itself to get in focus.
• To get the focus you want, you may need to make small changes to camera position, especially with a point and shoot camera.
The essential skill for photographing flowers is patience. Patience while you wait for a playful breeze to pass. Patience in either finding or creating the perfect lighting conditions. Patience with checking details of focus. An essential gift? You will see and experience flowers in ways you have never done before.
"Mother nature has provided us with an endless variety of beautiful subject matter. Get out there and capture it."
Phill Bells
Sandra Nykerk
Photographic artist and visual anthropologist Sandra Nykerk has been photographing since childhood, seriously since the 70s, and teaching photography and natural history programs for nearly 30 years. Her traditional photographs and fine art images have been widely published and exhibited throughout the American West. Nykerk is happy most places west of the 100th Meridian, especially if there is a camera in her hand. She can often be found trolling the backcountry of the Southwest for petroglyphs, banded rock formations, and spotted lizards. Visit her website: www.sandranykerk.com.
Phil Bell
Starting with a four-year stint as a photojournalist with the Billings Gazette, followed by 18 years running his own studio, Phil Bell has compiled an impressive list of awards and honors. Over the years Bell has served and presided over several photography organizations, and he has taught, lectured and judged photography. Today Bell is actively involved as a photojournalist with several regional and local magazines as well as for architects and designers. Visit his website: www.philbellphotography.com.
John Winnie
John Winnie's work has been published in magazines ranging from Montana Outdoors to Discover, and in books, calendars, posters, and postcards. He both authored and did the photography for the book, High Life, Animals of the Alpine World, and was co-photographer for the book, The Rockies: Canada's Magnificent Wilderness. He has been photographing wild places and wildlife for nearly 30 years. With a doctorate in biology, Winnie is currently an adjunct professor of biology at Montana State University, Bozeman. Visit his website: www.johnwinniejr.com.
Kathy Eyster
In 1996, Kathy Eyster retired from her position as a technical writer and moved to Montana to pursue photography. In 2000, she became Workshop Director at the Rocky Mountain School of Photography where she assisted the best instructors in the field who came to present workshops in Missoula. After 15 months, she left the school to pursue her art and to teach independently. Eyster teaches digital imaging workshops, including macro photography, Photoshop and Lightroom, across the country. A complete schedule is available on her website www.KathyEyster.com. For tips on making the most of your digital camera, visit her blog www.EssentialDigitalCamera.com.
~ Jenna Caplette writes with the expert assistance of the staff at F-11 Photographic Supplies. Visit www.f11photo.com for more info. She also is a certified Body Talk practitioner in Bozeman.