Born of a Montana ranch family, Barbara Van Cleve is one of our state's gems. Her photographs have been in 52 one-person shows as well as 92 group shows. Her books include: Hard Twist: Western Ranch Women, All This Way for the Short Ride, and Holding the Reins: A Ride Through Cowgirl Life. In 1995 she was inducted into the Cowgirl Museum and Hall of Fame in Fort Worth, Texas.  See www.barbaravancleve.com for more information about her and her special workshops.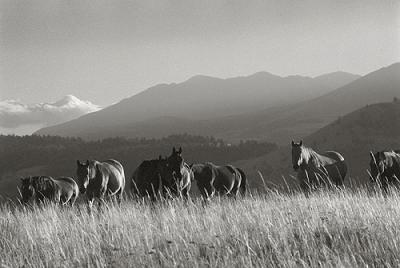 Barbara, could you tell us about your most recent photographic exploration?  What were you shooting and why?
I am using the light of the moon rather than sunlight because I want to experiment with another type of natural light. I am fascinated by how the scene looks like it was shot in the daylight but then you can see the stars in a blue sky!  We couldn't do that in the days of shooting with film, so this is exciting.
Is there a particular subject you like to photograph above all others?
Weather, the natural world, and the ranching West seem to be what I photograph most. 
What do you remember to be your most difficult photographic shot and how did you accomplish it?  Was it successful?
My most difficult "shot" is really the current project of shooting by moonlight. There are two days before and two days after the full moon when the moon reflects enough light to make acceptable photographs with reasonably short exposures.  Cloudy weather or smoky skies can ruin shooting.  I use horses and riders in my shots, so if a horse is fidgety that too can ruin a shot.  Sometimes the night starts out clear but then clouds move in and cause unacceptably long exposure times.  For six months I have been working on this project when the sky allows. So far it appears to have been successful. I am not finished yet.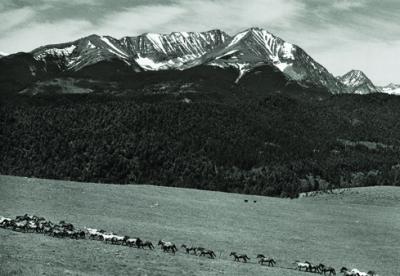 You call your art "Images of the American West," but the work seems to evoke a different time and place than the present.  Are you sending us a message?
Do you really think that because the title of my art is "Images of the American West" that my photographs should be modern or contemporary in "look"?  I appreciate the past and value the appearance of a time in history of the West which was free from cell phones, high power lines, sleek automobiles, and various modern conveniences.  Perhaps I am unconsciously sending a message. I am trying to make images that intrigue and are attractive to viewers so that they might come to an appreciation of those past places or events.
The Lazy K Bar ranch has been in your family since the 1880's.  How has the history and heritage of the ranch influenced your work?
The history and heritage of the family ranch, the Lazy K Bar Ranch has definitely influenced my photography.  Having known some of my great-grandparents and having heard them and my grandparents talk about the "old days" on the ranch, I quickly developed a strong sense of ranch family heritage and sense of the community, land, and life. I grew up seeing fine teams of horses used to put up hay, to do the harvesting in the fall as well as to feed cattle during the winter. There is much to be said for those teams as they didn't get stuck, didn't run out of gas, or have an engine break down.  And they were warm! 
Ironically, you have lived much of your life away from  the ranch, teaching in Chicago and exhibiting in Santa Fe.  What prompted you to return to Big Timber in 2004?
I never think of myself as having lived much of my life away from the ranch because I was always on the ranch every summer for three to four months. As the old saying goes "You can take the girl off the ranch but you can't take the ranch out of the girl." I had to earn a living and no one in my family thought anyone could support herself with art or photography.  So I became a teacher but I always was photographing as an avocation. I went to Chicago to earn an M.A so I could teach at the college level. Chicago broadened my horizons and knowledge tremendously, but I knew I did not want to stay and work as a photographer.  I needed to be back out West to keep my creative and emotional batteries charged! 
I moved to Santa Fe, NM, to find out if I had any real talent as a fine art photographer. That is where I made my national reputation. There was a real community of emerging photographers as well as an established photographic community of such luminaries as Eliot Porter, Paul Caponigro. Beaumont Newhall, Van Deren Coke, Willard Van Dyke, and Bernard Plosseau. They shared and offered advice when asked. Then about 1997 Santa Fe began to grow too rapidly — for me — so it was time to come home.  I moved back here in April of 2004 to live full time.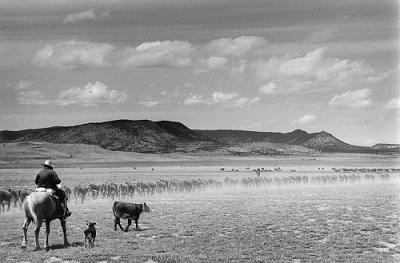 Your father, Spike, was a writer, poet, Harvard man and, it seems, a rugged Montanan.  What influence was he on your life?
He never graduated from Harvard because he feared that if he went back East to finish college he might lose Barbara, my mother to-be.  Mother was raised in Harlowton, the daughter of the only banker, a handsome Norwegian. Dad insisted that I learn the value of a liberal arts education and that I get one, which I did.  We all read after dinner as he had a wonderful library and we did not have a TV on the ranch. He was a great storyteller and enjoyed people immensely. 
Is there a particular artist or photographer who inspires your work?
I don't think there is any one artist or photographer who has inspired my work.  I am a self- taught photographer except for some classes in non-silver printing processes, dye transfer printing, and film-making. Some of the photographers whose work has inspired me are: Arthur Rothstein for his WPA photographs of the dust bowl farmers; Dorothea Lange for her moving  photographs of life during the great Depression; Ernst Haas for his artistic color photographs that leaned heavily toward abstract; W. Eugene Smith for his documentary studies; Edward Steichen's black and white photographs published as The Family of Man.
I suppose I am more of a documentary photographer but with, in my opinion, a very strong artistic, aesthetic approach.
What key elements do you look for when composing a photo?
The key elements that I try to be conscious of when composing my photographs are: the kind of light; where the light is coming from; the positive and negative elements in the photograph; the composition of the lines in the photograph and the action (that may or may not be in the photograph); and most importantly, what emotion or feeling I am experiencing when I make the photograph. 
A large body of your work is in black-and-white, but you seem now to have turned toward color.  
On the contrary!  Although I have always photographed in color in addition to my black and white photography, I preferred black and white.  And I still do.  
How has digital photography affected your work?  
With digital I get instant feedback and can see if I "got the shot" I wanted.  Before digital a lot of film was exposed in an effort to make sure that I got the shot I wanted.  Digital is a real time saver.  And it makes learning so much easier and so much faster for students in my workshops.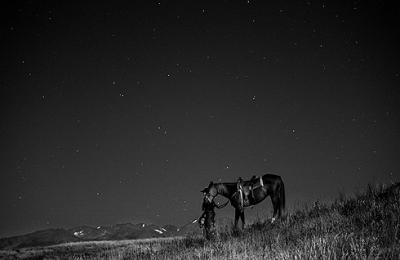 Do you believe the digital medium is a positive or negative development for photographic art?
I think that the digital medium is probably a positive development for photography and the environment.  In many less populated parts of the U.S. where photographers practice they no longer have to dump the chemical residue into town sewers or much worse into septic tanks where those chemicals eventually leach into the ground water.  The digital image is not yet equal to a film image, but it will be, and it will supersede the film image in the not too distant future.  I believe firmly that the use of Photoshop on digital images must be exercised with restraint, but I am something of a purist.
Do you have a favorite photograph you can tell us about?
The first significant photograph I made when I was around 15 is "Ground Blizzard."  I was with my father on a hunting pack trip in the Crazies and of course I carried my trusty Brownie Box camera which Mom and Dad gave me when I was 11.  We camped in a lovely little green glade by the headwaters of the South Fork of Big Timber Creek.  The next morning we woke up to over 1½ feet of snow.  Soon the wind came up and the snow started again, becoming a true ground blizzard. I asked Dad to wait before heading home so I could make the photograph. 
Years later when I learned about archival storage of negatives and prints, I sorted through everything and never could find the negative but I did find one print.  I had that print copied onto a 4x5 piece of sheet film and that is what I have always used to make prints from.  The result is a slightly soft non-photographic looking image.  I really like it and think that it is a unique and beautiful image of nasty weather and a time when we really used horses.
What five words best describe you?
Five words that I think describe me:  A driven, compassionate, open-minded, authentic, friendly, photographic artist.  
Thanks, Barbara!