It's where I've spent many a Friday night after work, shaking off the week, and launching two days of relaxation over shared appetizers and drinks.
I've brought work clients here, watched football games on the flatscreens, and even had a couple of first dates here.
Some of us give this popular Helena restaurant the shorthand of "the SS," but if you want to be official, it's the Silver Star Steak Company.
One morning before it opened, I sat down with the restaurant's head chef, Ben Osband.
Ben's a friendly, outgoing Midwestern guy with some edge. "Knives and fire," he jokes. "That's why I got into cooking."
"For me being in the kitchen is about adrenaline—it's about the excitement of creating something."
You have to have adrenaline in truckloads to keep his hours: he's at the Silver Star's impressive two-level kitchen from 9 a.m. to 9 p.m. most days, leading a 15-person staff.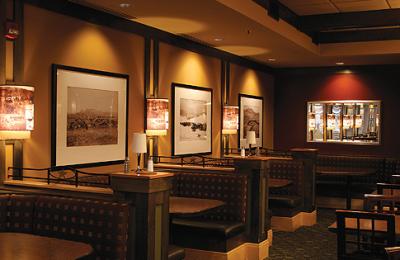 "We're a 'from-scratch kitchen'—as all good kitchens are," Ben notes.
His passion for cooking began in childhood. Ben's parents were foodies, and he was often in the kitchen with his mother and grandmother, cooking for his brother and sister.
"They were picky eaters," he remembers. "I made a lot of fettuccine Alfredo and grilled chicken."
Ben trained at the Western Culinary Institute in Portland, where he developed a love of texture and special affinity for the Northwestern / Cascade cuisine that informs many of his personal dishes.
Five years ago, he moved to the Queen City, and he's a regular on area fly-fishing streams, ski hills, and mountain biking trails. "I love small mountain towns."
When Ben asks me what my favorite Silver Star dish is, I hesitate to admit it's simply the Caesar Salad. It's a lunchtime staple for me. And when I find something I like, I lock in and stay loyal. All the extra unexpected veggies, the toasted almonds, the avocado, the divine dressing. Perfection.
He jumps in. It's a favorite of his, too.
Ben says they work hard to incorporate local and regional ingredients into the dishes: certified Angus from Montana, bison from South Dakota, and Kobe beef from North Dakota. Helena bakeries provide desserts, and visits to the farmers market bring in produce.
"A lot of guests comment on our flavorful tomatoes," says manager, Jeff Hiel, who has been with the Silver Star since it opened in Helena's Great Northern Town Center in 2002. He says they try to buy everything they can locally in season. 
On the seafood side, the Silver Star flies in 60 pounds of tuna from Hawaii twice a week.
Yet the Silver Star remains a traditional Montana steakhouse, with its sister restaurants the Bay in Bozeman and the North Bay in Kalispell. All three are owned by Kurt Schull, a Montana State University alum.
Ben shares a favorite MSU story. A few years back he was hired to prepare stuffed bison for an MSU banquet of 500 people, including Anthony Bourdain, respected big-personality chef and host of "No Reservations" on the Travel Channel.
"Bourdain is an idol of mine," Ben says, so the pressure was on.
Long story short, nothing seemed to go right. It was one of those tests of will that can shape a chef. 
"Even when you're professionally trained, it's the school of hard knocks that really allows you to call yourself a chef," he says.
In the end, the tough-talking Bourdain came back and shook Ben's hand. "This was your setup?" he said, impressed by what Osband had accomplished with such a modest catering kitchen. 
"He was real genuine," Osband says.
Ben shares a similar recipe with readers of Distinctly Montana: Sage-Rubbed Bison Tenderloin with Huckleberry Chipotle Glaze. He adds that in winter, you can broil instead of grill. "Broiling is like inverted grilling."
Osband seems to have a special flair for taking familiar dishes and giving them a fresh update:  macaroni and cheese with bleu cheese and rock shrimp, meatloaf featuring Kobe beef with a port wine reduction and homemade sweet potato waffle fries—all on the Silver Star menu, by the way.
As I get up to leave, the lunch crowd has streamed in, and Ben heads to the back to the kitchen for the big Friday push—the busiest night of the week. 
"I'm a 'comfort food with a twist' kind of chef," he says. "I'm proud of what we do here.'
--
Sage-Rubbed Bison Tenderloin with Huckleberry Chipotle Glaze
~ An excellent recipe that incorporates bison, huckleberries, and sage. The Huckleberry Chipotle Glaze is also great whipped into your favorite mashed potato recipe.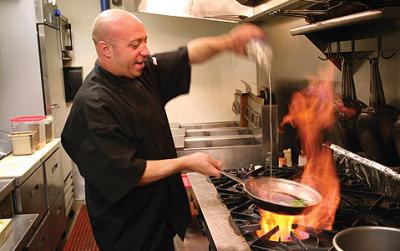 Glaze:
1 tablespoon cornstarch
1⁄2 cup water
2 cups huckleberry syrup
1 cup cranberry juice
2 teaspoons demi glace (or beef bouillon, if you can't find demi glace)
1 diced chipotle with adobo sauce (use two if you want more spice)
Meat:
4 (6-ounce) bison tenderloin filets
2 tablespoons dry sage
1 pinch kosher salt
1 pinch white pepper
Serves 4
To prepare the meat:
1. Mix the sage, salt, and white pepper together.
2. Season the bison filets and grill on medium-high heat to desired oneness (Ben recommends recommend medium rare.) 
To prepare the glaze:
1. Combine the cornstarch and water in a small bowl to make a slurry.
2. Combine the huckleberry syrup, cranberry juice, demi glace, and diced
chipotle in a sauce pot, and bring to a boil.
3. Stir the slurry into the sauce pot containing the glaze, and reduce to a low simmer.
4. Simmer until the sauce is thick enough to coat a spoon, then remove from heat.
Pour some of the glaze over the steaks when they are almost done cooking, and pour the remaining glaze over the steaks when plating.