ROCK CLIMBING: 5 Things You Should Know
Written by Maggie Slepian | Photos by Ty Morrison-Heath
Climbing is an addicting combination of power, grace, balance, and precision—whether you stick to the climbing gym or spend your summers outdoors. I started climbing four years ago, and it immediately became my number-one hobby. Climbing has taken me to amazing places, kept me fit year round, and been the most rewarding, challenging sport I've ever undertaken. Getting started is easy—visit your local climbing gym for lessons, gear, and to meet some great people. Here are a few things to know before you hit the rocks:
1. Women climb differently than men.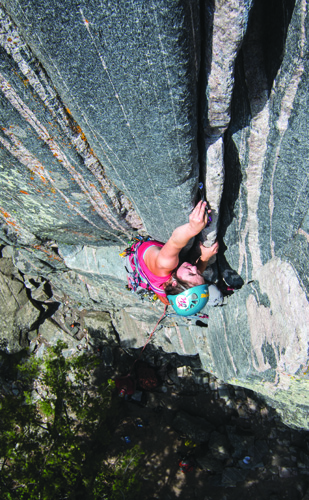 It's just our physiology.
Our center of gravity is lower than men's, and most of us don't have the upper-body brawn of our male counterparts. Surprisingly, our legs are more important than our arms for climbing. Most women's legs are stronger than their arms; those are the muscles that will push you up to the next handhold. Height is another difference—while it can be frustrating to see a guy grab that out-of-reach hold, figuring out a more complicated sequence will make you that much smarter of a climber.
2. You'll catch on fast... and then plateau.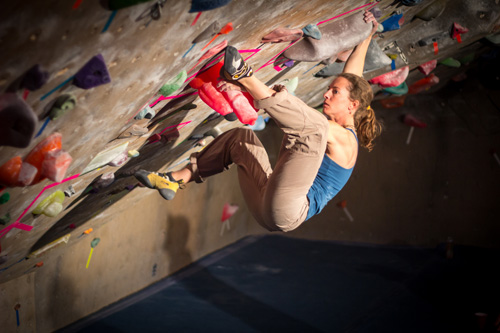 Don't get discouraged, this is perfectly normal. Once beginner climbers grasp the basics, they climb harder routes and improve quickly. It's a great feeling to fly up a route that you couldn't do a week ago. Then suddenly, you stagnate at a grade for months on end. This means it's time to hone your technique. Refined footwork will help you tackle tricky sequences, and learning more advanced moves like flagging, backstepping, and how to manipulate lousy holds will make you a more capable climber. I recommend taking a lesson or beginner class—starting out with the correct technique eliminates bad habits further down the line. Don't forget that everyone climbs differently. I prefer big, overhanging moves, and tend to use grip strength to compensate for incorrect sequencing. Delicate, balanced climbs are not my forte, which makes it more important that I don't ignore them. Work on a comprehensive skillset: power, endurance, balance, precision. 
3. Climbing gear can save your life.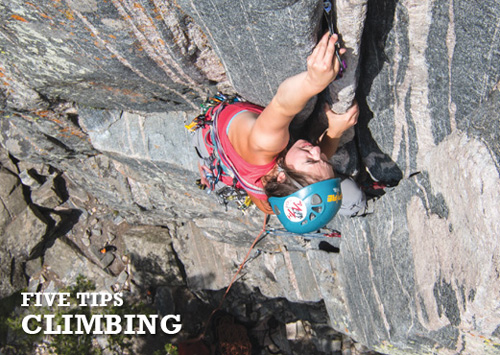 This isn't about having the snazziest swag at the crag—your gear keeps you and your partner alive, simple as that. Having your own shoes and harness is a good start, and thanks to the increasing popularity of the sport, new climbing gear is becoming more affordable. Climbing equipment can be found at second-hand stores, but be sure to get all load-bearing gear evaluated by a professional. "Load bearing" means anything that catches a fall, such as a harness, carabiner, belay device, anchor components, or rope. Unless you know the previous owner, getting second-hand ropes or slings is not recommended. Used shoes, on the other hand, are wonderful. Not only are they cheaper, they're already broken in! Make sure the bottoms of the shoes are mostly intact, as the special rubber outsole will help you stick to the rock.
4. Follow the safety protocol.
Climbing can be a risky sport. It is rewarding, exhilarating, challenging, and beautiful, but there are inherent dangers. After you get the hang of the figure-8 knot and ATC mechanics, it might feel like overkill to check your partner before every climb. However, the more comfortable you get, the easier it is to do something incorrectly. There are few correct ways to tie or clip in, and many incorrect ways that can result in injury or death. Luckily, you can mitigate that risk by checking your partner and their gear before every climb. Whenever you climb with a new partner, make sure they are well-versed in the correct procedures and respect the safety protocol.
5. Indoor climbing is a different ballgame than climbing outdoors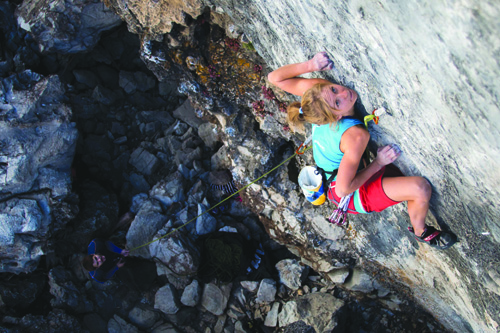 Whether you're bouldering (shorter, unroped routes) or sport climbing (longer routes tied into a rope), climbing outside is very different from climbing in a gym. Indoor sport routes / boulder problems usually have bigger holds and require more power, and outdoor routes can require more balance and work your legs harder. There are certainly exceptions, but you'll notice calluses you've developed from indoor climbing aren't as helpful as you'd like outside. Many people learn indoors, following routes designated by colored tape. My first time climbing outside was baffling—where's the tape? But you'll quickly learn the nuances of climbing real rocks, and soon you'll be addicted to the feeling of a sun-warmed rock face on a beautiful Montana day.
* * * * 
Climbing indoors is a safe, supportive way to learn the basics of climbing and belaying. Here are some climbing gyms that can help get you started:
Spire Climbing Center, Bozeman
MSU Boulder, Bozeman
Steep World, Billings
Summit Fitness Center Climbing Wall, Kalispell
Freestone Climbing Gym, Missoula
UM Climbing Wall, Missoula
* * * *
About the Author: Maggie Slepian lives in Bozeman and is lucky enough to work at Spire Climbing Center as a climbing instructor and front desk minion. She's taking this spring/summer off from climbing to thru-hike the Appalachian Trail.