What to do in Montana...
Downhill ski racing got you down? Winning rodeos just not enough adrenaline for you?
Well, why not kill two rushes with one crazy hobby? Strap on your skis, tether yourself to a speeding horse, pound through slalom gates, and fly off six-foot jumps at 25 mph instead.
Adrenaline deficit solved. Welcome to the mad, mad world of ski joring.
Pioneered in Scandinavia long ago, the venerable sport of competitive ski joring, which some might describe as sheer madness, has quietly gained in popularity stateside over the past 30 years, attracting hordes of loyal fans and racing teams in snow-prone states nationwide and—not surprisingly—right here in Montana.
Recreational ski joring is a simple idea, really. You have a horse and a pair of skis. Attach a harness to the horse with a tether hooked to another harness around your waist,
and you are ready to go. The horse does the work while you ski behind, a human sleigh enjoying an effortless ride to wherever you want to go. No horse? No problem: One or more hardy dogs will do in a pinch.
Competitive ski joring is another animal altogether, though. You'll need an experienced rider to guide the horse, and instead of a leisurely romp through the snow, the idea is to go fast—very fast—through and over obstacles arranged in a mane-raising course designed to test the skills, courage, and insanity of horse, rider, and skier.
Though many people may never have heard of the sport, dedicated devotees have been enjoying its adrenaline-fueled action for decades. Organized competitions on the East Coast, in the Midwest, and the Rocky Mountain states draw competitors ranging from professional skiers and rodeo champions to ordinary folk looking for some fun and thrills.
Leadville, CO, has hosted its own annual ski joring event since the 1940s—the oldest known continuous competition in America. In the Treasure State, ski jorers test themselves in annual events held primarily in Red Lodge and Whitefish.
Ski joring came to Red Lodge in the early 1960s, with somewhat informal annual competitions held as a wacky addition to the town's annual winter carnival, said Tammy Stevens, a Red Lodge Realtor, board member of the Red Lodge Ski Joring Association, and a semi-retired ski joring champ.
"They used to have cutter races and snowshoeing races (during the carnival,) and during a break in these events several skiers from Red Lodge Mountain had been talked into letting a couple of cowboys from the Roping and Riding Club pull them behind horses in straight-pull heats," Stevens said.
Straight pull meaning just that: a guy on a horse pulling a guy on skis as fast as possible straight down the middle of  the main drag. The grand prize, Stevens said: a bottle of whiskey, which competitors might have wished they'd had a pull or two off of before the race.
By 1980 those competitions had evolved into the National Finals Ski Joring Races, by comparison a much more serious, highly organized though possibly even wilder event. Competitors, separated into classes to recognize age and skill level, race on a horseshoe-shaped course carefully designed to be both technically challenging and highly entertaining for racers and spectators, with at least four jumps to fly off of and two dozen or more gates to slalom through in roughly 16 seconds of filling-jiggling mayhem.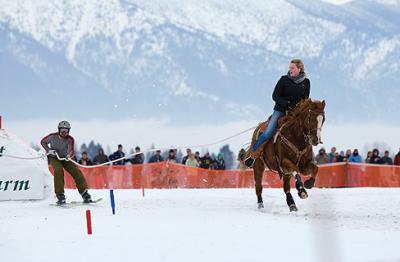 There are other events, too, like the longest-jump competition, that add to the fun.
"It's at least as much fun to watch as it is to compete," Stevens said. "There's the thrill of the speed of the horse, and the skill of the skier negotiating the course. It's a team effort, the rider putting his or her horse in the correct place to allow the skier to successfully get through the course without losing the rope.
"Oh, and then there are the wrecks," she added.
Hundreds of people turn out every year to watch Red Lodge's ski joring races. Notoriously generous sponsors continue to pony up to make the races possible and for the association to offer serious cash awards and other prizes—up to $20,000 annually, Stevens said—in order to draw top-notch competitors from around the country. Winners also get their names inscribed on the Steve Wold memorial trophy. Stevens herself competed for a number of years; her name is on the women's trophy.
Last year 70 teams competed in the weekend extravaganza. The 2011 event, happening March 12 and 13, is expected to draw at least that many competitors.
Whitefish also has a long and colorful ski joring tradition. "Basically what happened was back in the 1960s there were two guys arguing about who had the fastest horse, and who was a better skier, and they decided they'd pull a guy behind a horse," said Vernon Kiser, a local real-estate agent and longtime ski joring aficionado.
"Originally it was done on Main Street in Whitefish," Kiser said. "I remember watching it when I was a little kid. Then one year a guy just about went through a window, so they decided to move it elsewhere."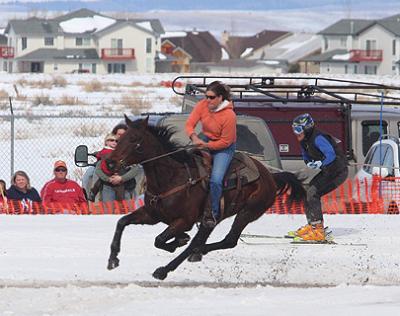 Races were held until the mid 1970s at the nearby Saddle Club, when skyrocketing insurance rates made the event prohibitively expensive. But, thanks to a group of die-hard fans including local builder Scott Ping, the races made a big comeback about six years ago, Kiser said.
The event, part of Whitefish's own annual winter carnival, is now held every year at the Whitefish City Airport on the edge of town—a great venue that provides plenty of room for races, spectators and parking, Kiser said.
By all accounts, the Whitefish event is a smashing success, drawing, Kiser said, 1,500 people each day over the two-day carnival. The 2011 events are scheduled for January 29 and 30.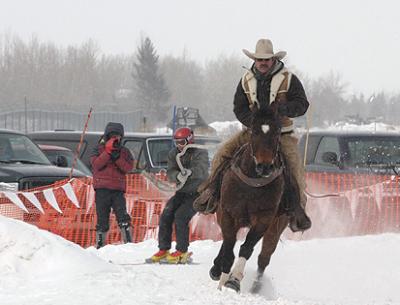 The Whitefish ski joring events are sanctioned by the North American Ski Joring Association, formed in 1999 as a way to focus ski joring fever into regulated, standardized, nationwide competitions under one umbrella.
More than $30,000 in cash and prizes are divided up among the top four placers in each of three classes, with a professional rodeo-style giant belt buckle for the number one team, Kiser said. Teams from as far away as Wyoming and Colorado show up to compete, and the competition is fierce—from members of the U.S National Ski Team to hardened rodeo champs.
"The money and prizes make it more interesting, but a lot of us would race without it," Kiser said. "You know, it's the bragging rights, but the belt buckle doesn't hurt."
Red Lodge's races aren't sanctioned by the national association, mostly, Stevens said, because Red Lodge wanted to continue doing things its own way rather than standardizing its races. The lack of sanction doesn't take away from the prestige—or the fun—of winning a title there, she added.
Like Stevens, Kiser has done his fair share of ski joring in his day. Nowadays, he's a rider rather than a skier, but the adrenaline rush he gets is just as intense, he said. "It's crazy," Kiser said. "It's the craziest thing I have ever done. It actually scares me more."
As for Stevens, well, she won't say she won't try her skill again. "I had a moment of madness last year and briefly came out of retirement," she said. "We'll see what this year brings. I've been hooked on ski joring since the first time I tried it. But I'm not unique. I know a lot of people bitten by the same bug."
Complete schedules of ski joring events in Red Lodge and Whitefish can be found on the Web. Red Lodge National Ski Joring Finals: http://www.redlodge.com/ski-joring/. Whitefish Ski Joring: http://whitefishskijoring.com/index.htm.