As a child, I could always tell when we were having soup for supper. We lived on a ranch in a compilation of homestead shacks knocked together, typical of the day—insulated with newspapers and tarpaper, fitted with single pane windows, kept hot on one side, cold on the other by a blazing wood fire. On soup days, we arrived home from school to find the windows fogged with moisture and the air laced with the aroma of beef bones grumbling on the stove. It was the ranch version of leftover day, and my mother would have been amused by the idea of a recipe. Her generation made soup from scraps and necessity: fill a big pot with water, toss in the bones and gristly meat collected at butchering time, or on special days a stewing hen, then simmer for hours to develop the broth. We always had onions, carrots and potatoes in the cellar, which she seasoned with bay leaves and salt. Lastly, she'd turn to the rear shelves of our refrigerator, peeling back foil, pinching, and sniffing. She tossed in anything that wasn't wiggling, we used to say. Three peas, half a hot dog, the last bits of the casserole. Too much broth? Add a double handful of noodles. Too thick? Call it stew. It sounds rustic by Food Channel standards, but five little farm kids ate their veggies, soaked up broth with slabs of homemade bread, and lined up for seconds. 
Some 50 years later, it is difficult to imagine having most of a day to tend a soup kettle. We've bypassed the crock pot for the instant pot, and now we assemble fresh ingredients instead of recycling leftovers. Still, you have to have people to feed for soup to make sense, so when my kids left home, my soup pot went back on the shelf.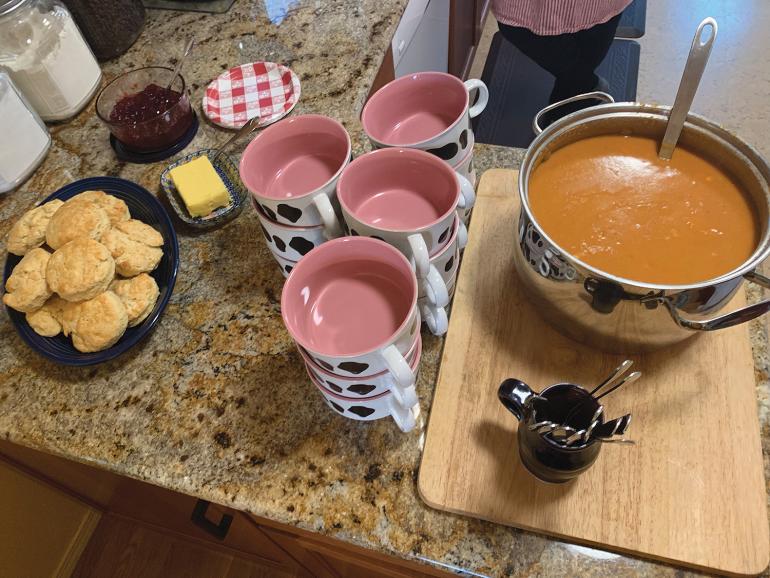 I rediscovered the wonder of soup as a creative writing prof at the University of Montana, an experiment born of an especially grim fall semester. Graduate workshops are three-hour classes held at night to avoid teaching conflicts. My nonfiction students would arrive at 6 p.m., empty and exhausted, discuss essays with their eyes on the clock and leave as soon as they politely could. One fall I decided to try something different. Instead of the cold, barren classroom, we'd hold workshop at my own dining room table. Instead of a break in the middle of class, we'd take it at the beginning. Instead of starting with announcements and assignments, we'd come to table like family, sharing our day over a bowl of hot soup. It was a three-step lesson plan: fill belly, open mind, set to work. The change was instantaneous. Here was the energy and excitement I had been missing, young writers engaged in the workshop process, sharing rides, trading books and ideas. They relaxed and laughed, shouting over one another, and at the end of class I had to nudge them out the door.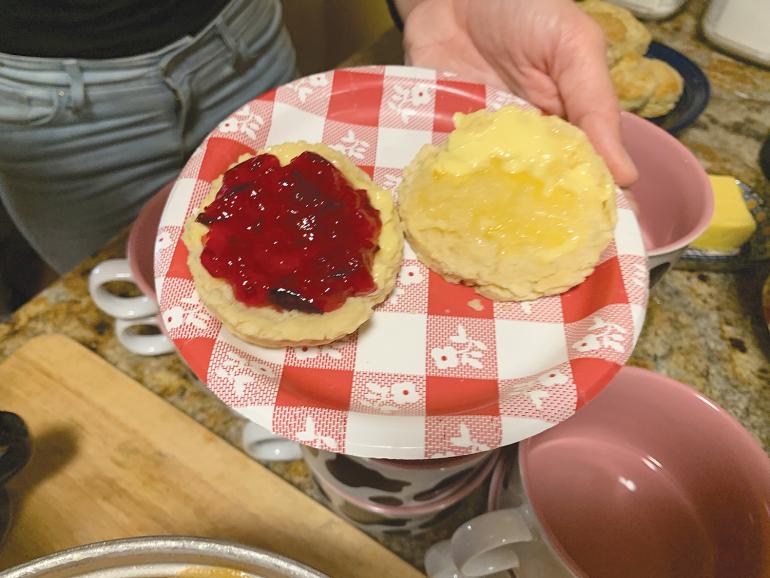 Soup Shop, as the grad students came to call the class, has become a beloved autumn tradition and nonfiction students receive a booklet of recipes as a graduation gift. My focus has always been helping emerging writers develop their talent—that never shifted. We still come together in workshop to argue out the details of good writing. The grads bring their fierce intellects and their best new work. I give them guidance, a place to gather and a good bowl of soup. Soup provides the magic.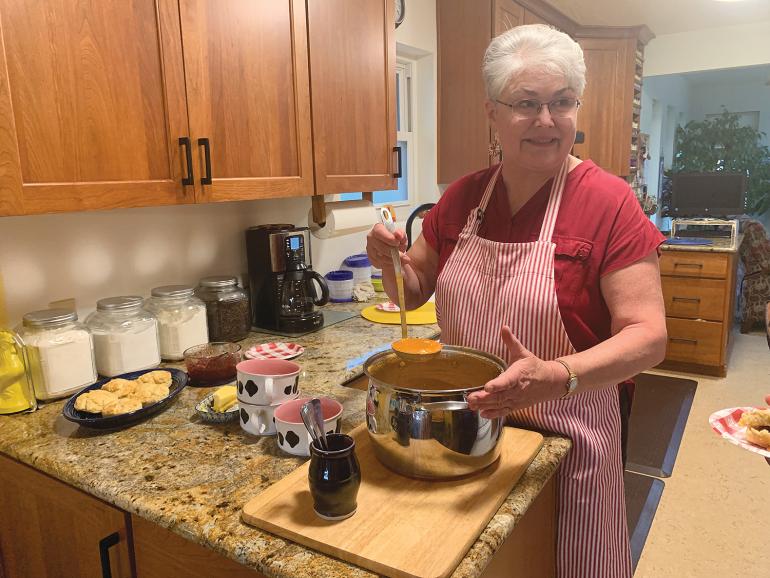 Spicy Peanut Soup with Chicken
1 pound boneless chicken breasts, cut into ½ inch cubes
1 T. hot sauce [or more, to taste]
4 c. chicken broth
½ c. creamy peanut butter [don't use natural or old-fashioned]
2 T. tomato paste
6 T. butter
1 ½ c. chopped onion
1 large yam, cut into ½ inch cubes
¼ c. flour
1 15 oz. can diced tomatoes in juice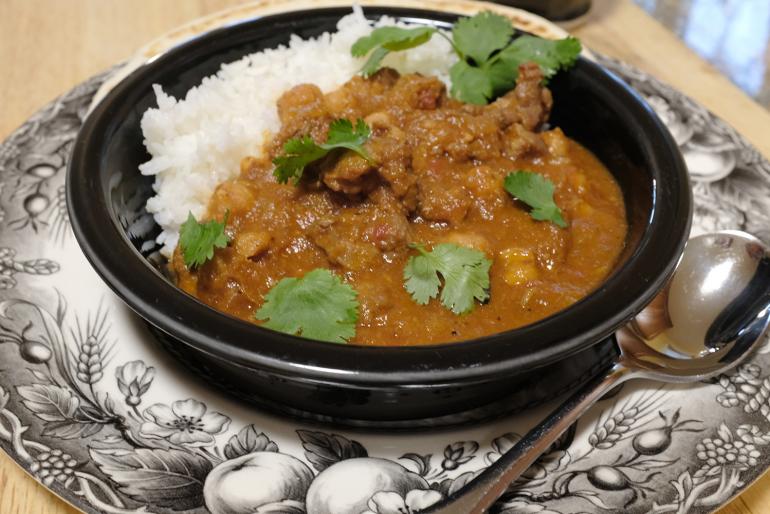 Combine chicken cubes and hot sauce in medium bowl and toss well to coat. Sprinkle with salt and pepper, toss again. Whisk broth, peanut butter and tomato paste in another medium bowl to blend. Melt butter in large pot over medium heat. Add chopped onion and sweet potato and sauté until tender, about 10 minutes. Add chicken and sauté until no longer pink, about 3 minutes. Sprinkle with flour and stir 1 minute over low heat. Add broth mixture slowly, stirring until soup thickens. Add tomatoes. Simmer soup until chicken is cooked through and flavors blend, at least 30 minutes, stirring occasionally. Taste and adjust seasoning. Serves 4. Goes nicely with biscuits. 
Moroccan Lamb Stew
Mix:
1 T. ground cumin, 2 tsp. ground coriander, 1 ½ tsp. kosher salt, 1 tsp. fennel seeds and ½ tsp. coarse black pepper and ¼ tsp. cayenne pepper [optional]. Toss with 2 ½ pounds trimmed, boned lamb shoulder, cut into bite-sized pieces. 
Heat 2 T. olive oil and brown lamb pieces in a deep roaster or stew pot over medium-high heat. Work in batches to avoid crowding, turning lamb occasionally for 5 minutes or so, adding more oil as needed. Transfer lamb to a bowl as it browns. Build stew in the same pan.
To the drippings, add: 1 large onion, chopped fine, and 1 T. tomato paste. Reduce heat and stir until onion is soft.
Add
2 c. chicken broth
1 15-oz. can garbanzo beans, drained
1 c. Mediterranean-style dried apricots, chopped
1 15-oz. can crushed tomatoes in juice
2 tsp. lemon peel, packed
2 cinnamon sticks
1 T. fresh ginger, peeled and grated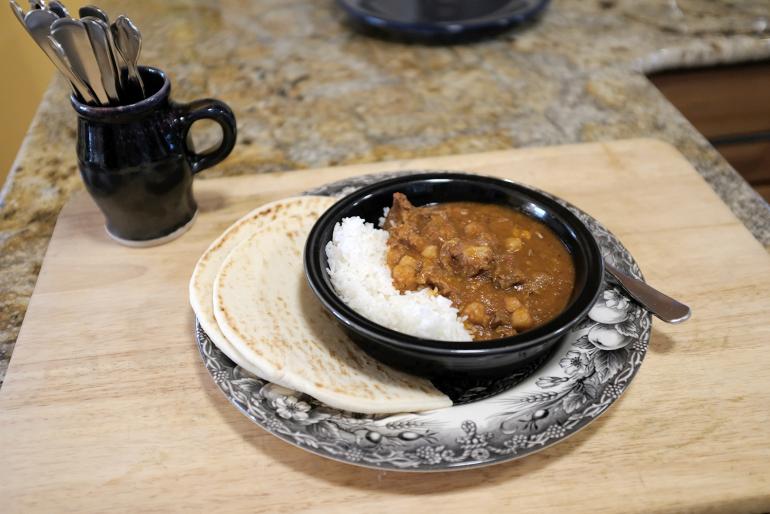 Bring to a boil, scraping up browned bits, then return lamb and any drippings to the pot.
Reduce heat to low, cover and simmer until lamb is tender, about 1 hour. Uncover and simmer until sauce thickens slightly, about 20 minutes.
Remove cinnamon and adjust seasoning.
Add 2 T. chopped fresh cilantro.
Serve over rice with warm naan. This is excellent made one day ahead. Cool slightly, refrigerate uncovered until cold, then cover and keep chilled. Rewarm slowly, stirring occasionally.