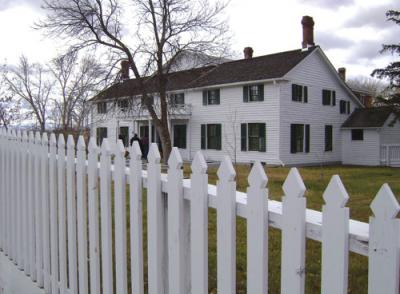 Nineteenth-century Victorian sensibilities and the Montana ranching frontier harmonize in the artistic treasures of the Grant-Kohrs Ranch at Deer Lodge. The National Park Service today operates this National Historic Site, once the heart of Montana's cattle ranching industry, and maintains 88 ranch buildings, family archives, and more than 23,000 artifacts from the 1860s to the 1960s. The splendid collection includes everything from saddles to sewing needles. The historic home, completely furnished, has been beautifully restored. 
Ranch founder Johnny Grant drove the first cattle into the Deer Lodge valley to winter there in 1857. He returned in 1859 with 250 horses and 800 head of cattle to settle permanently. Grant, a Métis of French, Indian, and Scottish descent, acquired his stock in trade with immigrants along the Oregon Trail at Fort Hall, near present-day Pocatello, Idaho. His father, Richard Grant, was the well-known factor there. Grant brought his Bannock wife Quarra, his several other wives, and their many children to settle in the valley.   
Others followed. Indians, Mexicans, whites, and French-speaking Canadian Métis like Johnny himself made an ethnically diverse settlement. In the fall of 1862, Grant built the present clapboard home with 26 expensive, green-shuttered glass windows, an unheard of luxury. A visitor noted that the house looked as if Grant plucked it from the banks of the St. Lawrence River and deposited it on the frontier. An anomaly among his neighbors' tipis and log cabins, the Grants' generous hospitality was widely renowned. The family lived on the second floor and Grant's trading post was on the first floor. Grant's worth stood at half a million dollars, a symbol of Métis prosperity, but as the decade wore on, he began to suffer losses. Gold discovered earlier that year at Grasshopper Creek and at Alder Gulch in 1863 upset the cultural balance. Racial tension between the valley residents and newcomers ended the days when neighbors were tolerant of other cultures and inter-racial marriages. 
The revenue officer confiscated the liquor Grant kept to stock his saloon. Arsonists burned his best barn, and Indians ran off his cattle. By 1866, Grant felt the valley was unsafe for his children so he sold the ranch to Conrad Kohrs and prepared to take his family to Manitoba. Before the move, Quarra Grant died of tuberculosis. Perhaps that is why Johnny Grant sold the contents of the house, including Quarra's fine furnishings. One lovely piece Quarra may have used, on display in the house, is a pie safe. Its simple design and beautiful punched-tin doors date to the mid-1860s. Another is a hand-sewn blanket, circa 1860, made of 12 wolf skins stitched together with sinew. Faint traces of the red trade cloth that once lined it adhere to an occasional seam. An ink drawing of Johnny Grant's brand appears in the blanket's soft leather underside. 
Conrad Kohrs proved a capable owner. Born in Germany in 1835, he left home at 15, shipped out to South America as a cabin boy, and traveled widely. He tried his hand at many professions including gold mining in California. Kohrs came to Montana in 1862 and took up the trade of butcher, recognizing that miners pouring into the new goldfields needed beef. He was an honest, forthright businessman who established a good reputation. Kohrs had built up a well-known beef herd and therefore transitioned well to a rancher and cattleman. In partnership with his half-brother John Bielenberg, the Grant-Kohrs Ranch eventually became headquarters of the largest cattle operation in North America.
Kohrs took a trip back east to visit family in Iowa. There he met Augusta Kruse, whom he had known from his childhood in Germany. Eighteen-year-old Augusta, working as a governess, was a statuesque six-feet-tall woman and an excellent match for Kohrs. The couple married in February 1868. A 48-day journey by steamboat to Fort Benton and then overland by wagon brought the newlyweds to the ranch house, dubbed by locals the "boar's nest" or the "pig sty" for the bachelor brothers' terrible housekeeping. Augusta rose to the task, fighting bed bugs, making candles, cooking for an army of hired hands, and having children.   
Augusta Kohrs was a product of the Victorian era.  She transformed the Grants' former home and bachelors' "pig sty" into a model of Victorian elegance. She brought up three children accordingly. The barns, bunkhouse, and outbuildings; the corrals full of cattle and horses; and later, the railroad tracks in front of the house—where 10,000 head of cattle annually went to market—embodied Montana's cattle industry. Inside the house was a different story. Augusta surrounded her family with the finest furnishings ordered from Chicago, New York, and Europe.    
The beautifully furnished parlor today remains exactly as Augusta created it with elegantly papered walls, Turkish chairs, fine carpet, and an exquisite example of  her skill with a needle. Augusta's fine needlework illustrates the curious blending of the frontier with Victorian culture. She won a blue ribbon at the territorial fair for her footstool, made circa 1870.  The petit point cover depicts "The Thracian Slaying the Lion," a scene from Greek mythology. The incongruous pairing of this classical subject with legs fashioned from steer horns reveals the merging of two disparate worlds into one harmonious whole.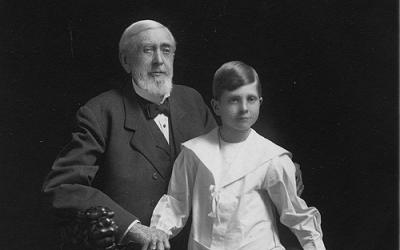 Grant-Kohrs cattle grazed on 10 million acres of public land in four states and Canada, and the partners controlled another million acres in eastern Montana. While Kohrs pioneered feed production and cattle breeding, Bielenberg turned to horses: Belgian draft horses and thoroughbreds. Augusta's needlework again demonstrates Victorian sensibilities woven into ranch life. She embroidered a beautiful blue wool corona, or racing saddle cover, for her bother-in-law who raced his horses on the eastern circuit. 
After the 1880s, fencing livestock on the open range brought monumental changes to Montana's cattle industry, and personal tragedy influenced the future of the ranch. In 1901, the Kohrses' only son William, away at school, died of appendicitis. After his death, the grief-stricken family sold most of their holdings and moved to Helena, but continued to spend summers at the home ranch. In the 1930s, grandson Conrad Warren took over management of the remaining 1500–acre ranch. Warren and his wife kept the property intact, eventually selling a portion of it to the National Park Foundation. They donated the buildings and their contents. The Park Service began restoration in 1974 and brought in purebred Shorthorn cattle and Belgian horses to preserve the working ranch. Today the Grant-Kohrs Ranch, a National Historic Landmark, is a cultural resource unique to our National Parks. Its many and varied treasures foster the understanding of a bygone lifestyle. 
For more information write to
The Grant Kohrs Ranch National Historic Site
266 Warren Lane, Deer Lodge, MT 59722.
Or call  406-846-2070 or visit http://www.nps.gov/grko/.Open daily except Thanksgiving Day, December 25, and January 1. 9-5 Memorial Day-Labor Day; 9-4 the rest of the year.
~ Ellen Baumler is the Montana Historical Society's interpretive historian and the author of many articles and books including the just-released Montana Moments: History on the Go.  She is best known for her books exploring Montana's haunted places including Montana Chillers for younger readers.      
Callout: "Grant's worth stood at half a million dollars, a symbol of Métis prosperity"