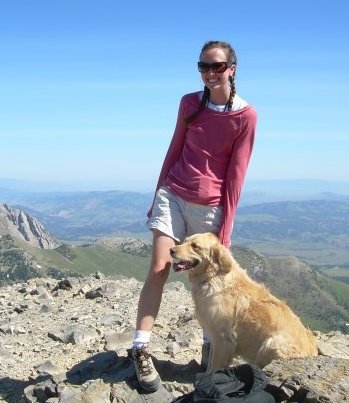 Angela Jamison is a native Montanan and she grew up in beautiful Bozeman. I'm the mother of two girls and write a blog about our life here and taking in the simple pleasures of family and food.
This week I'll be taking a quick road trip to my other favorite Montana town. I am a Bozeman girl through and through, but I love Missoula in all its laid back, hippie-vibe coolness. (Case in point…on one visit we ran into a guy who carried around a tiny kitten in a bandana and the kitten also wore a matching tiny bandana.) I believe there to be two type of people in Montana…those who love both Bozeman and Missoula and those who only love one while disliking the other…the whole Cat/Griz thing and all. I suppose there is a third type who could really care less about either. I fall into the type that loves and appreciates both for what they are are.
Having grown up in Bozeman, there was a big part of me that wanted to flee to Missoula to attend U of M as soon as I graduated high school. Yet, I wasn't quite ready to leave Bozeman so decided to attend MSU. Much to my father's happiness as he falls into the category who thinks Missoula is far too liberal. Whenever I visit Missoula I can't help but wonder about the road not taken. It continues to be a place I love and visit often. There is just something about it. Every time I'm there I fall a little more in love. Bozeman has my heart but Missoula gets plenty of my love. Because…
-The vibe is so good. I believe all cities have their own vibe. While living in Detroit I felt the hardness of the people living there. They have a pride in their city, yet because of all it has been through there's a toughness not found elsewhere. Bozeman has a mixed vibe. From the college kids and ski bums to the retirees and out of state money. Missoula has one all its own and it is good. Laid back, happy, anything goes. You can be who you are, without judgement. Wandering around you see the bumper stickers "Keep Missoula Weird" Now-having briefly lived in Portland, I'm pretty sure they started this with the Keep Portland Weird motto, but we'll let Missoula have it also.
-They have a river flowing through downtown. Any city with a river as the center of their downtown is awesome in my book. It brings a calm to the hustle and bustle around you. Settles the chaos. It is beautiful. It brings people together. I smile every time I'm in Missoula and see the happy floaters coming down the river. When we stroll down to the edge to stick our feet in to cool off. When simply walking across one of their many bridges. I think Bozeman's mountains are magnificent and have Missoula beat with that, but they get major points for the Clark Fork.
-Music and festivals. Both towns get their fair share of events. However, it seems Missoula gets more. Farmer's markets, art and craft bazaars, live music…once we even stumbled upon a fairy tale festival happening. My daughters were enamored. Yes, Bozeman has fantastic farmers markets, live music and such, it's just not quite the same. Maybe it's because most of theirs happen by the aforementioned river downtown. Maybe because they get a more unique variety. Maybe it's because they seem to have less rules at these events. It goes back to their laid back nature. Everyone does their own thing and it's all good.
Weather. I have no complaints about our Bozeman winter or lack there of this year. However, we usually have a longer, colder winter in Bozeman than Missoula. That means they get a head start on their garden season. That means more delicious fresh vegetables. And fruits! We do pretty well here with apples and raspberries but on the other side of the Continental Divide they grow peaches! Whenever we've wandered through the farmers markets in the Missoula area we find peaches and they are oh-so-delicious. There's a reason Missoula is called the Garden City.
Big Dipper Ice Cream and KettleHouse Brewing. Enough said.
It's easy to love a place you don't live because if you are there it means you are away from everyday responsibilities. When in Missoula it is always for fun. Times when I'm not worrying about getting to the grocery store on my way home, or finding the best way to avoid traffic. When visiting, you simply get to immerse yourself into the city and enjoy it for its greatness. And with Missoula there is plenty of that. Except for the Griz. Except for that.