10 Distinctly Awesome Bike Rides
This article is based on research by Jenny McCune 
Cyclists in Montana have a bittersweet experience. There are literally hundreds of trails to choose from. Breath-taking (literally and figuratively) climbs through mountain passes. Beautiful vistas, ranging from alpine lakes to rugged mountains to grassy plains. Wildlife, including deer, big horn sheep, elk, bald eagles.  
Yet the cycling season is painfully short. It begins in April when intrepid road riders head to Yellowstone National Park to ride with the bison for the three weeks or so when the roads are clear of snow, but not open to motorists. It dwindles in late October, or when the snow starts flying. It's truly impossible to choose the top 10 bike rides in Montana, so what we have done is compile a list that represents the variety and beauty of the roads, byways, and trails that crisscross our state. 
1. THE BANGTAIL DIVIDE TRAIL
NORTH OF BOZEMAN (MOUNTAIN TRAIL)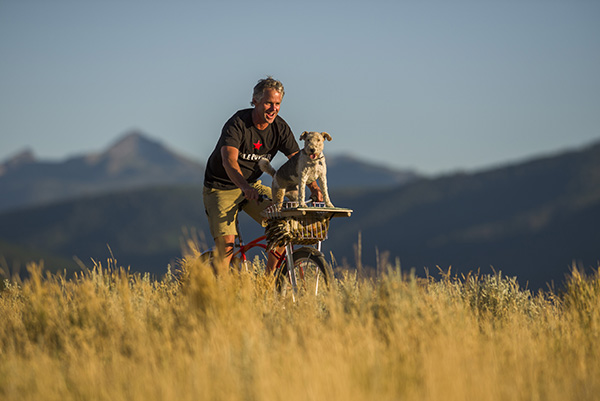 What: One of the gems of the Gallatin National Forest trail system and specifically designed for mountain bikes, the Bangtail leans into the mountains for about a 24-mile loop. Its starting and end points are the Brackett Creek Road Parking Lot and the Stone Creek Road Trailhead, both off of MT 86.
Where: There are a variety of access points. To reach the Northernmost point, drive approximately 18 miles up Bridger Canyon Road (MT 86) to reach the Brackett Creek Parking Lot (on Brackett Creek Road, a dirt road just off to the right of MT 86) or drive 14.5 miles on MT 86 and make a right onto the Forest Service's Stone Creek Road to reach the end point that's closest to town.
Why: If the views of the Bridger Range directly opposite the Bangtails or the glimpses of the Crazy Mountains aren't enough for you, the Bangtail Divide offers a chance to do a challenging,
yet "do-able" longer ride for intermediate mountain bikers. 
Of Special Note: The trail, which is mainly single-track with a few double-track sections features 60 switchbacks. Some mountain bikers grumble about leg-tiring, white-knuckle grip switchbacks that are on the Stone Creek end while other riders see it as a perfect opportunity to hone their turning skills.
2. BEARTOOTH NATIONAL SCENIC HIGHWAY
BETWEEN RED LODGE & COOK CITY (ROAD)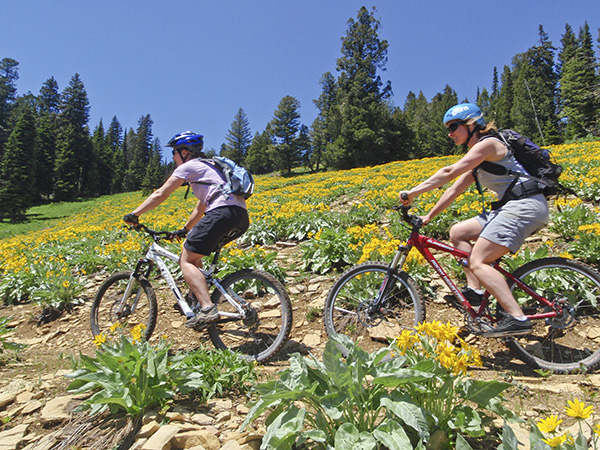 What: Get your giddy-up on for this 65-mile trip over the Beartooth Pass (10,947 ft.) and Colter Pass (8,031 ft.), which overlook mountains in two states. This is a mountain bike ride complete with gnarly switchbacks, but it's paved for skinny tire folks with a good set of lungs.
Where: US 212 between Cooke City and Red Lodge
Why: Forever immortalized by the late CBS journalist Charles Kuralt as the "most beautiful drive in America."  The Beartooth passes through alpine plateaus, alpine lakes, and has spectacular mountain views.
Of Special Note:  Because of its extreme elevation, it is wise to be prepared for sharply cooler and stormier weather up top. 
3. BIG SHEEP CREEK
BACK COUNTRY (BYWAY)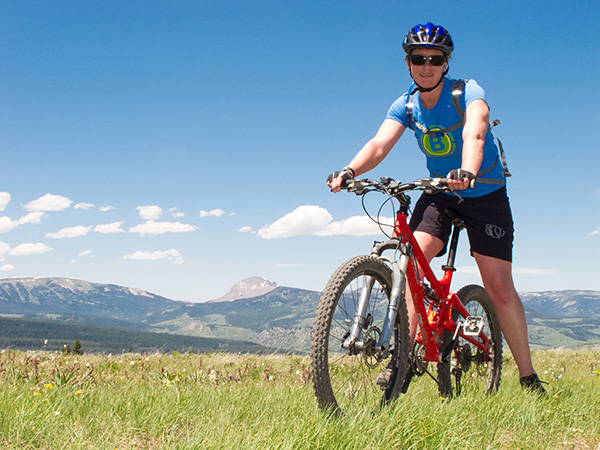 What: A two-lane, 50-odd-mile dirt road on Bureau of Land Management (BLM) land that's part of the Great Divide Trail that Adventure Cycling has fashioned out of 2,470 miles of gravel and dirt road that runs on or near the Continental Divide.
According to the VisitMt.com site:
Once past the canyons of the Tendoy Mountains, the traveler may pass only two or three cars along the entire route. Passing beneath the high rock cliffs of Big Sheep Canyon, one can look down into clear, deep pools of spring-fed Big Sheep Creek. Perhaps nowhere else in America can one see so many trout without leaving the car. Bighorn sheep and deer are a common sight in the evenings. The Byway provides one with the opportunity to see this country as it was experienced by prehistoric Indians and the first mountain men.
Where: Located west of Dell, Montana, and 24 miles north of the Montana-Idaho border. Think middle-of-nowhere.
4. BUCK RIDGE TRAIL
NEAR BIG SKY (MOUNTAIN ROAD)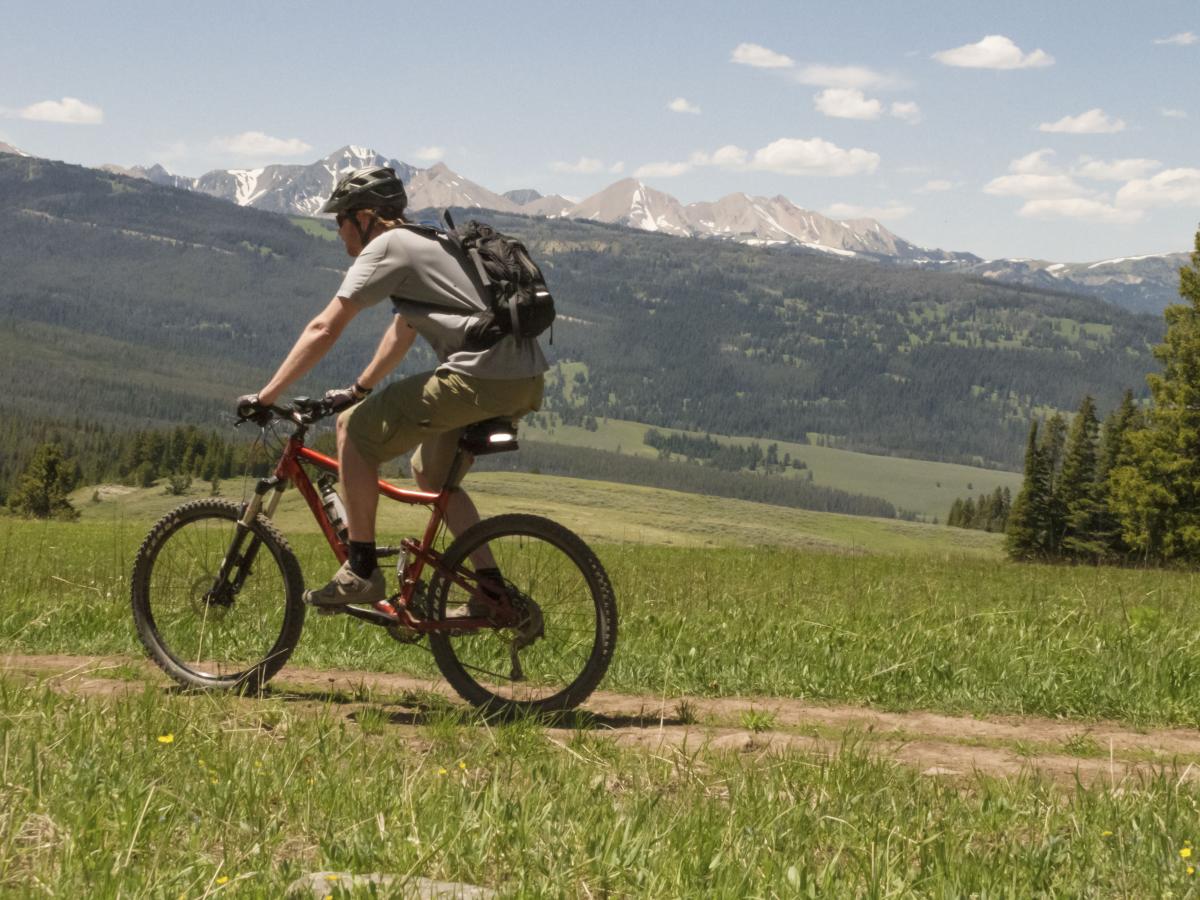 What: Buck Ridge Trail is on a huge sub-alpine ridge filled with wild flowers in the early summer months.  
Where: Take highway 191 from Bozeman to just south of Big Sky and the "only stoplight" turn-off to the ski area. To reach Buck Ridge, drive on Forest Road #2599 to the Doe Creek Trailhead. (A high-clearance vehicle is recommended and do NOT try this when the road is wet unless you like a big helping of Montana gumbo.  
Why: It offers beautiful views of Lone Mountain, the Gallatin Range, and the Sphinx, and is double-track and easier to ride than a technical single-track. It starts with a good initial climb (and that's starting at the trailhead where you are already at 8,500 feet). 
Of Special Note: You've heard this before. Mountain weather is changeable so bring rain gear and keep an eye out for foul weather. And foul bears!
WATCH: Mountain Biking at Big Sky Resort
Mountain biking in and around the Big Sky area means miles of back country scenery, wildflowers, wildlife, and few human encounters. Big Sky Resort offers the areas only lift accessible downhill trails from the Swift Current lift right here in the Mountain Village. The chairlift operates from 10:00am - 3:30pm everyday, weather permitting.
5. THE DOUBLE DIVIDE RIDE
FROM HELENA TO LINCOLN AND BACK (ROAD)
What: Simple, hardly? A two-day road ride from Helena to Lincoln and back.
Where: Riding out from Helena, ascend the MacDonald Pass, then ride to Avon, and pass by Nevada Lake. The final leg heads towards Lincoln on the highway through the Blackfoot River
Valley. Spend the night in Lincoln if you like, and then ride back to Helena via the Flesher Pass
Why: Grueling but joyous. It's 135 miles and you have your choice of one or two day rides featuring rolling hills, tranquil
valleys, and challenging mountain passes. Either way, you'll cross the Continental Divide twice, a noteworthy feat accomplished by only a handful of intrepid bikers.
6. GOING-TO-THE-SUN ROAD
GLACIER NATIONAL PARK (ROAD)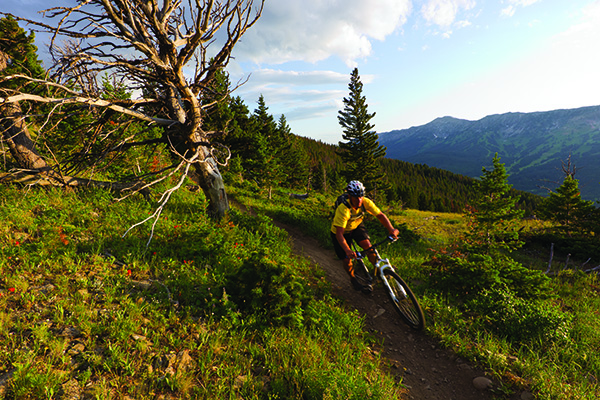 What: Going-to-the-Sun is the famous paved road that runs through Glacier National Park. If ridden in its entirety from Apgar on the western side of Glacier to Saint Mary on the eastern side of the park, the route stretches for a bit more than 56 miles. 
Where: East to West is the harder climb, but both tracks are beautiful and can be done by experienced cyclists. Many cyclists do an out-and-back using Logan Pass as their turning point.
Of Special Note: Because of heavy motorized travel, there are biking restrictions in place between June 15th and Labor Day.  Check the park service for updates and use caution, as you are riding on a shelf carved into the mountainside. Not for the faint-of-heart or acrophobic.
7. HELENA RIDGE TRAIL
HELENA (MOUNTAIN)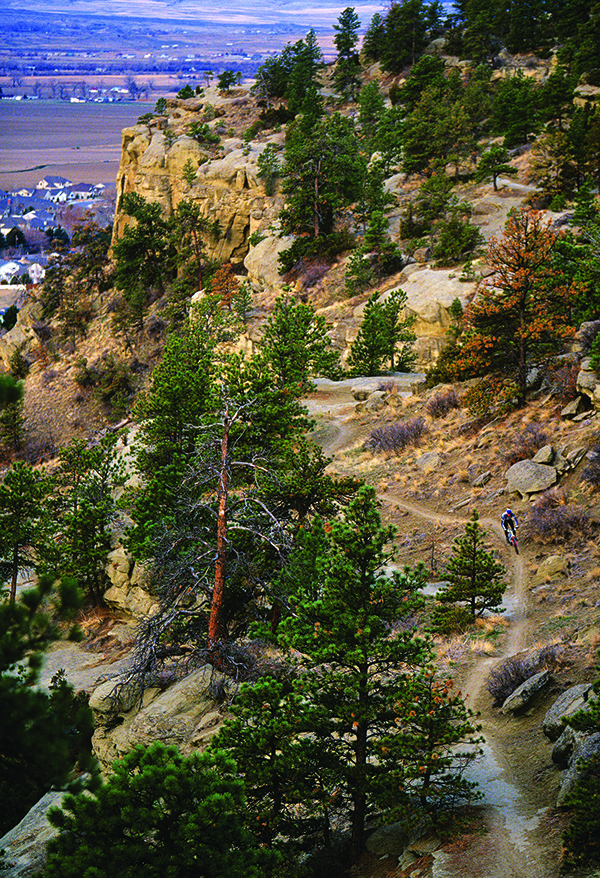 What: 13 Miles plus of a popular fun Loop
Where: Start at the Mount Helena City Park traveling to Park City.  Once you hit Mount Helena you have a choice of several trails that end up at Adams Street Trailhead (main parking lot for Mount Helena) or you can drop off early and loop back via Dump Gulch.  
Of Special Note:  Trail Rider is a free, summer shuttle for bikers and hikers from downtown to various trailheads, including The Helena Ridge Trail. 
8. RIMROCK TRAIL
BILLINGS (MOUNTAIN)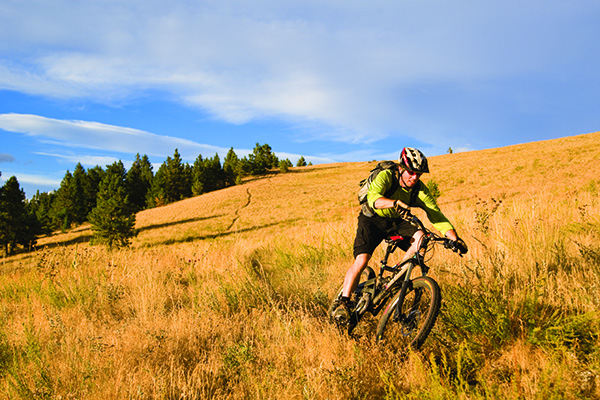 What:  A 4.5 mile mountain bike ride with options suitable for all skill levels and views everyone will love. 
Where: Just outside of Billings. Ride from town via the Swords Park/Black Otter Trail from Boot Hill Cemetery (corner of Airport Road and Main Street). Then head to Zimmerman Park, where the easiest portions of the Rimrock trail are accessible.
Why:  Billings' "Little Moab" features paved trail, slick rock, and an odd mixture of urban and rural.
Of Special Note: On a clear day, you can't see forever, but you can spot five mountain ranges: the Pryors, Bighorns, Beartooths, Snowies, and the Crazies.  
9. THREE FORKS LOOP 
THREE FORKS (ROAD)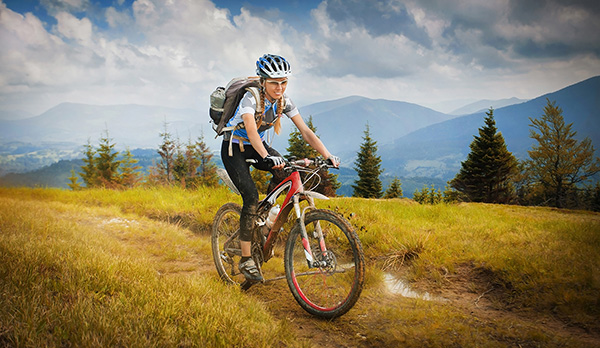 What: This approximately 60-mile road ride starts and ends in Three Forks. It features miles of riding alongside the Jefferson River as well as gentle climbs among isolated ranches and their fields.
Where: Starting in Three Forks, the ride follows Route 2 along the Jefferson River past the Lewis and Clark Caverns until reaching Caldwell. The ride than turns southeast and follows Route 359 to US 287 just north of Harrison. Take US 287 back to Three Forks. 
Why: An intermediate road ride. During the Jefferson River portion, riders may well see pelicans and other river fowl by the river. On the arid prairie land you'll see antelope as well delightful views of surrounding mountain ranges.  
10. WEST YELLOWSTONE LOOP
PAST QUAKE AND HEBGEN LAKES (ROAD)
What: Affectionately dubbed the "Tour de Quake" by a local bike club, this approximately 60-mile loop takes riders across two mountain passes and two lakes: Quake Lake (formed by the 1959 earthquake) and Hebgen Lake. 
Where: The ride starts in West Yellowstone and follows US 20 into Idaho and over the Targhee Pass until the junction with Idaho/Montana Route 87. The ride then follows Route 87 over Reynolds Pass to the junction of Route 287. It then continues on US 287 past Quake Lake State Park, along the shores of Hebgen Lake, before turning south and returning back West Yellowstone.
Why: This trip is hilly to rolling. The two passes — Targhee and Reynolds — are mellow climbs.
This article is based on research by Jenny McCune 
* * * *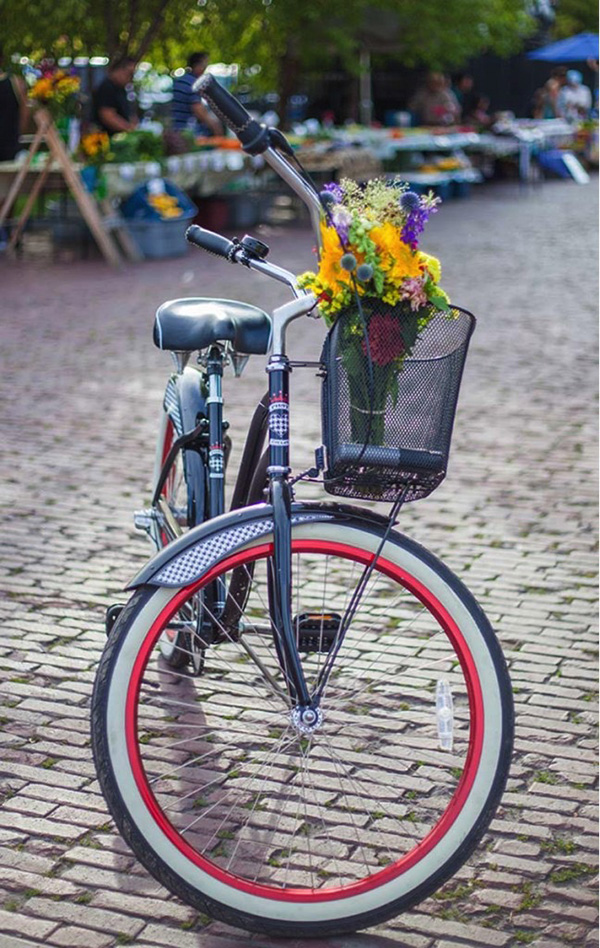 In their survey 3.98% of Missoula residents commute to work on their bikes. 
  "Not only is biking one of the best forms of exercise it's also a great way to get around town; It's faster than        walking.  If you haven't tried biking to work before, give it a chance." – SaveOnEnergy. 
  Missoula offers many ways to keep community to work and activities easy for residents and visitors.  With free public    transportation that is cyclist-friendly, bike friendly roads, and miles of off-road trails to explore Missoula is a cyclists    dream!
  This summer in Missoula biking enthusiasts can enjoy some great events such as the Montana Bike Celebration, Sunday   Streets Missoula, Missoula XC and the opening of the Bitterroot Trail that connects Missoula to the Bitterroot Valley.  All    of the trails, events, and bike-friendly streets are the reason that Missoula was picked as one of the Top 5 U.S. Cities for    Biking.