Brian Anderson winds along a sparkling Flathead Lake in his pick-up, on this way to little family farm near Ronan, Montana. He bumps along the road past pretty blonde fields to the grain elevator and loads up his truck with a ton of grain to take back to Bigfork where it will be used to make hand-crafted spirits at Whistling Andy Distillery.
Entrepreneurs across Montana have found yet another way to take advantage of Montana's natural resources, using great grains, fruits, and botanicals along with superb water to make distinctive crafted spirits.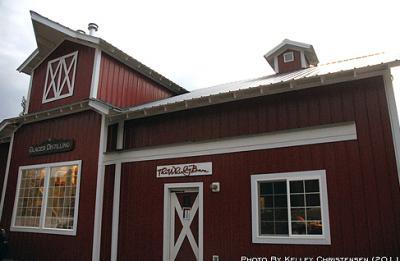 Microdistilleries seem to be popping up across Montana like mushrooms, alike in that they both rely on the ground and water to flourish. There are presently eight licensed microdistilleries in Montana with four more ready to pop. 
And like the mushroom, there was a lot going on beneath the surface before they made their entrance, with the myriad of state and federal licensing and regulations to wade through, the charting of unknown territory, the experimentation in refining product, and then the added time required to age some of the spirits, like whiskey, which often takes years to mature.
For the past century there weren't any microdistilleries in Montana because it was illegal under Prohibition-era laws – until legislation introduced by Vigilante Distilling owner and attorney Mike Uda and former state representative Brady Wiseman helped outline a licensing framework in the Microdistillery Act of 2005. Additional legislation in 2007 allowed distilleries to have tasting rooms and to sell a regulated amount of spirits opening a new frontier to licensed microdistilleries. (Even though you can brew beer and wine for personal use, it is still illegal to distill at home.)
The first to release craft spirits in Montana was RoughStock Distillery in Bozeman, in September 2009, allowing them to boast in toasts and tag line, "First whiskey distillery in the state since Prohibition" and "First best whiskey in the last best place." They were also the first distillery in Montana to make whiskey in over 100 years.
Right at their heels were Vigilante Distilling crafting vodka in Helena, followed by Flathead Distillers in Eureka, also creating vodka. The Ridge Distillery in Kila started making absinthe and gin in the summer of 2010. Whistling Andy opened in Bigfork with vodka on New Year's Eve 2011, followed by rum, moonshine (un-aged whiskey,) and aged whiskey. Glacier Distilling in Coram opened in March, specializing in whiskey with names reflecting the surrounding area such as Glacier Dew and Bad Rock Rye.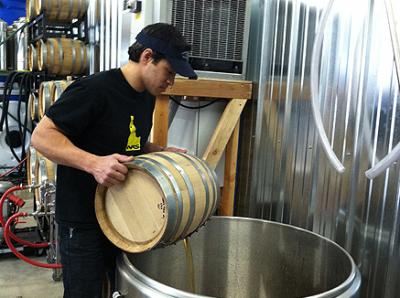 In the early stages Northwest Montana was a hub for microdistilleries with four of six Montana's first microdistilleries. Their southern neighbor in Missoula, Montgomery Distilling, hopes to release its first batch of spirits at the end of the year, adding to the Northwest Montana microdistillery beehive of busy bees. 
Five more craft distilleries have either started or are anticipating their first release in the coming months across the state.  
Fourth-generation business Swanson's Mountain View Orchards and Distillery has been growing apples for over a 100 years, but is new to the distillery business. They recently added un-aged and aged apple brandy and honey whiskey to their product line.
Billings will soon have two microdistilleries. Free Spirit Distilling is up and running, featuring Cliffhanger Vodka and 40 Love Gin (and eventually whiskey), and shares the same building and ownership as the Yellowstone Brewery. Trailhead Spirits is still in the licensing process.
In Butte, Headframe Spirits is posed to issue their first release before the end of the year. Owners John and Courtney McFee's research for the distillery also included exploring the rich mining history of the area, reflected in the distillery artifacts and the names of their spirits, which include High Ore Vodka and Anselmo Gin.
Willie's Distillery in Ennis is shooting for a late spring or early summer of 2012 opening. Owners Willie and Robin Blazer are banking on their great location along the Madison River to nab fisherman, hunters, and other recreationists and tourists.
Every distillery has its own distinctive spirits, distillery, and branding. For example, Flathead Distillery's vision began with a catchy and colorful logo that depicts a flat-headed man tipping his cowboy hat. Whistling Andy touts that it is 100% veteran-owned and Glacier Distilling advertise their spirits as "gluten-free."
Distilleries vary in size and output. State regulations limit them to 25,000 gallons per year and some distilleries use small stills and produce considerably less than that, while others like Whistling Andy and Roughstock have goals towards that limit and are already planning expansions.
The hands-on and handcrafted nature of the microdistilleries carries over into many of their buildings. The Whistling Andy Distillery project was a lot like an old-fashioned barn raising. Family, friends, and local businessman chipped in with time and materials to remodel a building for the distillery, which features reclaimed wood from a historic grain elevator and a bar made from a timber pulled out of Flathead Lake. Whistling Andy returns the favor by using almost all local products and providing a venue for local meetings and musician jam sessions.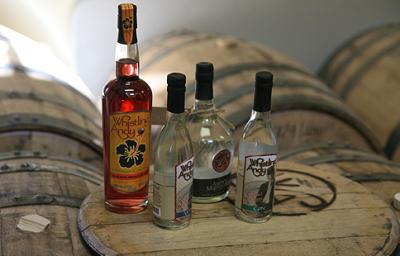 This community "clubhouse" atmosphere exists in part because state laws limit microdistilleries to serving two ounces of liquor per customer per day from 10 a.m. to 8 p.m., which gives the micrdistilleries a civility that transcends the typical bar attitude that can turn some people away.
Many of the distilleries invite visitors to watch them at work. The distillers are a pleasant mix of mad scientists and comfy cooks surrounded by still, tanks, and vessels where they monitor and tweak each batch to their perceived perfection. RoughStock and Glacier Distilling even invite the public to participate in bottling parties.
Distillers will tell you that it is this hands-on element that makes it so much fun. Distiller and owner, Nicolas Lee at Glacier Distilling, explains, "Handcrafted spirits are unique in the personal attention we can give to each distilling run.  Each batch of grain we ferment has subtle differences that we can either emphasize or reduce in the distillation.  We make each cut off the still based on what our senses tell us, relying on the technical parameters only as a guideline." Bryan Schultz of RoughStock Distillery also thinks the ability to experiment allows them to make something different than mass-produced spirits. He notes that the traceability also makes them special, "If you can point across the road or point to a map and tell the public where your grain was grown, where your water comes from, the name of the cooper who makes your barrels, answer finite details about the small batch distillation process…it brings more of an intimate connection to the brand."
Husband and wife, Joe and Jules Legate, of Ridge Distillery west of Kalispell grow many of their botanicals and in the early stages discovered wormwood, a key ingredient in absinthe, in their own backyard.
The distillers are just as unique as their products and distilleries. Whistling Andy distiller Brian Anderson is a geo-hydrologist and fellow distiller Michael Marchetti is an electrical engineer with microbrewing experience. John McFee at Headframes taps into his background in biodiesel distillation in designing custom distillery equipment and Ridge Distillery owner Joe Legate is a drama professor at Flathead Valley Community College. Many of the distilleries involve husband and wife teams like Ryan and Jenny Montgomery, who traveled to Scotland to visit distilleries and to attend whiskey school together. 
This diverse group has grown into a cohesive group through their shared efforts to make Montana laws friendlier to microdistilleries. The camaraderie doesn't end in Helena, they help each with set-up, problem solving, and sometimes consolidate displays and equipment orders. Courtney McFee of Headframes says, "Some of the other state distillers have offered to come over and help us finish the setup on our distillery.  How fantastic is that?"
Brian Anderson feels that they aren't really competing against each other; they are competing against the big distilleries that capture 99% of the market. And when Whistling Andy participated in the International Spirits International Prestige (SIP) in July they proved that they can compete with the big boys—they took home a platinum award for their Hibiscus Coconut Rum.
Publicity from the international award has helped raise the profile of Whistling Andy, but it is also attention that can be beneficial to all of the distilleries by helping increase awareness of the new microdistillery business in Montana. Nic Lee at Glacier Distilling says, "Hopefully, soon people traveling to a new area will not only ask, "What is your local beer?" but also, "What are your local spirits?" 
It was actually a request for a local spirit that inspired Whistling Andy Distillery. Anderson explains that he began tossing around the idea for a distillery after Russian visitors told Anderson that after touring local cherry orchards they were amazed that there was no local cherry kirsch. Anderson began researching distilleries with his wife, Lisa Cloutier, who owns the Raven Brew Pub & Grill in Woods Bay. His parents, Andy (hence the name) and Linda Anderson, became involved in the business along with Michael and Dana Marchetti, all working together to bring the idea to fruition. They are already producing nine different spirits, with one of the most recent—a cherry spirit.
So now if the Russian visitors return and look for a local cherry spirit, they will find it!
~ Kay Bjork lives on Swan Lake in northwest Montana within 100 miles of five different craft distilleries. She hopes to visit all of them when the spirit moves her.