Biathlon is a sport that combines cross-country skiing with rifle shooting.Considering Montana is a state with a plethora of snow and an affinity for firearms, it would seem that biathlon would be the state sport, or at least wildly popular with a rabid following. But as it is, biathlon is only just getting a foothold in the collective athletic psyche across the state.
At first the idea of ski racing with a rifle strapped to your back, firing rounds at a shooting range, then blasting around the course again, seems disjointed. What does ski racing have to do with target practice? As it turns out, a lot. Biathlon can be traced back to rock carvings in Europe depicting men on skis stalking animals, dating back 4,000 years or more. Further up the timeline, biathlon turned into more of a military-centered activity, when the first biathlon competition took place in the late 1700s between companies guarding the border between Sweden and Norway.
Biathlon arrived at the Olympics in 1960, and the International Biathlon Union (IBU) founded in 1993. Biathlon in the U.S. is fractionally popular compared to in Europe, where it's the most televised sport. But biathlon is growing in popularity in the U.S., and Montana is one of the states seeing large growth.
Biathlon racers speed over courses ranging from 6k to 20k, with two or four stops at the shooting range, depending on the length of race and type of competition. Shooting is always done from a distance of 50 meters, with rounds shot from prone or standing positions. The targets are tiny — 45mm for prone shooting and 115mm for standing. To top it off, the clock runs the entire time, so not only do competitors have to shoot accurately, they have to shoot quickly. Penalties for a missed target are a one-minute time penalty, or a 150-meter penalty loop.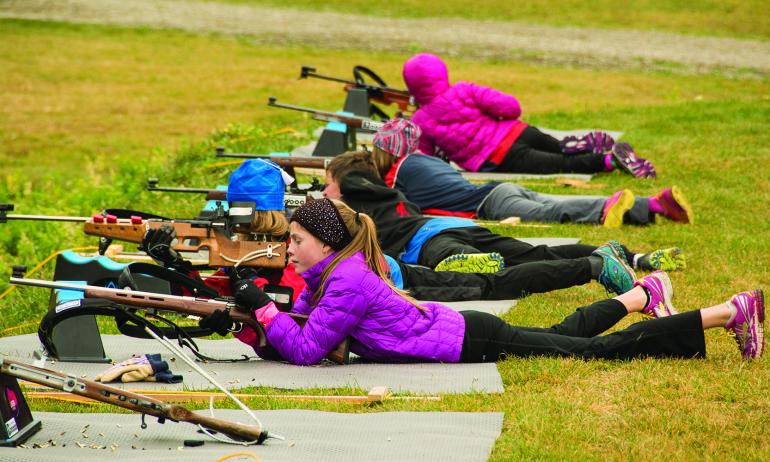 Part of what makes the sport so alluring is the dichotomy between skiing at top speeds, then loading a .22 rifle and shooting at a minuscule target, all while the clock is racing.
Have you ever tried to hit a target at 50 meters from a standstill? Without your heart racing and your hands shaking?
It's pretty tough. Now try hitting that target from a dead sprint across a rolling course, neck-and-neck with other competitors.
Target shooters of any type will stress the importance of remaining steady and calm, as even the most microscopic movement will change the motion with which you pull the trigger. Amplified over the distance of 50 meters, even the most minute hitch in the process will veer the bullet wildly off course. Skiing as hard as you can, then shooting and maintaining that accuracy is what makes biathlon so challenging. It's an all-out race combined with ultimate precision.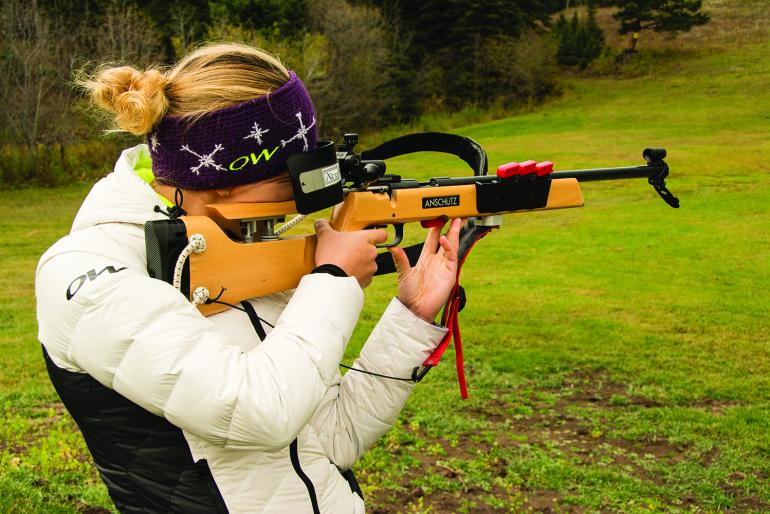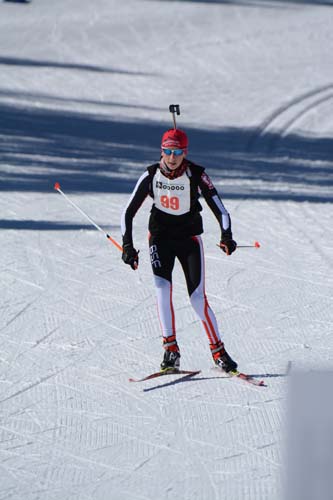 Thanks to the popularity of shooting sports in Montana, the abundance of Nordic ski courses, and our love for the outdoors, Montana is a natural fit for this growing sport. Each season brings expanded opportunities across the state, from people who have never fired a rifle to expert marksmen and skiers. The Seeley Lake Biathlon Challenge welcomes any competitor, even those who have never fired a rifle. Don't worry, they have volunteers on hand to keep everything running smoothly, a good thing when firearms are involved.
Bridger Biathlon is at the center of the growing biathlon trend. The club operates out of Bohart Ranch near Bridger Bowl. The Bridger Biathlon Club was founded in November 2013 and currently has over 30 youth participants. The club hosts multiple events each year, travels to other races, and runs biathlon camps for kids. The popular "Try It Biathlon" is for anyone in the community who is interested in biathlon, but hasn't had an opportunity to try it out.
West Yellowstone boasts the largest open-to-the-public biathlon course in the West, hosting competitions and training: everything from local clubs to top athletes training for world competitions.
Marc Sheppard is front and center of the biathlon activity in West Yellowstone. After spending years traveling the world in international biathlon competition, Marc turned his affinity for working on the specialized rifles and biathlon gear into a year-round business in 2003. Today, Altius Handcrafted Firearms is the only comprehensive biathlon gear manufacturer in the U.S.
Biathlon can be expensive to get into, but the cost is relatively low once you're geared up. Biathletes need a .22 caliber, custom-built rifle that can fire accurately in extremely cold temperatures. A full biathlon setup will run around $4,000, including the rifle, a harness for carrying the rifle, a sling for shooting in prone, and other accessories.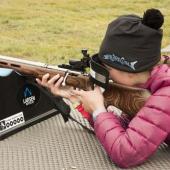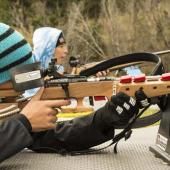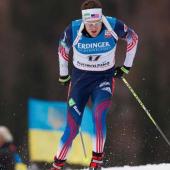 Safety concerns can raise a red flag for some people. Grade-school kids ski racing and shooting a rifle? Sounds sketchy. But Sheppard is quick to point out that before any child picks up a rifle or enters a biathlon program, they are put through comprehensive safety training, consistently reinforced during practices. Beyond that, children under the age of 14 do not carry their rifles while skiing the course. They ski one loop, arrive at the shooting range, receive their rifle, load it, and shoot their rounds before skiing off again. Adults carry their rifles while skiing, but do not ski with the guns loaded — they load upon arrival at the course, shoot their rounds, then ski another round and repeat.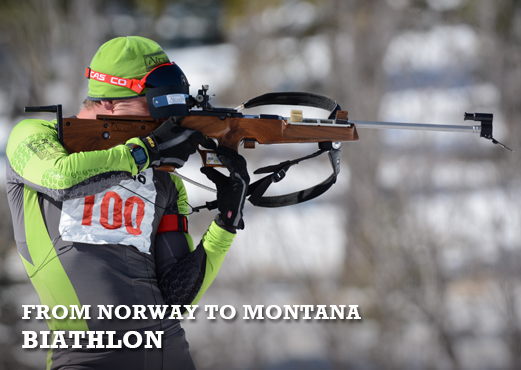 To maintain the fitness for skiing and precision for shooting, athletes train in a combined program, working the combination of target shooting and ski racing. However, they don't always do both in the same session. "It comes down to learning how to do it correctly without a cardiac load," says Sheppard. "The more you do it, the more it becomes second nature. Imagine running up 15 flights of stairs, then trying to thread a needle." Each athlete will find a place they shoot the best; it just takes many, many repetitions.
Surprisingly, many athletes shoot better at a higher heart rate than a resting heart rate. "Your heart is pumping the same volume with each stroke," Sheppard explains. "The faster beat is more fluttering, slower beat is a boom. A heavier heartbeat will create more movement, especially in prone position. We've found that higher levels of heart rates create tighter groups."  When explained that way, it makes sense, but it is still counterintuitive. Ski harder; you'll shoot better.
Sheppard sells between 50-100 biathlon rifles per year, which translates to more and more people getting into the sport. Only in its second year, the Bridger Biathlon Club is already seeing enthusiastic growth.  And with competitions hosted at Bohart, Seeley Lake, and Rendezvous Ski Trails, Montana is fast becoming a western center for biathlon.
"In Montana we have all the ingredients for biatholon," says Sheppard. "It's a challenging pursuit, but a life-learning experience." The snow is falling, the targets are up. This winter, you too can strap on your skis, take the gun out for a lap or two, and learn all about a new "Montana" sport.
* All photos courtesy of Bridger Biathlon Club at Bohart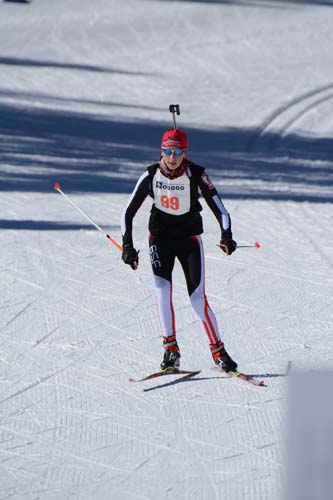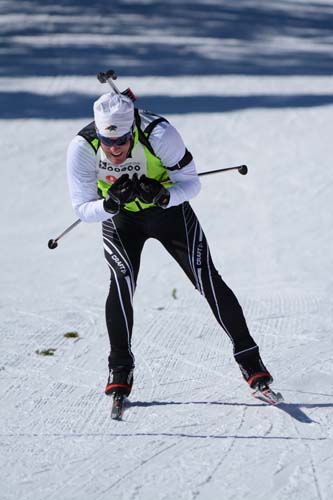 Here's a roundup of several places to get your biathlon fix this winter:
Seeley Lake, Missoula County
Seeley Lake's Nordic Ski course is proud to host a yearly biathlon for all ages and abilities, with a shooting range specifically set up for the event. Volunteers are on-hand to assist novices with the rifles. The course consists of three loops of three kilometers, making for a 9k course.
For more information, visit seeleylakenordic.org or e-mail:  [email protected].
Bohart Ranch, Bozeman
Bohart Ranch Cross Country Ski Center is home to the Bridger Biathlon Club. The course's state-of-the-art shooting range makes this a destination for biathlon events. Come to one of the Try-It Biathlon days or cheer on your local biathlon club at one of their races.
To schedule and for more info, visit either bohartranchxcski.com or bridgerbiathlonclub.org.
Rendezvous Ski Trails, West Yellowstone
West Yellowstone is a hotbed of winter activities, and Rendezvous Ski Trails is no exception. They host the popular SPAM Cup Citizen Race Series and Biathlon Cup Race Series throughout the winter, plus other opportunities.
Visit skirunbikemt.com/spam-cup to learn more or go to www.destinationyellowstone.com for current news, articles, and events related to West Yellowstone's Rendezvous Ski Trails. 
Biathlon Range at Rendezvous Ski Trails