"The rain of last night wet us all. [NB: having no tent, & no covering but a buffaloe skin] I had the horses all Collected early and Set out, proceeded over the point of a ridge and through an open low bottom crossed a large Creek which heads in a high Snow toped Mountain to the N W. imediately opposit to the enterance of the Creek one Something larger falls in from the high Snow mountains to the S W. & South those Creeks I call Rivers across." 
William Clark Journal; July 17, 1806.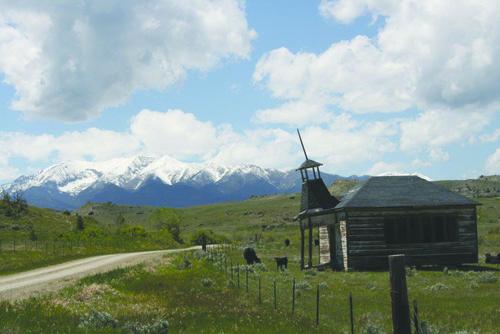 Whether Clark's Rivers Across, Dornix at the time of the old sawmill, or Big Timber when the railway left its own legacy, the area around the Boulder and Yellowstone rivers has always been characterized by enterprise and enduring beauty.
Sweet Grass County, Montana is the county safest from all natural disasters in the USA, "according to an analysis of more than a half century of weather patterns and destructive natural events."
 National Oceanic and Atmospheric Administration–2015
Sweet Grass County and Big Timber are today home to less than 4000 residents, many of whom are attracted by the dual benefit of living in a place where small business is encouraged; and where one is daily rewarded with incredible vistas and landscapes unmatched for living and recreational opportunities. In Big Timber there is room for most every pursuit, whether it be a business that builds world­class golf courses, or an afternoon of fishing on the Yellowstone River. The local business people seem to have a common bond and connection to each other, born of odd diversity and a distinct common ground.
"I'm lucky enough to be the fifth generation of my family to call Montana home. I was born and raised on a ranch just outside of Big Timber. Sweet Grass County is full of the entrepreneurial spirit that drives Montana. With an education system that consistently ranks near the highest in the state and a vibrant downtown community, it's no secret why people enjoy this little 'cow town.' The pure scenic beauty and abundance of outdoor recreational activities of the area brings people here, but the friendly folks that are willing to lend a helping hand is what ultimately keeps people here."
Justin Todd; Sonny Todd Real Estate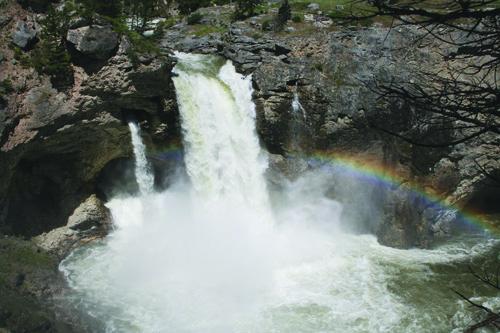 Though the Sweet Grass Chamber of Commerce boasts more than 125 members, the true level of small business and entrepreneurship runs much deeper than the hardware store, restaurants or salons of main street business. There are two custom rifle companies, a forge operation for specialized iron work, a large, grass­fed beef ranch, and a company that does custom survey work worldwide and many "stealth" businesses like that of Ron McAdams, who is a self­styled "business advisor," working with a company in San Francisco. "I live here because of lifestyle," says Ron, "I've got a good one."
Crazy Mountain Forge decided to start business in Big Timber because it is a strong community­oriented town with great diversity and opportunity.
Deron Johnson, Owner
"Lifestyle," is the common refrain among business owners in Big Timber, who seem to couple rugged, Western determinism with a strong desire to enjoy "the great outdoors" and fully appreciate the benefits of small town living. Any sense of isolation is readily buffered by the easy, one hour drive to the bustle of Bozeman or Billings, their cultural attractions and international airports. Not that Big Timber is lacking in any area. The Grand Hotel's talented head chef, Amy Smith, has for 20 years served up some of the best dining in Montana, right in downtown Big Timber. She has prepared food for the likes of local residents Michael Keaton (a regular) and Tom Brokaw, and visitors like Jimmy Buffet, Robert Redford, Chicago mayor, Rahm Emanuel, and retired Supreme Court justice Ruth Bader Ginsburg, all of whom would likely respond "lifestyle" if asked why they now homestead or visit Sweet Grass County.
Living in Big Timber has given us the best of both worlds. Using technology we are able to spread the word on Tumblewood while supporting our local economy and enjoying our lives in this beautiful place. 
Riza Gilpin Tumblewood Teas
An unexpected surprise, world­class businesses like The Grand Hotel are what make Big Timber so special. Within shooting distance of each other, C.Sharpe Arms and Shiloh Rifles offer their worldwide clientele the finest quality in custom­made, single shot rifles. According to owner, John Schoffstall, custom rifles from C. Sharpe Arms have been in great demand since he set up shop in 1975. Both C. Sharps and Shiloh sell their product worldwide through both reputation and the internet. Also in downtown Big Timber Custom Survey Solutions Inc. (CSSI) does world­class customer relationship work for the likes of McDonald's, Compass, Motorola and Verizon...and 99% of its business comes from outside Montana. "We have had many long­term clients that kind of forget we are located in a small town," says CSSI owner Tim Yuzeitis, "they will call and say, "Now where is Big Timber again?"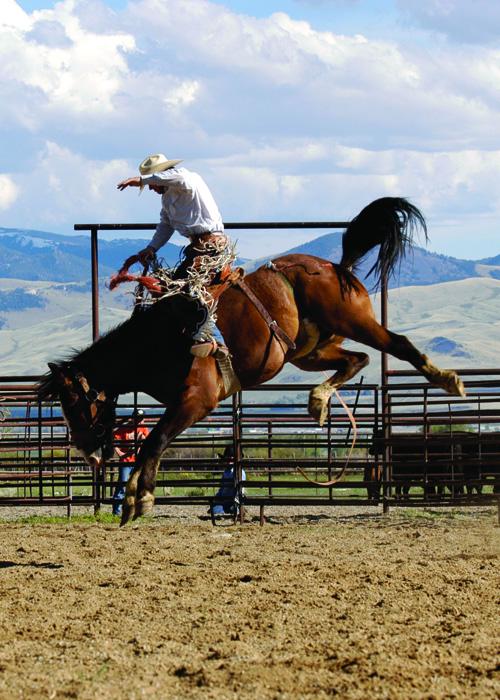 "Our original intention was to live here for a few years and then re­locate the business to a more urban area, which we thought suited us better. But after living in Big Timber a few years, and finding out what was important in our lives – smaller community, great place to raise a family, excellent schools, volunteer areas of interest etc., when we tried to find a new place to live – we realized we already had exactly what we wanted right here in Big Timber." 
Tim Yuzeitis; Custom Survey Solutions
Where, indeed. When the business and service are both of quality, there are no distance barriers in today's world. Like Yuzeitis, Oregonian Jim LaFlore, known locally as "The Beeman" once ran a thriving hive business, harvesting 175,000 pounds annually of high grade honey. Down the road, the Indreland cattle operation produces some of the best grass­fed Angus beef in the country, and the Roe family is often off to places as far-flung as Whitefish or New Orleans where they excel at building and rehabbing Jack Nicklaus and other high­end golf courses.
" I have always felt that for our size, Big Timber has a great variety of business opportunity, as well as being a great place to call home. Our cost of living and cost of doing business seems lower than other larger Montana cities and towns in as well."
Kelli Brewer, President; Sweet Grass Chamber of Commerce
Businesses do "come and go" in Big Timber, as they do everywhere. Gone are many small-town enterprises like the grocery and general stores of old, and newer businesses like Wheelsmith Fabrications, which was sold to a Milwaukee company in 2006.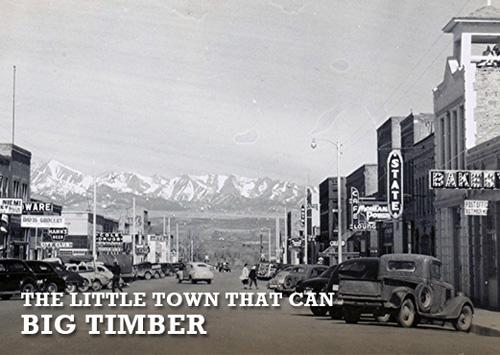 "Big Timber has changed completely over the years. We used to have a laundry and dry cleaning business, two clothing or mercantile stores, a five and dime (sundries) type of store, two drug stores, three grocery stores a creamery and numerous other business. Today we have far fewer small, storefront businesses; but the ones we do have seem stronger, and it seems like we continue to attract the kind of people who are still tough of spirit, willing to run both their businesses and lives in independent ways."
Barbara Van Cleve, photographer
Barbara Van Cleeve, an internationally accomplished photographer, whose works are sought after by collectors and museums, has seen these businesses come and go, though her own legacy, the nearby Lazy K ranch has been in her family since 1880. A lifetime of personal transition and of living "off and on" in Big Timber has given her a unique perspective of loss and gain, of a Big Timber where life and business flourish, born of both desire and necessity.
Big Timber has often had fame rub­up against it like a skittish horse. Both The River Runs Through It and The Horse Whisperer were filmed in the area, and the Discovery Channel has made much of life in the Boulder Valley. But such notoriety and prosperity is temporary and fleeting. What remains in the end is the deep and lasting beauty of Sweet Grass County, the sky­bending beauty of the Beartooth­Absorka and Crazy mountain ranges, the hypnotic draw of its rivers and streams...and the seemingly tireless enterprise of Big Timber and its area residents.
It is hard to imagine a better place to prosper...or to just call home.
Montana Cowboy Hall of Fame & Western Heritage Center
In 2012 the state named Big Timber as the permanent location of the Montana Cowboy Hall of Fame. The hall of fame and heritage center, a $25 million to $30 million project,will be constructed on a 30­acre site on Big Timber's west end near the Interstate 90 interchange. The price tag includes an endowment with funds to be raised over the next 30 to 50 years.