For several decades, Columbia Falls was the Flathead Valley's blue-collar industrial leader. Forestland provided employment for those in the timber industry. Beginning in the mid-1950s, an aluminum plant employed hundreds more.
But economic changes took their toll. Workers lost their jobs when logging companies and the aluminum company scaled back operations. Those who were able to find other jobs in the valley helped Columbia Falls retain its sense of community, though it had lost its major economic drivers.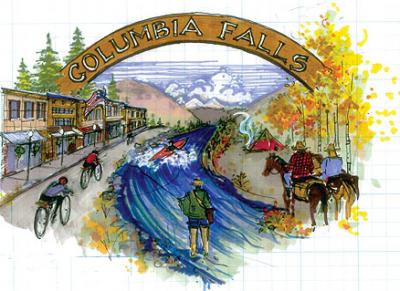 Now citizens hope to breathe new life into their town by giving it a new economic base. Columbia Falls' charm lies in its connection with the outdoors, Barry Conger says, and it's time the city builds on the that connection.
Conger is the executive director of the First Best Place Task Force, a grassroots organization dedicated to revitalizing Columbia Falls. Through projects ranging from building a network of riverfront trails to setting architectural standards for downtown buildings, the task force hopes to promote economic development in the city and improve citizens' quality of life.
The group began as an informal gathering in a local coffee shop, where Conger and other citizens discussed the potential they saw in Columbia Falls. They discovered people were passionate about projects that tied into an overall vision of revitalization.
They decided to pursue those passions through a formal 501c3 nonprofit, First Best Place. To date, about 70 people have volunteered for the task force's projects.
Its inaugural project involves building a trail along the Flathead River, from the historic Old Red Bridge to the base of South Nucleus Avenue. Planning is in the final stages; construction, done with volunteer labor, will begin as soon as the weather allows. Three more trail projects are slated for the next 12 to 18 months.
The task force has other plans, including reinvigorating the historic uptown neighborhood and creating a Columbia Falls historical society. Its largest project, according to Conger, involves purchasing and developing the historic downtown square. That property will house a visitors' center and community facility, which can be used for educational programs about the surrounding area, including Glacier National Park, Conger says.
'The Gateway to Glacier' — that's what we've called ourselves for a long time, but we haven't necessarily capitalized on that very much," he says.
He and the task force hope Columbia Falls will capitalize on its connection to Glacier and other outdoor opportunities. The abundance of recreation opportunities is one of the major reasons people live there, he says; it should be one of the major reasons people visit Columbia Falls as well.
"Our connection to the outdoors is really our true core as a community," he says. "I think that's a perfect connection for retail and economic opportunities, to push some of those resources."
For more information about the task force, visit www.firstbestplace.org.
~ Kristi Albertson is a University of Montana School of Journalism graduate and a reporter for the Daily Inter Lake in Kalispell.